TRU Reports 2015 Holiday Sales Results
Toys "R" Us, Inc., reported its same store sales for the five-week and nine-week periods ended January 2, 2016. The five-week period refers to November 29, 2015 to January 2, 2016, as compared to November 30, 2014 to January 3, 2015, in the prior year. The nine-week period refers to November 1, 2015 to January 2, 2016, as compared to November 2, 2014 to January 3, 2015, in the prior year.
For the five-week and nine-week periods ended January 2, 2016, consolidated same-store sales increased 3.7 percent and 2 percent, respectively. These figures exclude the impact of foreign currency translation.
"Our positive holiday same-store sales results demonstrate our ability to execute our holiday plan in a highly competitive marketplace," said Dave Brandon, chairman and CEO of Toys "R" Us. "We successfully maintained a strong in-stock position on the hottest toys while offering customers competitive prices and an extensive merchandise assortment, both in stores and online. I am pleased with our holiday performance and am extremely proud of the hard work that our team members have put in to deliver an enjoyable shopping experience to our customers."
Domestic
For the five-week and nine-week periods ended January 2, 2016, same-store sales increased 2.9 percent and 1.4 percent, respectively, with particular strength in online sales. The core toy, learning, and seasonal categories generated the strongest same-store sales growth, partially offset by a decline in the entertainment (which includes electronics and video game hardware and software) category.
International
For the five-week and nine-week periods ended January 2, 2016, same-store sales increased 5.1 percent and 3.1 percent, respectively. The positive same store sales results were led by Canada and Japan, partially offset by some softness in Europe.
Hedge Fund Bids for Fuhu's Nabi Tablet
The Wall Street Journal reported in late 2015 that golfer Greg Norman's hedge fund, Great White Shark Opportunity Fund is bidding $10 million for Fuhu, maker of the Nabi tablet. It was previously reported that Mattel was offering $9.5 million for Fuhu. It is also being reported that interested parties have until January 21 to qualify to bid at the auction.
Gund Announces Corporate Rebranding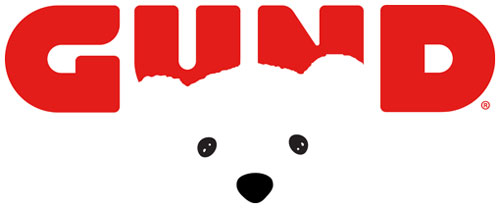 Gund announced a new brand identity reflecting what it calls, "the loveable personality of the company's signature plush toys. This new look and feel encompasses Gund's core values such as high-quality and huggability, while also highlighting a new brand message to a wider contemporary audience."
Gund says its new branding elements create a flexible identity system that will include animation across digital and social media platforms.
"Gund's brand is committed to creating genuine emotional connections through our products," said Gund president Bruce Raiffe. "With a fresh, modern design, we look forward to introducing a new generation of customers to our award-winning stuffed toys."
The new branding will be rolling out across all products and platforms, starting with 200-plus new items in Gund's product release this month.
Velocity PR Program Launches for Start-Up Toy Companies
Strategic Vision PR Group announced the launch of its Velocity PR Program for new start-up toy companies that will be attending Toy Fair 2016. The program provides traditional public relations, social media, and branding services at an accelerated pace. The program was established to meet the needs of emerging companies as they seek to acquire the attention of investors, industry insiders, and the general public.
In another offering of the program, the agency will also offer reduced costs for a slight equity stake in the companies. Annually new toy companies attend Toy Fair in New York City as a key component of their marketing and public relations campaign for the year, the Velocity PR Program is designed with these companies in mind to boost their public relations efforts at Toy Fair and beyond.
"New and emerging start-ups know that they need an accelerated public relations program if they are to reach their goals particularly in the toy industry," said David E. Johnson, CEO of Strategic Vision PR Group. "The Velocity PR Program was established for these companies with a clear understanding of what they require for public relations success. Often we hear many entrepreneurs express concerns that if they spend the money for the public relations services they need, nothing might happen or that they don't have the budget necessary for a successful campaign," Johnson said. "That is why with the Velocity PR Program, we offer a reduced cost along with a slight equity stake in the company. That way, everyone is truly in it together in a collaborative partnership with the program designed for each company's specific needs and audience. For new toy companies this allows them to build upon the success they achieve at Toy Fair and keep that success going throughout the year."
Visit strategicvisionpr.com for more information.
What's New in Barbie Dolls on TTPM
TTPM is showcasing the newest Barbie Dolls. For the latest in Toys, Tots, Pets, and More as well as what's trending, visit TTPM.com.