Genius Brands Launches SpacePop; Imprint Named First Licensee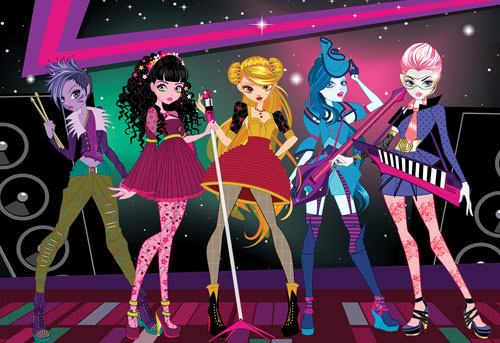 Genius Brands International, Inc., (GBI) announced that it is producing a new music and fashion-driven brand for tween girls called SpacePop. It will feature original music produced by Ron Fair; original character and fashion designs created by Han Lee; and stories developed by head writer Steve Banks. Created and developed by GBI to appeal to tween girls (ages 7–12), SpacePop is currently in production and features 100-plus animated shorts to be digitally distributed.
GBI chairman and CEO, Andy Heyward, an Emmy Award-winning children's content producer responsible for over 5,000 episodes of children's entertainment (Inspector Gadget, Strawberry Shortcake, Super Mario Bros., Sabrina the Teenage Witch, and more) spearheads production efforts; Emmy Award-nominated Steve Banks, head writer and story editor of SpongeBob SquarePants serves as content writer; and producer of multiple Grammy Award winners and music veteran Ron Fair (Fergie, Mary J. Blige, Black Eyed Peas, Pussycat Dolls, Christina Aguilera, and more) and singer/songwriter spouse Stefanie Fair, a founding member of RCA's girl group Wild Orchid with Fergie, will deliver original music.
Additionally, GBI is creating a comprehensive, fashion-driven line of consumer products. GBI has appointed SpacePop's first licensing partner, Imprint, part of Macmillan Children's Publishing Group, as the global master publisher. The first title, Not Your Average Princesses, is an original middle grade novel with graphic novel inserts written by author Erin Downing and illustrated by Jen Bartel. The first title will publish in July, with the second novel, Rocking the Resistance, to follow in January 2017.
The story of SpacePop unfolds as the evil Empress Geela takes over the Planets of the Pentangle. Five teenage princesses disguise themselves as musicians and form a band called SpacePop. Their mission is to spread the message of freedom and joy through music and join the rebel resistance force to vanquish Geela, who has taken over their home planets and enslaved the inhabitants.
ASTRA's Certified Play Expert Program Launches
The American Specialty Toy Retailing Association (ASTRA) announced that its Certified Play Expert program, a new professional education initiative to help independent toy retailers strengthen their businesses, is open for enrollment.
"Owners of locally owned toy stores have long been ambassadors for healthy play, as have specialty toy manufacturers and sales reps," said Kimberly Mosley, president of ASTRA. "Earning the ASTRA Certified Play Expert credential will deepen their knowledge about child development and the importance of play, which is the reason so many of our members are passionate about specialty toys. The program will make them what we like to call "playfessionals"—well versed in the art and science of play."
The program provides several hours of top-quality, research-based instruction in several core areas, including: theories of child development, characteristics of major developmental stages, play for children with disabilities, types of play and their benefits, toy safety, choosing toys and play activities, advocating for play, and making sense of play. Program participants can access the course content through convenient on-demand webinars and earn the Certified Play Expertcredential by demonstrating their mastery of the material.
The program is targeted at store staff and toy manufacturers and sales reps so they can better serve customers and stand out from the competition.
A committee of ASTRA members with combined experience of 80 years in the specialty toy business guided the development of ASTRA's Certified Play Expertprogram. Faculty for the program are outside experts with in-depth experience on the core content area for which they are providing instruction. Contact Sue Warfield at swarfield@astratoy.org for more information or click here.
littleBits Announces Distribution Agreement with Ingram Micro
littleBits, the technology startup featuring electronic building blocks, is expanding its U.S. footprint with the addition of Ingram Micro, Inc., as a distribution partner. Under the agreement, Ingram Micro will assist in scaling the littleBits distribution network by providing littleBits products to its growing community of channel partners focused specifically on the K–12 and higher education categories.
"This relationship with Ingram Micro will help us expand the availability of littleBits to the broader IT channel, and engage and empower channel partners throughout the U.S.," said Will Robinson, vice-president of sales for littleBits.
littleBits kits are currently sold at a variety of retailers in the U.S. and in select retailers in Europe, Asia, and Australia. In addition to the littleBits Gizmos & Gadgets Kit, other littleBits Kits are also available, such as the Synth Kit in partnership with KORG, Space Kit in partnership with NASA, the Smart Home Kit, the Student Set, the Workshop Set, Pro Library, Hardware Development Kit, Arduino Coding Kit, and more.
Walmart to Close Certain Locations
Walmart announced plans on Friday to close 269 stores in the U.S. and globally. In October 2015, the company said an active review of its portfolio was underway to ensure assets were aligned with strategy. Walmart said in a statement that the impacted stores represent less than one percent of both global square footage and revenue.
"Actively managing our portfolio of assets is essential to maintaining a healthy business," said Doug McMillon, president and CEO, Wal-Mart Stores, Inc. "Closing stores is never an easy decision, but it is necessary to keep the company strong and positioned for the future. It's important to remember that we'll open well more than 300 stores around the world next year. So we are committed to growing, but we are being disciplined about it."
Walmart will close 154 locations in the U.S., including the company's 102 smallest format stores, Walmart Express, which had been in pilot since 2011. Walmart says that instead it will focus on strengthening Supercenters, optimizing Neighborhood Markets, growing the e-commerce business, and expanding pick-up services for customers. Also covered in the closures are 23 Neighborhood Markets, 12 Supercenters, seven stores in Puerto Rico, six discount centers, and four Sam's Clubs.
The company is closing 115 stores outside the United States. This includes 60 recently closed, loss-making stores in Brazil, representing five percent of sales in that market. The company has already been able to relocate many affected associates in Brazil to other stores. The remaining 55 stores are primarily small, loss-making stores in other Latin American markets.
Separately, Walmart intends to open domestically 50 to 60 Supercenters and 85 to 95 Neighborhood Markets in fiscal 2017, which begins February 1. In the same period, Sam's Club plans to open in seven to 10 new locations. Internationally, Walmart intends to open between 200 and 240 stores during the coming year.
Walmart says the financial impact of these closures is estimated to be approximately $0.20 to $0.22 of diluted earnings per share from continuing operations, with approximately $0.19 to $0.20 expected to impact the fourth quarter of fiscal 2016. The remainder of the impact will fall into the first half of fiscal 2017. Approximately 75 percent of the impact relates to U.S. closings and the remaining portion involves Walmart International, with a majority of the international impact relating to the closures in Brazil. In total, approximately 16,000 associates will be impacted by the decision, about 10,000 of them in the U.S.
What's New in Baby Toys on TTPM
TTPM is showcasing the newest Baby Toys. For the latest in Toys, Tots, Pets, and More as well as what's trending, visit TTPM.com.