NY Rangers Rick Nash Unveils Playmobil's NHL Playsets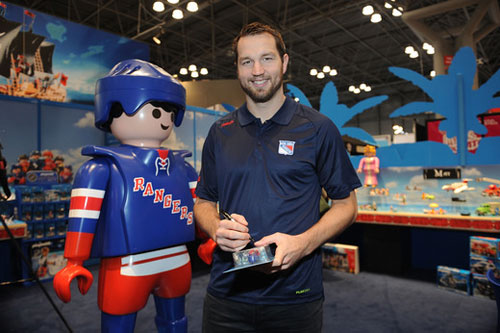 Playmobil unveiled new additions to its NHL playsets with the help of New York Rangers Rick Nash. The new line of figures, inspired by 12 additional NHL franchises, will be at retail this spring along with additional sets featuring NHL Rivalry Packs, the Stanley Cup Presentation Set, Score Clock with Referees, and an NHL Holiday Advent Calendar, which is due out this holiday season. The recent additions to the NHL line are an expansion of the Original Six line, which Nash helped unveil last fall.
Playmates Named Master Toy Licensee for New Voltron Series
Playmates Toys and DreamWorks Animation announced plans for a new toy line based on the new DreamWorks Animation series Voltron: Legendary Defender. This is a reimagining of the classic property featuring five teenage pilots and mystical robot lions, set to debut as a Netflix Original Series in 2016. Playmates Toys will serve as the master toy licensee and will create an expansive line of toys set to launch in spring 2017.
Celebrations for Uncle Milton
Uncle Milton is celebrating two milestones this year. The company is celebrating its 70th anniversary while the Ant Farm is celebrating its 60th Ant-iversary. Uncle Milton is launching a sleek new look for the classic Ant Farm with celebrations to follow throughout the year.
Uncle Milton was acquired by KCB Management in March 2014.
Playmates, Giochi Preziosi in Ben 10 Deal
Playmates Toys announced the appointment of the Giochi Preziosi Group as its pan European marketing and distribution partner for the upcoming Ben 10 product range. In 2015, Cartoon Network named Playmates Toys the global master toy partner for its Ben 10 franchise, which includes an all-new reimaged animated series and full consumer products program. The global franchise has been a proven sales success led by top-selling toy, interactive and home entertainment franchises generating more than $4.5 billion in global retail sales to date. The series is scheduled to premiere in late 2016 internationally and in the U.S. in 2017.
Child's Play Signs Schleich
Child's Play Communications announced the addition of Schleich as a client. Founded 80 years ago, Schleich is one of Germany's largest toy manufacturers. Hand painted and known for their exquisite detail, Schleich figurines are sold in more than 50 countries. Child's Play will be responsible for media relations and influencer outreach among bloggers and social media personalities for Schleich in the United States.
WIT Awards Winners
Women in Toys, Entertainment, and Licensing (WIT) hosted a gala on Sunday night to honor women leaders at the 12th Annual Wonder Women Awards Gala, which celebrated 25 years of the organization.
WIT presented awards to special honorees including:
Founders Award to Anne Pitrone and Susan Matsumoto who created WIT 25 years ago. The pair started the organization in a restaurant and now it has grown to service thousands of professionals globally at more than 50 events annually.
Game Changer Award to Mattel for the evolution of its Barbie brand with the recent expansion of the Barbie Fashionistas. The award was presented by fashion and celebrity stylist Micaela Erlanger, and globally recognized advocate for positive body image and self-esteem supermodel Emme.
Wonder Girl Award to Sydney and Toni Loew, two young toy making entrepreneurs and the creators of Poketti pocket plush.
Wonder Women Award Winners:
Manufacturer: Cat Demas, vice-president, global business head, preschool girls, Spin Master
Rising Star: Laura Guilbault, director of product and marketing strategy for Disney Princess and Frozen, Hasbro
Public Relations: Tara Tucker, vice-president of global marketing communications, Spin Master
Designer/Inventor: Jacqui Tobias, director and head of girls product development, Moose Toys
Licensing & Entertainment: Joan Grasso, vice-president of licensing North America, Entertainment One
Marketing: Kimberly Willis Boyd, vice-president of U.S. marketing, gaming, and partner brands, Hasbro
Social Responsibility: Joan Lawrence, senior vice-president of standards and regulatory affairs, Toy Industry Association
Social Influencer: Melissa & Gracie Hunter, Mommy & Gracie Show/Family Video Network
Retailer: Anne Marie Kehoe, vice-president of toys, Walmart