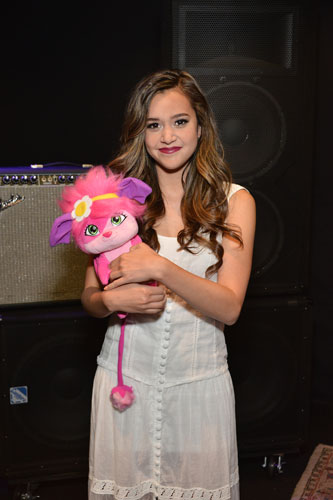 Saban Partners with YouTube Star for Popples
Saban Brands announced that pop music star and YouTube sensation Megan Nicole will guest star in an upcoming episode of Popples, a Netflix original series for kids. Megan Nicole will make her animated debut as Squeaky Pop in the episode "Fallen Pop Idol" and will lend her voice to the new Popples original song, "Together with My Friends." The episode premieres worldwide on Netflix on March 11 as part of the 10-episode season 2 of Popples.
Megan Nicole has more than 3.5 million subscribers and nearly 700 million views on YouTube. Since rising to fame on YouTube in 2009, the singer/songwriter has achieved celebrity status, releasing her debut album Escape in 2014 before embarking on her nationwide Sweet Dreams tour.
Imperial Announces National Bubble Week Promotions
Imperial is celebrating National Bubble Week (March 7–13) with its Bubble Blitz brand through giveaways, contests, and promotions. Imperial #CeleBlitz National Bubble Week with the following:
During the month of March, all bubble products on Imperial's website will be 25 percent off with the promo code: CELEBLITZ.
Share Bubble Week pictures on Imperial's Facebook page, using hashtag #CeleBlitz #BubbleBlitz
Visit facebook.com/imperialtoy March 7–13 for giveaways, contests, and more.
The Passing of Jakks' Board Member Fergus McGovern
Jakks Pacific, Inc., issued a statement regarding the sudden death of Fergus McGovern, a member of its board of directors since December 2014. He was 50.
"Fergus McGovern, a video game development pioneer, was not only a valued member of our board of directors, he was also an esteemed friend for more than 20 years," said Stephen Berman, chairman and CEO, Jakks Pacific. "He will be sorely missed. The entire board and management team of Jakks, and me personally, extend our heartfelt condolences to Mr. McGovern's widow, Deanna, and three children, Abby, Ryan, and Ella."
McGovern's death was first reported by the UK's Crystal Palace Football Club on Sunday as he also served on their board. According to reports on the web, his death happened suddenly over the weekend. It's being reported that it was caused by a blood clot brought on by a transatlantic flight. Read more about McGovern here.
What's New in Easter Toys on TTPM
TTPM is showcasing the newest Easter Toys. For the latest in Toys, Tots, Pets, and More as well as what's trending, visit TTPM.com.