Al Kahn, Jillian Crane Launch New Company
Al Kahn, founder of 4Kids Entertainment, Inc., and Jillian Crane, a writer, actress, and producer, have announced the formation of CraneKahn, an international children's entertainment and licensing company that will focus on products and experiences in the new economy.
As part of their licensing and marketing strategy to bring new forms of entertainment to children living through the digital revolution, CraneKahn has hired Kerry Novick, as senior vice-president, global sales and acquisitions. Novick has spent the last 20 years in global program distribution, representing Sesame Workshop and other top children's series and brands.
Kahn has been responsible for many of the biggest hits in licensing including Cabbage Patch Kids, Pokémon, Teenage Mutant Ninja Turtles, and Yu-Gi-Oh!, among many others.
Jillian Crane, along with Kahn, is currently producing a Young Adult film franchise based on the book series, H.I.V.E. (Higher Institute of Villainous Education). They are also developing two Broadway musicals: The Boys of Summer, based on the iconic book about the Brooklyn Dodgers (Tony award-winning Rupert Holmes is writing the book and lyrics and Josh Schmidt is writing the music) and The Blind Boys of Alabama, the world renowned gospel group.
As a writer, Crane adapted the novel About Yvonne, an erotic thriller, which was recently optioned by New Regency. She has adapted the humor book Down, Boy: A Girl's Guide to Housebreaking a Man into a romantic comedy being produced by Chick Flicks. She also has an extensive acting career both on screen and on stage.
Novick spent five years working at Sesame Workshop distributing their programs to Asia, Latin America, and Canada. After that she founded Small Screen Distribution in 2004, which quickly became a niche player, particularly in the Asian broadcast/media market.
Under Small Screen, Novick represented Nelvana Enterprises of Canada to Australasia from 2004–2014 (The Backyardigans, Fairly Odd Parents, Franklin, and co-producers of popular action series Beyblade and Bakugan) and other leading children's producers for various terms, including The Jim Henson Company (Sid the Science Kid, Dinosaur Train), FremantleMedia Kids (Tree Fu Tom, Kate & Mim Mim) Sparky Animation (Mr. Moon), and Guru Studio (Justin Time), among others. From 2010–2015, Novick also spearheaded acquisitions of Asia-produced children's programming for North America's SVOD platform for multicultural kids, Oznoz Entertainment.
Fisher-Price, Shakira Partner on App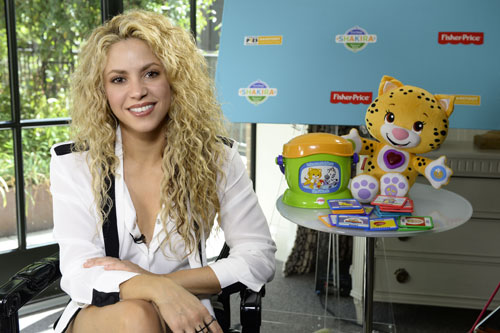 Fisher-Price and pop star/mom/philanthropist Shakira announced the launch of a parenting app for early childhood that curates the expertise of child psychologists, play researchers, and educators.
Available now, Grow Parenting app is a free, bilingual app for first-time parents and teachers from Shakira, Fisher-Price, AEIOTu, Vroom, Kinedu, Fun Learning, and North American Montessori Teachers Association. The app features 2,000 tips customized to a child's age to foster early childhood development from birth and through age five, as well as a journal feature to track developmental milestones. The app is available for both Android and iOS devices in English and Spanish.
Shakira, her charity The Barefoot Foundation, and Fisher-Price, first collaborated in 2014 on the First Steps Collection of toys and baby gear items. Like the Grow Parenting app, the eight products in the collection have built-in features to help stimulate early development.
The Grow Parenting app launches in response to the 2015 international Moms' Hopes & Wishes Study commissioned by Fisher-Price. It revealed that a majority of moms in the countries surveyed want all the information they can get about child development and strongly agreed that parents play a strong role in preparing a child for school.
Also, Fisher-Price says it remains a proud sponsor of The Barefoot Foundation, which helps feed and educate children, as well as provides community support for parents.
What's New in Bubble Toys on TTPM
It's National Bubble Week and TTPM is showcasing the newest Bubble Toys for summer 2016. For the latest in Toys, Tots, Pets, and More as well as what's trending, visit TTPM.com.