TIA Dubs September 'Toy Preview Month'
The Toy Industry Association (TIA) has officially dubbed September 2016 as Toy Preview Month to mark a jam-packed schedule of product preview meetings slated to take place across the nation throughout September, culminating with TIA's Fall Toy Preview event September 27–29 in Dallas.
"With coast-to-coast presentations, September will be a hectic month for toy buyers navigating the calendar and the country," said Steve Pasierb, TIA president and CEO. "This year, TIA has coordinated its efforts with the broader toy industry to make the most efficient use of everyone's time by hosting Fall Toy Preview when the bulk of national activity winds down. Our fall marketplace proudly remains an essential show for the toy community—last year in Dallas alone, more than 300 lines were shown. When all eyes turn to Dallas this September, expect to see an impressive line-up of playthings that will shape the future of play."
TIA members who hold previews outside of Dallas have indicated their support of the collective needs of the industry, even as they manage their own previews.
"Many companies followed our lead with an L.A. area preview cycle but Mattel, as a leader in the industry, recognizes the challenges that multiple regional visits pose for retail partners. We're working with customers who traditionally visit both our show and the Dallas Fall Preview, so they can attend both events," said Geoff Walker, EVP and chief strategic technology officer, Mattel and a TIA board member.
LEGO adds. "September is Toy Preview Month and we're looking forward to sharing our exciting plans for 2017," said Skip Kodak, senior vice-president of LEGO Americas. "Buyers will be busy during the first few weeks of the month with activity at various manufacturer sites—including our Connecticut offices—before they'll turn their attention to Dallas. At LEGO Systems, we believe a stronger collective industry helps everyone when many players succeed together in bringing quality play and entertainment to children."
Walmart adds. "Each fall, Walmart's toy buying team dedicates itself to discovering the best of what's new and exciting for the next year's holiday season," said Anne Marie Kehoe, vice-president of toys at Walmart. "We truly appreciate the convenience and efficiency of TIA's Fall Toy Preview in Dallas, which brings together hundreds of lines under one roof."
Added Jay Foreman, president & CEO of The Bridge Direct and chair of TIA's trade show committee, "We appreciate the willingness of those doing business outside of Dallas to concentrate preview efforts during the first few weeks of September. This will support our mutual retail customers in their mission to review and select a broad range of products sure to make holiday 2017 a success for all."
Registration for Fall Toy Preview is now open. Visit FallToyPreview.org to learn more.
President Obama Signs TSCA Reform Bill into Law
The Toy Industry Association (TIA) announced yesterday that critical legislation reforming the outdated Toxic Substances Control Act (TSCA) was signed into law by U.S. President Barack Obama. This marks the first meaningful update to TSCA in 40 years. The new legislation reflects scientific and technological advances and ensures that a uniform federal policy will regulate chemicals across all 50 states.
"The Toy Industry Association is steadfast in our commitment to toy safety and has been an ardent supporter of necessary TSCA reform," said Steve Pasierb, president & CEO of the TIA. "This is meaningful legislation that is good for families and our members alike while removing the pressure felt by some state and county legislatures to do something absent federal action. Years of work and hundreds of advocacy meetings with legislators on both sides of the aisle have led to a positive outcome. We applaud Congress for their leadership and look forward to working with the Environmental Protection Agency (EPA) as they begin prioritizing chemicals for review."
The TIA says that in recent years, as Congress struggled to pass TSCA reform, many states and even counties took it upon themselves to pass their own laws for regulating chemicals, forcing companies to comply with a complex patchwork of state and local requirements that did not advance product safety and served only to confuse parents and other toy shoppers. The reformed TSCA law now empowers the EPA to oversee and regulate chemicals nationwide and contains preemptive language so that individual states will not be able to ban or regulate substances under evaluation by the EPA.
The law also focuses on creating risk-based standards for the safe use of chemicals, rather than relying on the precautionary principle approach, and requires the EPA to sort TSCA's inventory of chemicals into high-priority and low-priority substances and to follow a specific procedure for assessing those chemicals.
Skylanders Academy to Air on Netflix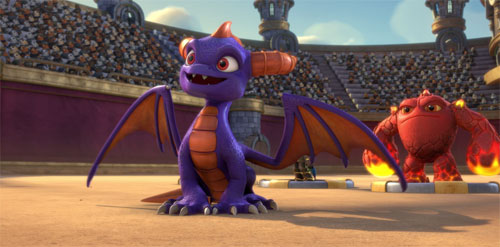 Activision Blizzard, Inc., announced that Skylanders Academy, the first production by Activision Blizzard Studios—its newly created television and film studio—will premiere in fall 2016 on Netflix.
The series follows the heroic adventures of the Skylanders team, a group of heroes with unique elemental skills and personalities who travel the vast Skylands universe, protecting it from evil-doers and showing the next wave of Academy cadets how to do things the Skylander way.
Created by Toys For Bob, the $3 billion Skylanders franchise has sold through more than 250 million toys since pioneering the toys-to-life category in 2011, and earlier this month Activision revealed Skylanders Imaginators, the latest innovation in the franchise.
Activision Blizzard launched its studio last year to create original content based on the company's intellectual property, and Skylanders Academy is the first production by Sher and studio co-president Nick van Dyk. The two-season Netflix partnership is another important step in Activision Blizzard's strategy of enhancing its franchises and broadening their appeal.
Llama Llama to Air on Netflix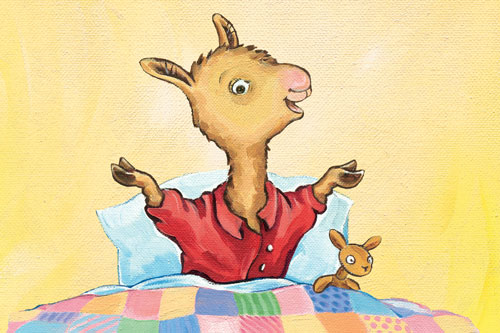 Genius Brands International, Inc., announced that Netflixwill premiere GBI's new originalpreschool series, Llama Llama, to members worldwide in 2017.Currently in production on 15 half-hour episodes, Llama Llama, based on the award-winning and bestselling book series by author and illustrator Anna Dewdney. Llama Llama is being produced in 20 different languages, which will be distributed day and date worldwide. GBI is also rolling out a global licensing program.
Llama Llama is an animated series about childhood moments and adventures, as well as the special connections between the lead character, Llama, his parents, grandparents, and best friends.
Sesame Street Collaborates with YouTube Stars for Love to Learn Campaign
Sesame Workshop is launching the Love to Learn campaign, beginning in July on YouTube where Elmo will explore a new topic each month. Viewers will receive six months of playlists, available on Sesame Street's YouTube Channel, full of new videos and songs featuring the following topics.
July: Animals. Elmo meets Simon's Cat, star of one of the most popular animated channels on YouTube.
August: Games and Sports with a focus on the Olympics.
September: Ready for School. Elmo gets ready for school with the Eh Bee Family. Captain America star Anthony Mackie also shares a fun tip to help get kids ready for school.
October: Music and Dancing. Superstar sisters Lennon & Maisy cover a new arrangement of the classic "I Don't Want to Live on the Moon" with Ernie. Plus, Jason Derulo and Tori Kelly teach Elmo new dance moves and how to play the guitar.
November: Cooking. Cookie Monster celebrates his birthday by guest starring on Rosanna Pansino's Nerdy Nummies, one of the top three female-hosted channels on YouTube.
December: Kindness. Elmo and social media star Jérôme Jarre join forces on a mission to spread kindness throughout New York City. Plus, Grammy-winning country musical group Little Big Town gives Elmo tips on how to get along with your friends.
Sesame Street consistently ranks in the top 10 Education channels on YouTube, with 1 billion views in 2015. Its social media presence continues to grow, with 17.5 million followers on Facebook, 1.5 million on Twitter, and nearly 100,000 on Instagram. Combined with the Love to Learn YouTube celebrities' following, the campaign will reach up to 93 million fans.
The Love to Learn campaign also includes a new DVD, iTunes collection, games on sesamestreet.org, and content in Sesame Street magazine.
What's New in Sesame Street Toys on TTPM
TTPM is showcasing the newest Sesame Street Toys. For the latest in Toys, Tots, Pets, and More as well as what's trending, visit TTPM.com