Disney Reveals Rogue One Toys with Help from Superfans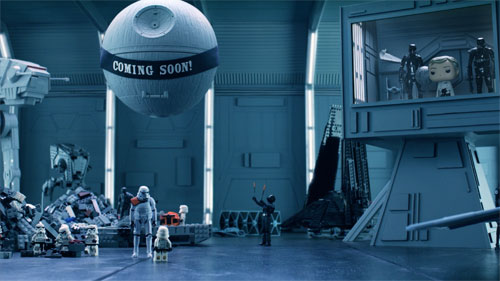 A team of Star Wars superfans helped reveal the new toy line for the highly anticipated Rogue One: A Star Wars Story movie via a series of fan-made animated shorts launching on the Star Wars YouTube channel.
As part of a competition in collaboration with creative network Tongal, a team was assembled to write, direct, and produce original, fan-made, stop-motion shorts starring key toys from the new line to kick off a global user-generated content contest that asks fans to share their own Rogue Stories.
The global contest, which kicks off September 30, invites fans to share their own short stories or skits set in a galaxy far, far away. Winning entries will be chosen by a panel including Rogue One: A Star Wars Story director Gareth Edwards. Beginning September 30, teen and adult fans can enter the Go Rogue contest on StarWars.com/GoRogue.
In addition, in the U.S. and parts of Canada, kids 8-12 can participate on Disney.com/MyRogueStory. Winners will be invited to Lucasfilm in San Francisco to attend a screening of Rogue One, and see their short story on the big screen.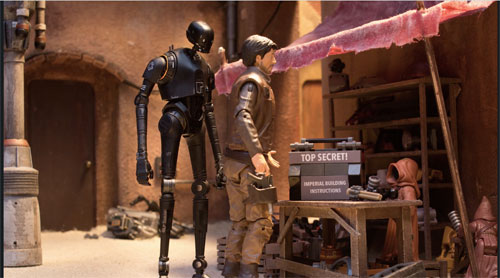 The fan-created shorts created by Tongal, which reveal the new line of Rogue One toys launches on the Star Wars YouTube channel today, with new installments rolling out through September. The team was lead by James DeJulio at Tongal, and the series was written by Kevin Ulrich and brought to life by stop-motion animators and directors Dan MacKenzie and Tucker Barrie. The stories follow the adventures of Rogue One toys from Hasbro, LEGO, Funko, Jakks Pacific, Mattel, and Disney Store as they try to track down the building instructions to the LEGO Star Wars Death Star set, which have been misplaced by the Empire.
Fans can pre-order a handful of select items seen in the Rogue Stories beginning September 2 at mass retailers, Disney Store locations, and disneystore.com. The full range of new Rogue One and Star Wars products will be available globally starting on September 30. Join the global #GoRogue conversation on social.
(Tongal's creative network includes 120,000 writers, directors and animators across 150 countries. For more information, go to www.tongal.com.)
American Girl Announces Exclusive Partnership with TRU
American Girl, a subsidiary of Mattel, announced a multi-year partnership with Toys "R" Us. The collaboration will make Toys "R" Us the first and only U.S.-based retailer to feature American Girl shop-in-shops in select stores, and the exclusive retail partner to carry American Girl's Truly Me line of contemporary 18-inch dolls, doll outfits, and accessories. Ranging in size up to 700 square feet, the shop-in-shops will debut in 97 select locations across the country in late October.
The move marks the first time the company has extended such a broad assortment of its doll product outside of its existing channels. The inclusion of American Girl product at Toys "R" Us stores is in addition to American Girl's 20 proprietary U.S. stores and its online shop, americangirl.com. This expansion also comes on the heels of the launch of American Girl's newest doll and content line, WellieWishers, designed for girls ages 5–7.
"For years, girls and their families have been asking for more immediate and convenient ways to shop for and experience American Girl," said Katy Dickson, president of American Girl. "Partnering with a top retailer like Toys "R" Us allows us to meet our customers where and when they want to shop and to take our timeless life lessons to even more girls. We're excited about increasing access to our brand by inspiring and connecting with more families in more places than ever before."
Additional Toys "R" Us locations will open shop-in-shops in 2017.