ChiTAG, National Lekotek Partner for Special Needs Families
The Chicago Toy and Game Fair (ChiTAG) announced a partnership with The National Lekotek Center, a nonprofit organization dedicated to promoting play for children of all abilities. This year, ChiTAG will open its doors one hour earlier for the Lekotek Super Power Sensory Hour. These families will be admitted to the fair for free, and will have the unique opportunity to touch, feel, and experience before the fair opens to the general public.
Now celebrating its 14th year, ChiTAG takes place November 19 and 20, 2016, (the weekend before Thanksgiving) at Navy Pier in Chicago. ChiTAG is the largest toy and game fair in the U.S. that is open to the public. The annual fall event brings together consumers, families, inventors, manufacturers, retailers, educators, hobbyists, bloggers, and the media to play, celebrate, discover, support, and promote the creation of toys and games.
For more information about ChiTAG 2016, visit ChiTAG.com. For more on the National Lekotek Center, visit lekotek.org.
Moose Launches Shopkins Golden Ticket Sweepstakes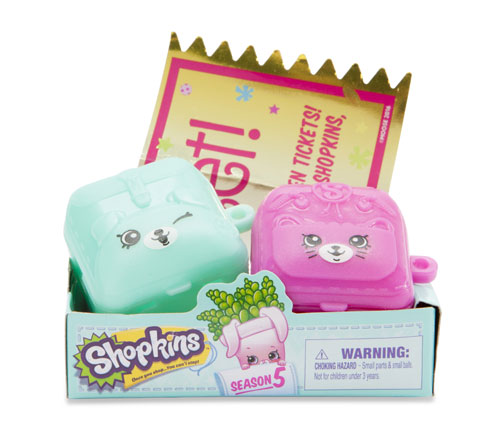 Moose Toys announces its first-ever Shopkins Golden Ticket Hunt, launching a nationwide treasure hunt to celebrate Shopkins fans and the fifth season of the brand.
Five golden tickets have been randomly hidden inside a Shopkins Season 5 2-pack, 5-pack, or 12-pack across the U.S. Fans who find one of the five golden tickets will win a trip for two people to the Home of Shopkins in Melbourne, Australia. There will also be a drawing where a mail-in entrant could win a sixth trip. Winners will be treated to their own private Shopkins Party, where they will get to meet the designers from the world of Shopville.
Along with a trip to the Shopkins Headquarters, winners will also receive the Ultimate Shopkins Backpack, packed with product, including items that have never been released in the U.S.
The hunt for the Shopkins Golden Tickets began earlier this week, and will run until all five tickets have been found.
What's New in Eco-Friendly Toys on TTPM
TTPM is showcasing newest Eco-Friendly Toys. For the latest in Toys, Tots, Pets, and More as well as what's trending, visit TTPM.com.