DHX Media Signs Global Deal with Air Bud Entertainment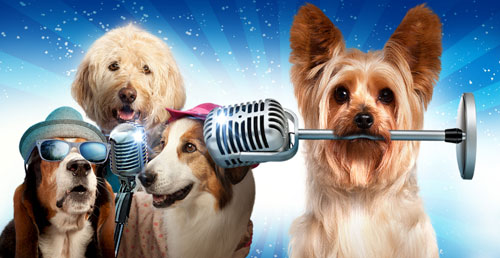 DHX Media signed a deal for global distribution rights to the Air Bud franchises with Air Bud Entertainment, the creative force behind one of the top-selling live-action, direct-to-video movies in the family category.
DHX Media has entered into an agreement to globally distribute 15 films (43 half-hours of content) across the much-loved franchise, which stars a host of talking dogs and other animals. The deal includes the franchise's all-new feature Pup Star about a Yorkshire Terrier who, when competing in a televised singing competition, is separated from her owner by an opportunistic dog pound worker. It is currently available on Digital HD and will be available on Netflix in the U.S. and other territories in late October. This distribution deal spans across Air Bud's productions, from the original Air Bud hit movie, almost 20 years ago, to the all-new release Pup Star.
As part of the agreement, other Air Bud Entertainment titles include Air Buddies, Air Bud: Golden Receiver, Air Bud: World Pup, Air Bud: Seventh Inning Fetch, Air Bud: Spikes Back, Chestnut: Hero of Central Park, MVP: Most Valuable Primate, MVP II: Most Vertical Primate, MXP: Most Xtreme Primate, Russell Madness, Monkey Up, Spymate, and The Duke. These films are all produced by Air Bud Entertainment.
WIT, TRU Host "Breaking In: How to Get on the Shelves at Toys "R" Us," This Thursday
Women in Toys, Licensing & Entertainment (WIT) has announced a full panel discussion and networking event entitled, "Breaking In: How to Get on the Shelves at Toys "R" Us," to take place at the Toys "R" Us, Inc., Global Resource Center in Wayne, N.J. this Thursday, September 22 at 5:30pm.
WIT members and attendees will have the exclusive opportunity to meet and hear from Richard Barry, executive vice-president and global CMO, as well as Melody Young, vice-president, general merchandising manager, core and specialty retail. These TRU executives will lead a panel of their top merchandising colleagues, as they divulge insider tips on what their teams look for as they search for new product.
Following the panel discussion, attendees will be given the opportunity to network with the Toys "R" Us team and other WIT members over refreshments.
This Toys "R" Us-sponsored WIT event is free to WIT members and non-members. Please click here for more information and to RSVP.
Speakers Announced for ChiTAG Conference
The Chicago Toy & Game Group Innovation Conference announced its lineup of speakers. This year's keynote speakers include Kathleen Campisano (Barnes & Noble), Andy Roo Forrest (Forrest-Pruzan Creative), Jim McCafferty (JMP Creative), Tim Walsh (The Playmakers), and Michelle Thaller (NASA Headquarters).
Both professional and new inventors can meet with and pitch product acquisition executives from Hasbro, Spin Master, Mattel, Bandai, PlayMonster, Asmodee, and many more companies from around the world. In addition, there is a full conference agenda of industry basics as well as professional development sessions. This is an opportunity for attendees to create, collaborate, celebrate, and connect. Included in the conference package are tickets to Inventor Night at D4, the Toy & Game Innovation Awards (TAGIEs), and PlayCHIC. The conference is held on Thursday, November 17 and Friday, November 18 at Navy Pier. Both days kick off with a Continental Breakfast at 7am with speakers beginning at 8am.
This year's speakers include the following:
Kathleen Campisano, VP GMM toys, games, hobby & collectibles at Barnes & Noble, will speak about trends. Campisano has reimagined the retail space at Barnes & Noble, allowing for the thoughtful integration of non-book merchandise. She serves on the TIA board of directors and has previously served as the executive vice-president and CMO for MEGA Brands.
Andy Roo Forrest, partner at Forrest-Pruzan Creative, will talk about invention and games. Forrest-Pruzan Creative is an invention, design, and playtesting studio specializing in games that works with consumer brands, like Disney, Star Wars, Barbie, Pokémon, and more. He is also a celebrated Indie singer/songwriter.
Jim McCafferty, owner of JMP Creative, will speak about invention and toys. McCafferty is an award-winning illusionist and the owner of a product invention powerhouse that has developed concepts resulting in over a billion units of product to reach the marketplace, including the latest Orbeez and PomPomWow crazes.
Tim Walsh, chief playmaker at The Playmakers, will present on creativity and introduce Reyn Guyer, the inventor of Twister, Nerf, and more. Guyer and Walsh recently co-authored, Right Brain Red. Walsh has designed or co-designed four games that have sold over one million copies, including TriBond, Mad Gab, and Blurt! He has also licensed games, educational toys, and apps for clients like Hasbro, Mattel, and Educational Insights, authored books and produced documentaries about the toy industry.
Michelle Thaller, assistant director of science at NASA Headquarters, will speak about how we are all connected on a deep level. Thaller manages the Stennis Space Center education and public outreach program. She has appeared on the History Channel show, The Universe and appears in the Science Channel show, How the Universe Works.
For more information visit, chitag.com/conferences.
Playmobil Playroom Opens at Children's Hospital at Hackensack University Medical Center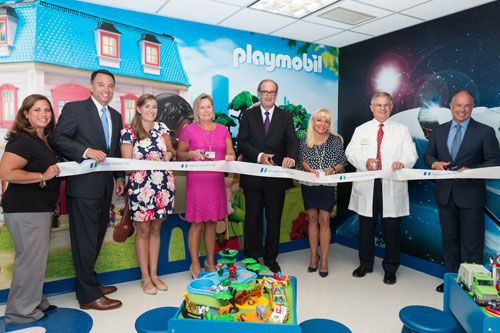 The Joseph M. Sanzari Children's Hospital at Hackensack University Medical Center, a member of Hackensack Meridian Health, together with Playmobil, held a ribbon-cutting ceremony last week to dedicate the new Playmobil Playroom. The playroom, dedicated to pediatric patients, is fully equipped with playsets, a life-sized Playmobil character, and themed backdrops from Playmobil.
"The Playmobil Playroom will truly be a special place where our pediatric patients can play in a nice bright, vibrant atmosphere and not dwell on their medical procedures," said Stephen Percy, M.D., acting chairman, Joseph M. Sanzari Children's Hospital at HackensackUMC.
Jon M. Fitzgerald, president, chief development officer, HackensackUMC Foundation added: "We are so thankful to Playmobil for the very generous donation of the playsets, life-size Playmobil figure, and the colorful backdrops. It is a wonderful gift for our patients and their families to enjoy."
What's New in Pop Culture & Collectibles on TTPM
TTPM is showcasing newest in Pop Culture & Collectibles. For the latest in Toys, Tots, Pets, and More as well as what's trending, visit TTPM.com.