Jakks, Meisheng Form Studio JP
Jakks Pacific, Inc., announced the launch of a newly formed business unit, Studio JP, a division dedicated to creating and developing original, multi-platform computer-generated animated content, in a joint venture with China's Meisheng Cultural & Creative Corp.'s animation studio Rising Anime. Studio JP will drive the creative storytelling process with Jakks and Meisheng jointly owning the content. Jakks will have merchandising rights for kids' consumer products in all markets except China, which Meisheng will spearhead through the companies' existing distribution joint venture, Jakks Meisheng Trading (Shanghai) Ltd.
Studio JP will introduce kid-friendly content including new short-form series and original shows, while exploring Jakks' library of intellectual properties. Studio JP will be responsible for script development, storyboards, character and visual development, production, and distribution.
TAGIE Award Nominees Announced
The Chicago Toy & Game Group announced the nominees for the 2016 Toy & Game Inventor of the Year (TAGIE) Awards.
Excellence in Digital Toy or Game Design
Phoebe Hayman, Seedling for Maze
Don Stucke, Fisher-Price for Think & Learn Code-a-pillar
Don Inmon & Matt MacBeth, pi Lab for Edwin the Duck
Dan Klitsner, KID & Hasbro KIDS Gaming Team for Simon Air
Robin Rath & Josh Stevens, Pixel Press for Bloxels
Pramod Sharma, Tangible Play for Osmo
Excellence in Game Design
Forrest-Pruzan Creative with Wonder Forge for Dr. Seuss Thing Two and Thing One Whirly Fun! and USAopoly for Harry Potter: Hogwarts Battle
Nicholas Cravotta & Rebecca Bleau, BlueMatter Games with ThinkFun for Escape the Room Series
Jeremy Posner, Big Monster Toys with FatBrain Toys for Coggy
Rob Daviau, Ironwall Games, co-designer of Pandemic: Legacy with Matt Leacock for Z-Man Games and for SeaFall with Plaid Hat Games
Mike Bisogno, designer at Cardinal Industries for Finding Dory and more
Graham Thornton & Hasbro Family Gaming Team for Pie Face Showdown
Excellence in Toy Design
Troy Fisher & Hasbro Yo-kai Watch Team, for Yo-Motion Yo-kai Watch
Michael Bernstein, Jakks Pacific for Gift'ems
Ali Kermani, Razor for RipSurf
David McDonald, Spin Master for Hatchimals
Peter Greenley & Nick Grisolia, G2Invention with Spin Master for Zoomer Chimp
Jim McCafferty, JMP Creative with Maya Group for PomPomWow Decoration Station
David Yakos, Steamline Design with Lionel Trains for Mega Tracks
Rising Star Inventor of the Year
Brady Peterson, Pleyful with Marbles for Otrio
Julien Sharp, FunnyBone Toys for Anaxi
Andrena Baxter, InterPlay UK with PlayMonster for My Fairy Garden
Mikkel Bertelsen, with Marektoy for Klask
Alice Brooks, Roominate with PlayMonster for Cotton Candy Carnival
Ciaran Larkin, outstanding designer in the Hasbro Fellowship Program
Ken Gruhl & Quentin Weir, with North Star Games for Happy Salmon
In addition to the public votes, honorees from closed categories, including Excellence in Character Design, Hassenfeld Family Humanitarian Award, In Memoriam, and Lifetime Achievement will also be awarded. The winners of this year's TAGIE Awards will be announced on Friday, November 18, 2016, with a dinner beginning at 7pm in the Grand Ballroom at Navy Pier in Chicago.
Voting for the 2016 TAGIE Awards is open until November 1, 2016. Members of the media, industry, and public are invited to cast their votes for the best toy and game inventors by visiting www.chitag.com/tagies-nominations.
Tickets to attend the 2016 TAGIE Awards are available for $250 and require registration through chitag.com/tagies.
WIT Wonder Women Awards Nominations Now Open
Women in Toys, Licensing & Entertainment (WIT) announced that nominations are now open for the 13th Annual Wonder Women Awards. Also announced are new nominations guidelines, criteria, voting process, timelines, and elimination of the entry fee to nominate.
Award winners will be announced at the annual gala on Sunday, February 19, 2017, at Pier 60, Chelsea Piers in New York, during New York International Toy Fair. Tickets to the 2017 Gala are now available for purchase by clicking here. Nominations are now open:
The 2017 Wonder Women Award Categories include:
Changemakers in Manufacturing
Changemakers in Marketing
Changemakers in Licensing
Changemakers in Entertainment
Changemakers of Tomorrow (Rising Star) (multiple honorees)
The new 2017 Wonder Women Awards nomination process timeline is as follows:
October 3, 2016—Nominations Open
November 1, 2016—Nominations Close
November 21, 2016—Final Nominees Announced; Voting Begins
December 19, 2016—Voting Closes
February 1, 2017—Award Finalists Announced
To learn more and nominate a WIT Wonder Woman candidate, visit www.WomenInToys.com.
Oregon Girl Finds Shopkins Golden Ticket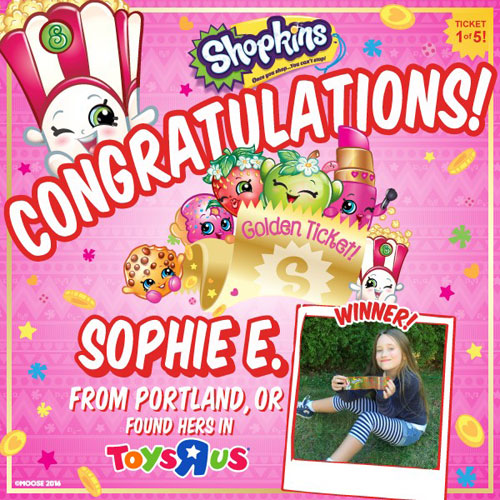 Portland, Oregon's most loyal Shopkins fan, Sophie age 8, beat the one in 1.3 million odds and found the first of five Shopkins Golden Tickets hidden across the U.S. Moose Toys is sending Sophie and a guardian to the home of Shopkins in Melbourne, Australia, for a complete Shopkins experience. Moose Toys says that Sophie plans to take the trip and has until December 30, 2017 to travel.
After traveling more than 8,000 miles from Portland to Melbourne, Sophie and her guest will be greeted by their favorite Shopkins characters, and whisked off to their very own private Shopkins Party, where they will get to meet the designers from the world of Shopville. Along with a trip, Sophie will also receive the Ultimate Shopkins Backpack, jam-packed with some of the best Shopkins loot, including items that have never been released in the U.S.
The Shopkins Golden Ticket Hunt is a nationwide treasure hunt, which kicked off August 29 and will run until all five tickets have been found.
What's New in Trolls Movie Toys on TTPM
TTPM is showcasing newest Trolls Movie Toys. For the latest in Toys, Tots, Pets, and More as well as what's trending, visit TTPM.com. The Trolls Movie opens November 4 in the U.S. See the trailer here.