TTPM Announced Most Wanted Toy List
TTPM hosted its annual Holiday Showcase media event in New York City today. During the packed event, TTPM announced its Most Wanted Holiday 2016 list, see it here. To see a Most Wanted List by product category, click here. To see the items on video, click here.
Ozobot to Feature Marvel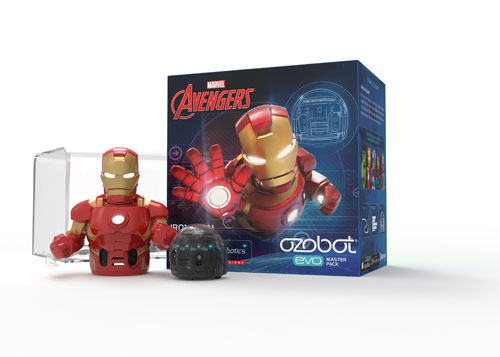 Evollve, Inc., maker of the Ozobot Evo, announced the launch of the Evo Marvel Action Skin. Evo Marvel Action Skin will feature Captain America, Iron Man, Black Widow, and the Incredible Hulk, providing a learning and gaming experience.
Users simply attach the Marvel Action Skin to the Evo robot to unlock the features and behaviors that reflect the personalities of the Marvel characters through character quips, LED colors, animations, and movements. By accessing the Stark Academy-themed mobile app, users will be able to download missions, races, and challenges to defend a planet on the brink of destruction or take on the evilest super villain, Ultron (also available as a Evo Marvel Action Skin). Each connected Evo Marvel Action Skin will provide the following features but are not limited to:
Stark Academy-Themed Mobile App User-Interface
OzoChat for Hero Interaction (gated chat for ages 13 and under)
User Control (range up to 30 feet)
Collision Detection with Infrared Proximity Sensing
Character LED Colors and Skin Illumination
Character Behaviors and Movement Animation
Character and Content Downloads
45+ Minute Playtime
Individual skins will retail for $29.95 and the master pack including one Evo and one Marvel Skin will retail for $124.95. Action Skins for Captain America and Iron Man will be available in November. Additional skins including the Incredible Hulk, Black Widow, and Ultron Action Skins will be available in 2017. Pre-order begins today on the Ozobot website and at the end of October on Amazon. Evo Marvel Action Skins will also be available at major retailers including Toys "R" Us, Barnes & Noble, and Amazon during Thanksgiving.