ASTRA Marketplace Expands to Three Days
The American Specialty Toy Retailing Association (ASTRA) announced that the 2017 Marketplace & Academy show floor will be open for three full days, offering exhibitors and attendees expanded time on the exhibit floor.
"ASTRA always asks our exhibitors and our retailers what we can do better, and they came through loud and clear that they need more time on the exhibit floor," said Kimberly Mosley, president of ASTRA. "About 70 percent of members surveyed asked ASTRA to expand the time they have available for exploring products and writing orders. This reflects the critical role that ASTRA's Marketplace plays in helping specialty toy retailers get their fourth quarter strategies and product mix planned."
The 2017 ASTRA Marketplace & Academy will be held June 25-28, 2017, at the Pennsylvania Convention Center in Philadelphia.
Wood Expressions Acquires TDC Games
Wood Expressions, Inc., announced its acquisition of TDC Games last week. Wood Expressions says the purchase was made in the spirit of the company's corporate mission statement, "to be a leading game distribution company in the USA by providing great service and a quality product at a competitive price to our customers while building a profitable business," says Wood Expressions president Ron Reyes. "With the purchase of TDC Games, we are achieving our goals through our entrepreneurial spirit and a commitment to the growth and development of our employees and company."
TDC Games is a manufacturer and distributor board games and jigsaw puzzles, many of which feature irreverent humor targeting adults. TDC Games and Puzzles are primarily distributed in the U.S. and Canada, with additional channels in South America, the United Kingdom, Europe, Australia, and New Zealand. The combined sales of the two companies will double the annual sales revenue of Wood Expressions.
Wood Expressions has been manufacturing, importing, and distributing games from around the world for almost 40 years. Terms of the deal were not disclosed.
Deeley to Star in Episode of Kate & Mim-Mim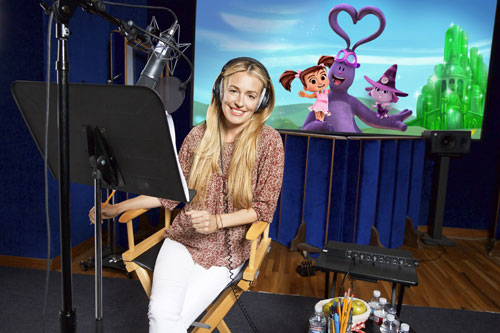 Actress, model, and TV host Cat Deeley (So You Think You Can Dance) lends her voice to a special feature episode "Kate in Oz" of the animated preschool series Kate & Mim-Mim, which will premiere on Disney Junior November 14. In the episode, the characters journey to the Land of Oz during a thunderstorm. When Kate and Mim-Mim's "twirl magic" is stolen by Violet (Deeley), a young witch who is stealing all of the purple in Oz for herself, Kate, her purple bunny playmate Mim-Mim and their friends embark on a quest to find the Wizard of Oz and ask for his help.
Deeley has previously voiced characters in The Simpsons, Johnny Bravo, and Robots.
FremantleMedia Kids & Family Entertainment holds the exclusive worldwide TV distribution and licensing rights to the property outside of Canada. Kate & Mim-Mim is produced by DHX Media in association with FremantleMedia Kids & Family, CBeebies, BBC Kids, and Knowledge:Kids.
What's New in Dress-Up Toys on TTPM
TTPM is showcasing newest in Dress-Up Toys. For the latest in Toys, Tots, Pets, and More as well as what's trending, visit TTPM.com.