aNb Media's 2017 Hong Kong Guide Is Now Available
Navigate the Tsim Sha Tsui Toy District from your computer or handheld device with aNb Media's 2017 Hong Kong Vendor Guide. View the listings by company or by location. Start searching aNb Media's Guide here.
Industry Vet, Adrian Roche, Launches Consulting Firm
Adrian Roche, a toy industry veteran, has launched his own consulting business, Black Horse Consulting, Inc. The firm will specialize in helping international companies gain access to the growing North American market, as well as offer up Roche's expertise in boys and preschool categories.
Most recently, Roche helped launched Alpha/Audley Toys' North American operations and served as its vice-president of global development. Prior to that Roche headed product development for preschool and boys, and licensing at MEGA Brands for nine years. He also launched the European operations for The First Years and served as marketing director for Kiddicraft Toys and managing director of Fisher-Price Kiddicraft.
Alpha's recently announced relocation from Boston to Los Angeles prompted Roche's decision to set up his own consulting business. Roche will take meetings in Hong Kong, Nuremberg, and New York, and can be reached at Adrian.roche@blackhorseconsulting.net.
American Girl Unveils 2017 Girl of the Year Doll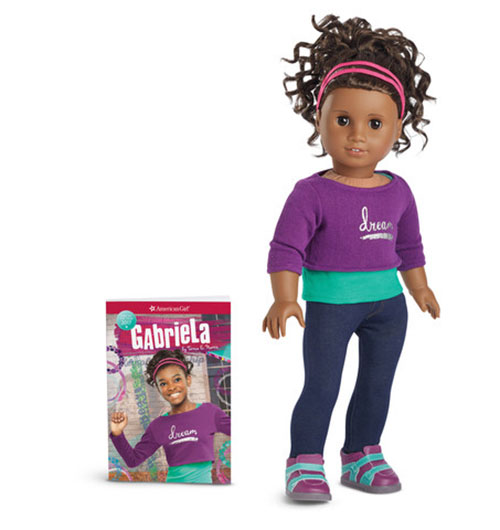 American Girl debuted Gabriela McBride, the company's new 2017 Girl of the Year. Gabriela is described as a "creative talent who uses the power of poetry to help her break down barriers and overcome a personal challenge with stuttering." The 18-inch Gabriela doll features curly brown hair, brown eyes, an exclusive outfit, and a book chronicling her story. Gabriela also comes with several performance-inspired outfits and accessories, including a dance barre, rehearsal and dance outfits, and pretend headphones and microphone. Additional Gabriela products and books will be available starting this spring, and—for the first time—the new Girl of the Year collection will be available for purchase for more than a year.
Gabriela's story will be told in a series of three books published by Scholastic and written by Teresa E. Harris. The first book, Gabriela, hits shelves in January. American Girl and Scholastic have also partnered to create and distribute Express Yourself, a custom curriculum program that teaches third through fifth grade students how to use poetry as a tool for self-expression. Free program materials will be available on www.scholastic.com starting March 1, and include lesson plans, corresponding classroom activities, a poetry poster, plus parent tips and learning ideas to do at home.
eOne Adds Broadcast Partners for New Animated Series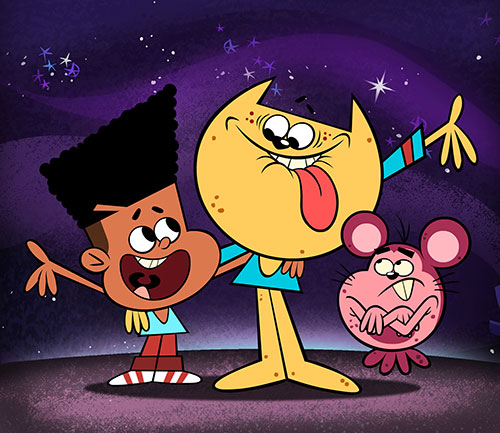 Entertainment One (eOne) announced broadcast sales for its new 2D-animated comedy series Winston Steinburger and Sir Dudley Ding Dong. Cartoon Network in France and public broadcaster OUFtivi in Belgium acquired broadcast rights to the first series of the TV show, which will begin airing in France from February 2017 and in Belgium from June 2017.
The news follows the recent broadcast premiere of the show on Canada's Corus-owned Teletoon on January 2. Corus is helping to promote the show through bonus content on its Teletoon social channels including Facebook, Twitter, and YouTube. A gaming app based on the TV series also recently launched in Canada.
Winston Steinburger and Sir Dudley Ding Dong is an animated comedy series targeted for ages 6–12 that follows the adventures of thrill-seeking space kid, Winston Steinburger, his feline best friend, Sir Dudley, and an uptight alien, Hampton, as they explore the galaxy together in a homemade space cruiser. The series is developed by eOne in collaboration with animation studio Sticky Pictures and co-produced with broadcasters Teletoon Canada and ABC3 Australia.