NPD Group Predicts Top 10 Selling Toys for Holiday 2017
The NPD Group named the top 10 hard-to-find toys for holiday 2017, based on velocity or how fast these toys are already flying off U.S. shelves and global information company.
The list includes three L.O.L. Surprise! doll assortments from MGA Entertainment; Fingerlings from WowWee; Barbie Dream House from Mattel; Hovertrax 2.0 from Razor; the Hatchimals Pengualas Pink Egg Assortment from Spin Master; Hot Wheels Singles 1:64 Assortment from Mattel; Star Wars App Enabled R2-D2 from Sphero; and the Star Wars E7 Black Series 6-Inch Assortment from Hasbro.
Half the toys that made the list launched launched after October 2016, including WowWee's Fingerlings and Sphero's Star Wars App Enabled R2-D2. Others are tried and true holiday top-performing brands such as Barbie and Hot Wheels.
As more activity typically takes place within the higher price-points getting closer to the holiday season, lower-priced toys drove year-to-date growth through September 2017, according to the NPD Group. While the industry grew its dollar sales by 3 percent in the first nine months of the year, unit sales grew by 4 percent. Sales of toys priced under $5 increased by 7 percent, and represented about one-third of the total toy industry dollar gains.
Despite running the risk of a sell-out situation, many consumers may still wait until the week before Christmas to shop, as they did last holiday season, in anticipation for better bargains.
Many of the toys featured on the NPD's hard-to-find list also made it onto TTPM's Most Wanted Holiday Toy List. To see the full list, click here.
Dates for 2019 HASCON Announced
Hasbro will host its second HASCON event September 6–8, 2019, in Providence, R.I. at the Rhode Island Convention Center and Dunkin' Donuts Center.
Hasbro hosted its inaugural HASCON event this past September, offering families and fans of all ages a new way to experience its brands, and a behind-the-scenes pass to Hasbro. The event featured three days of hands-on brand experiences, meet-and-greets, sneak peeks, concerts, exclusive reveals, star-studded panels, and fan-centric surprises.
The 2017 event featured dozens of meet-and-greet opportunities with celebrities, athletes and influencers, including Mark Wahlberg, Stan Lee, David Ortiz, James White, Dude Perfect, Maddie Ziegler, James Gunn, Zach King, Peter Cullen, Frank Welker, and Isabela Moner, among others. Concerts by Flo Rida and Daya were included with the purchase of a general admission HASCON ticket. Guests were also invited to audition for a Hasbro video, and to select a toy or game to donate to the Marine Toys for Tots for children impacted by recent hurricanes.
For more information about the 2019 HASCON event, visit hascon.hasbro.com.
Bon-Ton Brings FAO Schwarz to Nearly 200 Stores
The Bon-Ton Stores introduces the toy brand FAO Schwarz into 186 of its departments stores and online. Toys, including plush and games, will be available across the Bon-Ton family of department stores at select locations, including Bon-Ton, Boston Store, Bergner's, Carson's, Elder-Beerman, Herberger's, and Younkers stores.
To celebrate the launch, Bon-Ton Stores will have a ribbon-cutting ceremony on Saturday, November 4 at 10 a.m. hosted by each store's manager. The first 25 children at each location will also receive a special gift and have the opportunity to participate in the official FAO Schwarz ribbon cutting and photo opportunity. Guests can also participate in an Instagram photo contest to enter to win one of three FAO Schwarz prize packages.
Plans Move Ahead for LEGOLAND New York
Merlin Entertainments announced plans to move forward with LEGOLAND New York, which will open in 2020 in Goshen.
After more than a year of public meetings and hearings in addition to a thorough and transparent review process by officials, LEGOLAND New York was granted conditional approval of its site plan by the Town of Goshen Planning Board, allowing it to officially move ahead with building the Park.
LEGOLAND New York anticipates generating $283 million in sales tax and hotel occupancy tax for Orange County over the period of 30 years. The Town of Goshen would receive about $71 million in revenue from the host community fee LEGOLAND will pay and its share of PILOT payments and tax payments.
The Park's design will build upon the models of parks operating in California, Florida, the UK, Germany, Malaysia, Denmark, Dubai and Japan.
The New York Park will be open seasonally from April 1 to November 1.
ZAG Launches Digital Trifecta Strategy for Zak Storm Boys' Property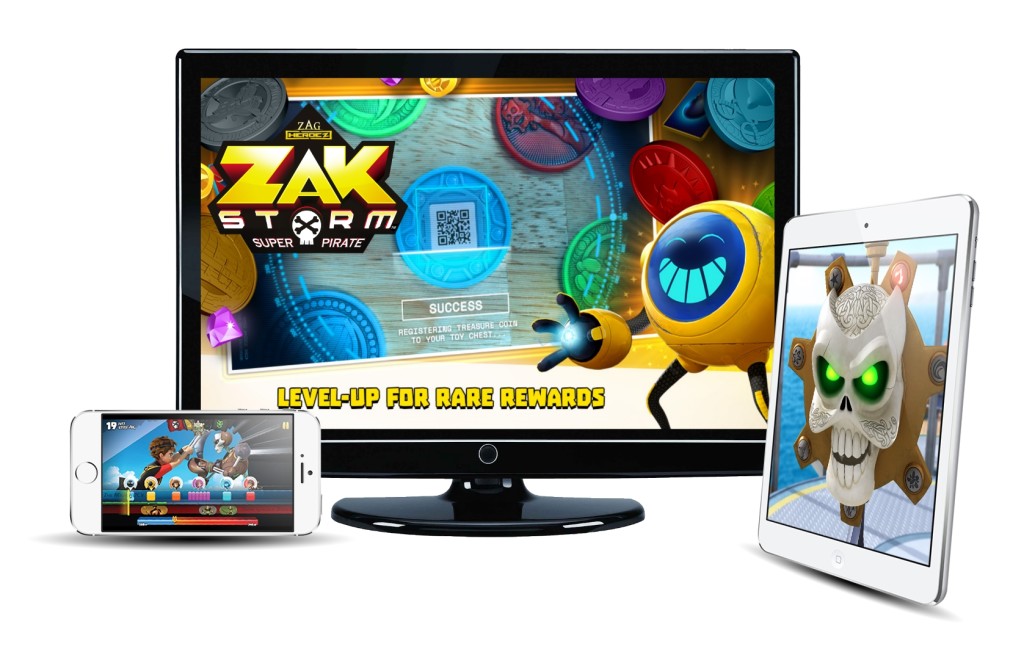 ZAG announced the digital trifecta launch of its latest original boys' action/adventure comedy TV series under the ZAG HEROES brand, Zak Storm—Super Pirate. Man of Action Entertainment (Ben 10, Big Hero 6) created the series.
The series, for boys 6 to 11 years old, debuted this Fall in the U.S. on Discovery Family, and Sinclair Broadcast Group's KidsClick TV. It has already released in some key territories around the globe with more to come. Now ZAG and global master toy partner Bandai America are launching a connected play experience by interconnecting the TV show, toys, and a mobile game.
When kids watch the TV series, it will sync with the Zak Storm Super Pirate free-to-play mobile game to deliver small-screen battles and adventures that mimic the real-time TV show scenes, providing the player with digital game rewards. Kids can also collect and play with Zak Storm physical toys from Bandai America, available exclusively in the U.S. at Amazon for the month of November. Each comes with collectible treasure that provides rewards for the Zak Storm mobile game when kids scan the unique QR code on the collectible treasure into the app. The Zak Storm Super Pirate app is available for download on the App Store and Google Play, as well as Amazon for Fire tablets.
The show follows the adventures of headstrong Zak Storm, a typical kid who is swept into the Bermuda Triangle during a surfing competition and gets turned into a renegade superhero pirate.