Fat Brain Toys Introduces New Virtual Product Tours
Fat Brain Toys has introduced a new way for customers to interact with its website. Virtual Toy Tours gives visitors the ability to engage with select products in an interactive, 3-D browsing experience.
"We're always seeking out new ways to deliver the toy store experience directly to a customer's computer or mobile phone," says Mark Carson, co-Founder of Fat Brain Toys. "Our new Virtual Toy Tours is yet another innovation to provide our customers with the most robust toy shopping experience available." While virtual reality e-commerce may still be years away, the 3-D toy models allow customers to interact with products in new ways. For instance, the baby rattle called MiniSpinny is not only visible in 360 degrees, but the 3-D visualization also demonstrates the spinning action that the toy is known for. Likewise, the 3-D representation of Quack Stack, a toy that features soft silicone parts, bends and flexes to simulate the toy's more sensory aspects.
The Virtual Toy Tour is available on a select number of best-selling toys this holiday season, with additional 3-D models to be added in 2018. Built on WebGL technology, the Virtual Toy Tour is optimized to run effortlessly on any device, including computers, tablets, and even mobile devices. The feature was released just in time for the rush of holiday shoppers expected later this week.
Basic Fun! Launches Poopeez! Web Series
Poopeez, created by Basic Fun! in collaboration with Brandberry, has teamed up with the producers of popular children's shows such as PAW Patrol, Bakugan, and Smosh Babies to launch a new web series. In the new YouTube series, fans can join the Poopeez crew of T.P., Pooji, Skid Mark, The Toot Fairy, Dumpling, and Lil' Squirt on their adventures in Kerplopolis, a city that is completely toilet-themed with poop, pee, and fart characters of all shapes and sizes. The toy line of collectible characters will be available globally at retail starting in January 2018. A licensing program for lifestyle and consumer products will follow the launch of the toy line.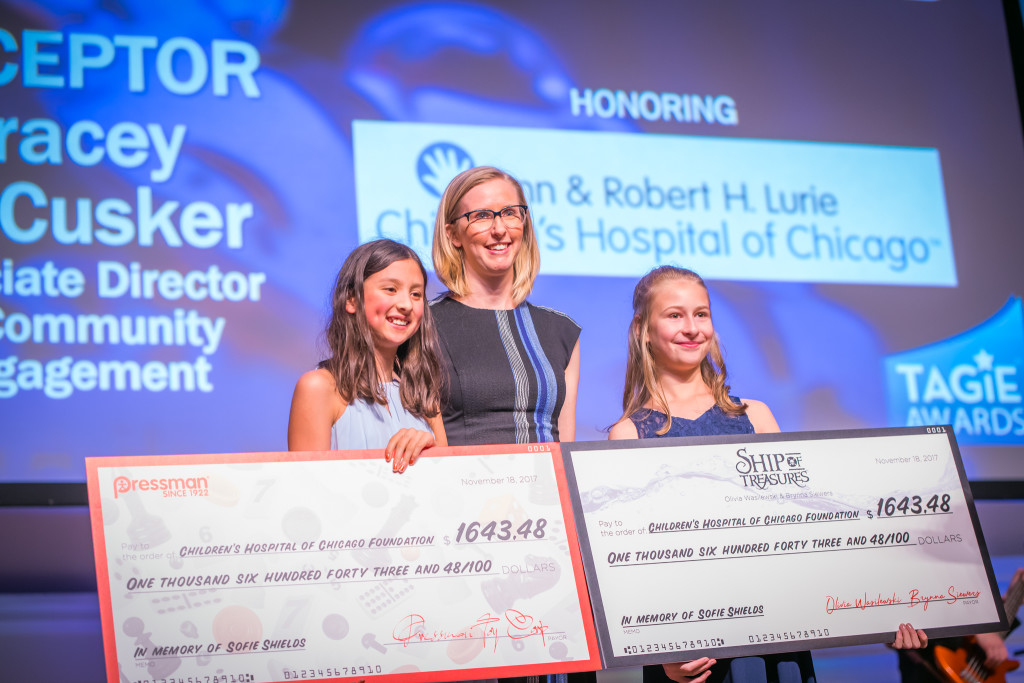 2017 TAGIE Awards Honor Toys and Game Innovators
The winners of the 10th annual TAGIE Awards honoring innovation and excellence in the toy and game industry were announced at a gala on Navy Pier in Chicago on Saturday night. Attended by members of the industry and sponsored by companies such as Hasbro, Mattel, LEGO, and Cartamundi, the evening's events included a keynote address by Gary Swisher, senior vice-president of inventor relations and head of gaming for Mattel, and culminated with Lifetime Achievement Awards given to Judy Blau of J. Hope Designs and Adi Golad, founder of Goliath Games.
Following is the official listing of 2017 Toy & Game Innovation Award (TAGIE) winners, nominees and honorees: GAME INVENTOR OF THE YEAR Don Ullman and Steve Calhoun, Soggy Doggy Nominees:
Fuse – Oliver Morris, Roller Coaster Challenge
Jim McCafferty and JMP Creative team, Catch the Fox
KID Group, Ultra Dash
Seven Towns, Ltd., Who's the Dude?
Top Notch Toys, Fantastic Gymnastics
TOY INVENTOR OF THE YEAR (Sponsored by LEGO) David Small and Paul Rago of Shoot the Moon, Star Wars Hero Droid BB-8 Full Interactive Droid Nominees:
Bang Zoom Design, Barbie on the Go
Desinbytouch, Nerf Nitro
Ronen Horovitz, Play Doh Touch
Ruth Green-Synowic, Paint-Station
RISING STAR OF THE YEAR Joyce Sprau, Flower Fairies Secret Garden Nominees:
Brady Peterson, Groovy Blocks
Brian Gomez (Egils Grasmanis, Edgars Zakis, Janis Grunte, Reinis Butans), Ice Cool
Dominic Yard, Thomas & Friends Adventures Sea Monster Pirate Set & Shark Escape Play Set
Thijmen de Schipper, Spy Code Break Free
INNOVATIVE ARTS & VISUALS OF THE YEAR Rory O'Connor and Anita Murphy, The Extraordinaires Design Studio Nominees:
Funnybone Toys, Whim, Akin, Spirot, Spectracube, Anaxi, and others
Harmonix, DropMix
Mattel, Enchantimals
MGA Entertainment, Inc., L.O.L. Surprise! Collectible Dolls
INNOVATIVE MARKETING TEAM OF THE YEAR Spin Master, Hatchimals Nominees:
Mattel, Dads Who Play Barbie
Hasbro, Nerf's Dude Perfect
Marektoy, Klask and Bonk
PlayMonster, Ultra Dash
YOUNG INVENTOR OF THE YEAR (Sponsored by Mattel) Olivia Wasilewski and Brynna Siewers, Ship of Treasures Nominees:
Samaira Mehta, CoderBunnyz
Shay Bhattessa Sharma, Football Billionaire Limited
Sydney and Toni Loew, Poketti Plushies with Pocket Powers
In addition to the winners determined through nominations and public voting, honors were given in the following closed categories: Hassenfeld Humanitarian Award: Lurie Children's Hospital Inventor Advocate: Lisa Guili, General Manager of Educational Insights Lifetime Achievement (Hasbro): Judy Blau of J. Hope Designs Lifetime Achievement (Sponsored by The Michael Kohner Corporation): Adi Golad, Founder and Managing Director of Goliath Two of the evening's award winners, Olivia Wasilewski and Brynna Siewers, inventors of Ship of Treasures, created an unexpected moment when they surprised fellow honoree, Lurie Children's Hospital, with checks on behalf of themselves and Pressman Toy. The young game inventors memorialized a fellow elementary school classmate, Sophie Shields, who died earlier this year of cancer, by donating a percentage of the proceeds from the sale of their game. Their manufacturer, Pressman Toy, matched the donation.
The 2017 TAGIE Awards and Gala were presented by Mattel, Hasbro, LEGO, Spin Master, The Michael Kohner Corporation, Longshore Limited, Hassenfeld Family Initiatives with additional sponsors including Peggy Brown Creative, Cartamundi and McGill and Associates. The annual TAGIE awards are the preeminent awards program honoring innovation and excellence in the toy and game industry. The awards program gala is held annually the Friday evening before Thanksgiving as the kickoff to the Chicago Toy and Game Week Fair, which hosted more than 30,000 consumers and industry players this past weekend on Navy Pier.
Paramount Unveils Its First AR Experience with Transformers
Paramount Home Media Distribution unveiled a free augmented reality experience for iOS app users, coinciding with the release of Transformers: The Last Knight on 4K Ultra HD.
Created by Viacom's VR team Viacom NEXT using Apple ARKit technology, the app incorporates content from the latest film in the series, Transformers: The Last Knight. The app overlays 3-D graphics onto a user's surrounding physical space, designed as the virtual junkyard of protagonist Cade Yeager as seen in Transformers: The Last Knight. Players control the actions of Bumblebee, directing his movement while hitting, blowing up and interacting with various objects, which can be added to expand the interactive environment.
The experience is free to download from the App Store until February 20, 2018. Users can also order Transformers: The Last Knight on 4K HDR through the app. The Transformers five-movie collection will also be available on 4K HDR for purchase exclusively on iTunes beginning November 21, 2017.
NRF Survey Shows Young Consumers Spend More During Holidays
A new survey released by the National Retail Federation and Prosper Insights & Analytics shows that young adults (ages 18–24) are the most likely to show an increase in spending.
"As Gen Z and Millennials gets older, their purchasing power increases, and the rise in disposable income is sure to be seen by retailers," NRF President and CEO Matthew Shay says. "This group of consumers has spent time carefully researching gifts for friends, family and themselves, and are ready to begin knocking out their shopping lists."
The survey found 54 percent of consumers overall plan to spend about the same as last year, with 24 percent planning to spend more. But among those ages 18–24, which includes the oldest members of Generation Z, 46 percent say they will spend more than last year. The next-closest group was those aged 25–34 years old, with 39 percent planning to spend more.
Clothing and accessories will be bought by 61 percent of consumers, the same as last year, while 59 percent will give gift cards, up from 56 percent last year.
Books, music, movies or video games will be given by 44 percent, the same as last year, while 41 percent will give toys, down from 42 percent. The number giving food or candy is up at 34 percent from 31 percent, and 29 percent will give electronics, down from 30 percent.
Out of the 95 percent of Americans shopping for the holidays this year, 80 percent plan to spend time with family or friends, 63 percent plan to give or open gifts and 50 percent plan to make a special meal or festive treats. Also, 45 percent plan to decorate their homes and 31 percent plan to attend a religious service.
In a new question this year, the survey found that 38 percent of consumers plan to donate money to a charity or cause and 37 percent plan to donate items, including holiday meals for needy families. Of those donating, 80 percent said it would have no effect on their overall holiday spending.
Holiday shoppers plan to purchase an average of four gift cards with an average value of $45 per card, the second most-popular gift after clothing. Spending on gift cards is expected to reach $27.6 billion, up from last year's estimated $27.5 billion. The most popular gift cards include those for restaurants (purchased by 36 percent of buyers), department stores (33 percent), Visa/Mastercard/American Express (24 percent), coffee shops (21 percent) and entertainment (18 percent).
Predicting the "hot" toys each season can be a challenge for harried parents and others buying for children, but many already have their shopping lists prepared. For girls, the top toys include Barbie (19 percent), reigning for the third consecutive year, followed by traditional dolls (13 percent). Some other hot toys for girls to watch out for this season include Hatchimals, Fingerlings/LEGO, American Girl/My Little Pony, Shopkins, Disney Princess, Baby Alive/L.O.L. Surprise! dolls and Disney Frozen. For boys, LEGOs again top the list of must-haves (16 percent), followed by video games (7 percent). Other top toys that will be popular for boys this season include cars and trucks, Hot Wheels, Star Wars-related items, Nerf, Nintendo Switch, Xbox One, drones and Paw Patrol.
Credit cards are the most popular form of payment this year, used by 40 percent of shoppers, up from 39 percent last year. That's tied with debit cards, which will also be used by 40 percent, the same as last year; 18 percent plan to pay with cash and 2 percent will use checks. Of emerging payment methods, PayPal will be used by 36 percent, Apple Pay by 7 percent, Samsung Pay and Google Wallet by 4 percent each, and Venmo by 3 percent.
The survey, which asked 7,439 consumers about holiday shopping plans, was conducted October 31–November 7 and has a margin of error of plus or minus 1.2 percentage points.
Pocket.watch Teams with YouTube Heavy Hitters, Grows Executive Team
Adding to its existing portfolio of YouTube mega-brands, pocket.watch announced new partnerships with two top YouTube creators, EvanTube and CaptainSparklez.
They join previously announced partners Ryan Toys Review and HobbyKidsTV. EvanTube, encompassing a portfolio of kids and family channels including EvanTubeHD, JillianTubeHD ,and EvanTubeGaming, was started more than six years ago and has amassed more than 5 billion lifetime views and 9 million subscribers. CaptainSparklez, a gaming entertainment channel created by Jordan Maron, has accumulated more than 10 million subscribers and more than 3 billion views over its seven year lifetime. In just six months, pocket.watch has garnered more than one billion monthly views across 20 YouTube channels with a combined subscriber base of more than 34 million.
With these two new partners, pocket.watch continues to build its franchise brand portfolio. And in a move to further grow and extend pocket.watch's franchises, the company has formed a new partnership with Simon Spotlight, a division of Simon & Schuster Children's Publishing, that will create books under the pocket.watch brand. The first books from the new imprint are scheduled to publish in late fall 2018.
Pocket.watch franchise brands also includes its original IP including the previously announced premium series Skoogle created by Kenan Thompson (Saturday Night Live) and HobbyKids Adventures created by Butch Hartman (Fairly OddParents) based on HobbyKidsTV, and other unannounced properties that comprise the company's original slate of fifteen-and-counting series.
Pocket.watch has also appointed Bruce Gordon as its chief financial officer. Gordon is a 30-year Walt Disney Company financial vet, who spent his last 10 years at Disney as the CFO of Disney Interactive. In his new role, Gordon will oversee pocket.watch's diverse monetization model.
Pocket.watch has also assembled a team of advisors that include a cross-section of executives with backgrounds in marketing, technology, gaming and media. Pocket.watch's advisors are Kerry Tucker, former CEO of Hello Sunshine, former COO  of  The Video Genome Project (Acquired by Hulu), and former executive vice-president of marketing for Victoria's Secret; Barry Blumberg, former chief content officer of Defy Media and former president of TV animation for The Walt Disney Company; Jacob Shwirtz, global head of social media strategy of WeWork and former chief social media officer for Endemol Beyond US; Greg Clayman, former president of Vertical Networks, former general manager of audience networks for Vimeo, former publisher/executive vice-president of digital for News Corporation; Jon Goldman, venture partner of Greycroft, managing partner of Skybound, and former president of Skybound Interactive.