Southard Freeman Communications, Playtime PR Form Alliance
Southard Freeman Communications is forming an alliance with UK-based specialist PR agency, Playtime PR.
The deal provides Southard Freeman's clients with access to Playtime's expert PR services in the UK and Europe. Similarly, clients of Playtime PR will be able to tap into Southard Freeman's services in the U.S.
The two agencies already share a number of client brands in the toy space, including Thames & Kosmos and Sensible Object. By working together, the agencies are confident they can better serve their clients and future clients with needs in both the U.S. and Europe as well as providing deeper local market insight.
Southard Freeman Communications is led by Bill Southard and Bruce Maguire, following a merger in January 2017 between Southard Communications and Freeman PR. The agency's roster of clients includes Playmobil, Zing, Epoch Everlasting Play, and RedwoodVentures as well as a number of clients outside the toy space including Petmate, Vegy Vida, ShedRain Umbrellas, PARA'KITO Mosquito Repellants, and Paulaner Beer.
Playtime PR was established in 2014 and has grown with toy clients including Top Trumps, Jazwares, ZURU, and John Adams' Rubik's Cube.
eOne Announces Alpha Group as Peppa Pig Master Toy, Expands Operations in China
Entertainment One (eOne) has named Alpha Group as master toy partner for Peppa Pig in China.
Plans are underway for the launch of a brand-new core toy range including playsets, figurines, and roleplay, which are expected to debut in fourth quarter. As part of its strategy, Alpha plans to offer multiple price points across the range to give consumers more choice and value for their money.
The Peppa Pig licensing program for China has more than 45 partners and is continuing to expand. Apparel, publishing, digital, and confectionery categories are all reporting very strong sales with more than 40 million books sold since April 2016 and more than 7 million plush products sold to date. In addition, three sets of Peppa Pig branded and animated emoji's have been downloaded more than 20 million times and shared more than 210 million times.
Live events and immersive fan experiences are also a key priority for eOne in China. This September will see the opening of Merlin Entertainments' first Peppa Pig attraction in Shanghai. Alongside this, a new deal has been signed with Happy Kids Cultural Development for a Peppa Pig stage show that will tour the country over the next three years. A number of branded pop-up and mall events are also in the pipeline.
To manage this growth, eOne has expanded its local team in the company's Hong Kong office and has recently appointed Jennifer Pang as licensing director, Leo Tsoi as hard goods manager, Joyce Lauw, as director of product development, and Debra Ng as vice-president of marketing.
These Companies are Plotting How to 'Save the Toy Industry'
Following the news of Toys "R" Us' intention to liquid all its U.S. stores, others are stepping in with plans to both take over the toy retailer as well as fill the void it will leave behind.
Last week, Strategic Marks' founder Ellia Kassoff took to LinkedIn to announce that KB-Toys, which the company acquired about a year ago, has been working on several models to resurrect the "Great American Toy Store," and accelerated its business plans to have stores up and running by holiday 2018. "We spent the last six months working on a sustainable model to bring back KB Toys the right way so it can compete with not only the big box stores but on-line as well," wrote Kassoff.
Strategic Marks is currently in discussions with many toy manufactures, as it navigates the best approach to support them and the loss in the U.S. toy market due to the Toys "R" Us liquidation.
Bloomberg has reported that Amazon is also looking to use the retail space vacated by Toys "R" Us to expand its own physical retail presence, while noting Amazon has no intention in rescuing the Toys "R" Us brand. The move would expand off its purchase of Whole Foods last year and the roll-out of Amazon bookstores and Amazon Go.
In addition, an investment group led by Isaac Larian, founder of MGA Entertainment, submitted a bid to acquire the Toys "R" Us Canadian business, which could include up to 200 of the top performing U.S. stores.
Horizon Group Recognized as Walmart Supplier of the Year
Horizon Group USA was named a 2018 Supplier of the Year by Walmart's Home Division.
It has more than 1,500 products available in Walmart stores in the U.S. and Canada. Its products include D.I.Y. activity kits, toys, craft and celebration supplies, and more.
"We are proud of the teams responsible for this accolade and their dedication to the Walmart business and its customers," says Evan Buzzerio, CMO of Horizon Group USA. "Delivering quality, creative products year after year requires collaboration, passion and teamwork."
Toy Industry Responds to Toys 'R' Us Liquidation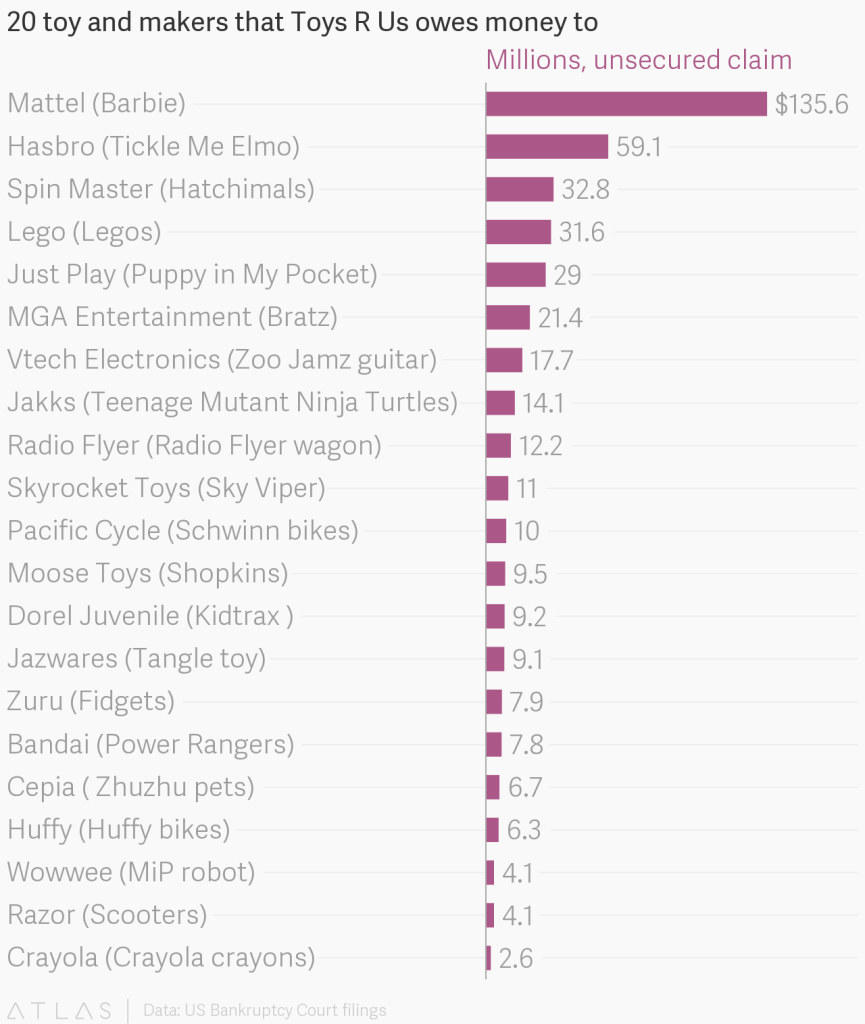 Since Toys 'R' Us made the official announcement last week to liquidate its U.S. business, many in the industry affected by the news have responded.
On Tuesday, the retailer entered the U.S. Bankruptcy Court to defend its liquidation plan against multiple objections from creditors.
Mattel, LEGO, Epoch Everlasting Play, Goliath Games, Pressman Toy, Melissa & Doug, and USAopoly were just a few of the companies to objected to the Wind-Down Motion filed by the Toys "R" Us to shutter its U.S. stores.
In addition, the following companies released the below statements.
Basic Fun!
"We've lived through losing K-B Toys years ago, and we'll find a way to go on in the current retail environment," said Jay Foreman, CEO of Basic Fun! and long-time toy industry veteran. "We are hoping against hope that someone will come in to rescue the brand and find a way to reinvigorate it. Until that happens, we will look to fill the gaps with our existing customers such as Target, Walmart and Amazon, among others.
"It's almost like going back in time. When I was a kid, we would look through the big Sears Catalog for weeks picking toys we'd hope to get. Now the internet is our catalog. Consumers will navigate online, as well as at the strong big box, mid-tier and smaller retailers, and we will indeed have a Christmas in 2018 and beyond."
Three years ago, Amazon was Basic Fun!'s ninth largest account. This year, the company expects it to be its second or third. It's where the company anticipates picking up much of the slack from Toys "R" Us.
In addition, Basic Fun! plans to ramp up its acquisition strategy in order to increase its scale and more vigorously compete in today's market place. Since 2013, the company has completed several acquisitions including The Good Stuff Company, Uncle Milton Industries, Tech 4 Kids, and most recently, K'NEX. Basic Fun! is already seeing many smaller and mid-cap toy companies looking to them for a solution, and the company believes they can offer a great opportunity for many.
"The toy industry as we know it has been around for over 100 years, and it's not going anywhere!" Foreman added, "We've been through wars, financial crises, upheavals in retail, the advent of video games and mobile gaming, and we have always found a way to bounce back and thrive. We are an industry of dynamic entrepreneurs and creative innovators, and no one should bet against us!"
ASTRA
The American Specialty Toy Retailers Association (ASTRA) described the closing of Toys "R" Us stores nationwide as another example of the ongoing change and evolution of the $20.7 billion toy industry.
"One thing that remains constant is the need for children to have access to fun toys and play experiences that support healthy child development.

Parents and grandparents and other toy buyers looking for alternatives to Toys R Us can find top quality toys and customer service at their neighborhood independent toy store—and shop local at the same time. Many locally-owned toy stores offer the option of buying either at the store location or online. At stores that are members of the ASTRA, toy buyers can count on finding carefully selected, top quality innovative and classic toys that focus on the features of the play rather than the features of the toy."
Moose Toys
Moose commented on the toymaker's LinkedIn page:
"It is with great disappointment that we heard news today about #ToysRUs. Toys R Us have always supported Moose and have been an integral part of our business as we have expanded into new markets.

They encouraged us to enter the U.S. and have been a huge supporter and partner in our explosive growth. We feel for the people at Toys R Us, many of them are our friends and we will do whatever we can do to support them in their future pursuits.

It is a loss for the toy industry and children everywhere who will no longer experience the magic of their stores, however we hold out hope that one day TRU will return stronger than ever. We thank them for the commitment they have shown to us throughout the years and wish their team all the best."
The Toy Association
The Toy Association released this statement in its weekly Tuesday newsletter.