Hasbro shared an update on their global response efforts to the COVID-19 pandemic as they help to make a difference in this time of uncertainty.
Hasbro is dedicated to making a difference by using our resources, expertise and brands to improve the lives of children and their families around the world during this difficult time. We just announced plans to work together with our partner factory, Cartamundi, based in East Longmeadow, MA, to produce 50,000 face shields per week for front-line medical workers. This much-needed personal protective equipment (PPE) will be donated to local hospitals in Massachusetts and Rhode Island.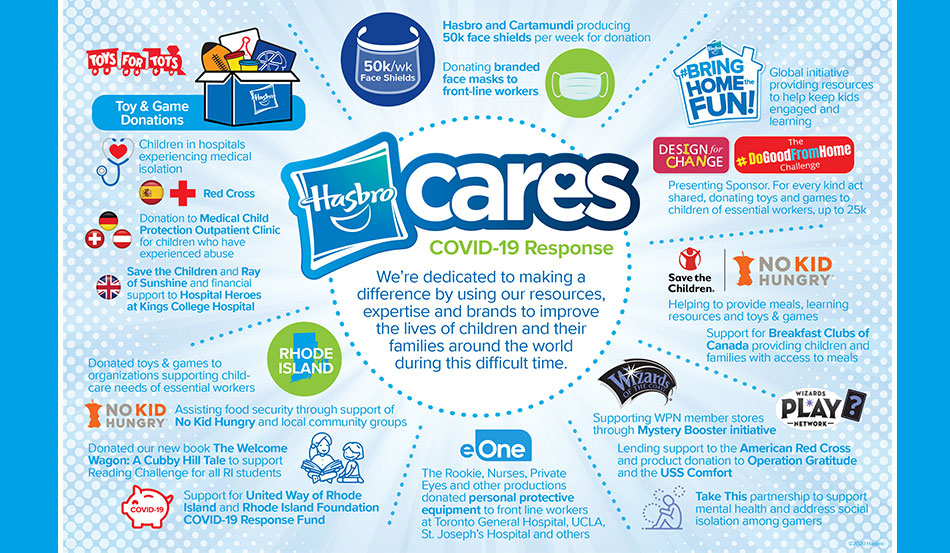 Our global response efforts to date also include:
The launch of Bring Home the Fun, a global initiative created to further the Company's purpose to make the world a better place for children and their families. The initiative provides parents and caregivers resources to help keep kids occupied and engaged during extended time at home and indoors.
Hasbro is supporting global philanthropic initiatives that aim to bring relief to children and their families worldwide during this difficult time. We've partnered with Save the Children and No Kid Hungry in their effort to address the most urgent needs of children, including providing nutritious meals and distributing books and learning resources to those children and families most in need.
In addition to providing financial support, we've donated thousands of toys and games to low-income communities to continue to inspire creativity and fun for vulnerable children during the COVID-19 pandemic.
Hasbro is the presenting sponsor of Design for Change's #DoGoodFromHome Challenge, inspiring youth to connect through kindness, using their compassion and creativity to do acts of good from home. For every act of kindness using #DoGoodFromHome, Hasbro will donate to up to 25,000 toys and games to children of COVID-19 Essential Workers.
To provide a small sense of comfort, Hasbro is donating toys and games to children in partner hospitals nationwide who are experiencing medical isolation and have restricted visitation.

Wizards of the Coast
The Wizards of the Coast team is supporting its Wizards Play Network (WPN) member stores during this challenging time. The team has launched a reprint of Mystery Booster and will be allocating these boosters to WPN member stores at no charge, for sale to consumers at a later date. In addition, until at least June 1, local game stores may take admission fees—up to $10—for tournaments they run on Magic: The Gathering Arena.
Wizards is also supporting the American Red Cross and donating product to Operation Gratitude and the USS Comfort. In partnership with Take This, Wizards is addressing social isolation among gamers and creating content to help deal with anxiety and mental health.