Founded by tech innovator and visionary entrepreneur Terri-Nichelle Bradley, Brown Toy Box is on a mission to inspire children from all backgrounds that they can be successful in Science, Technology, Engineering, Art and Mathematics (STEAM) careers. After participating in the ESEA conference this month, Brown Toy Box announced a new partnership with education nonprofit DonorsChoose. Brown Toy Box also announced that the company plans to expand its in-school educational offering with the goal of reaching 100,000 students in 2022. Brown Toy Box fosters inspiration in Black and Brown children so that they can see themselves pursuing STEAM career pathways.
Starting with Title 1 schools serving communities in high-poverty neighborhoods, Brown Toy Box collaborated to provide its multifaceted toy collection to educators and students, offering early exposure to STEAM-focused, engaging toys and educational content showcasing Black and Brown characters. Early exposure is the key to workforce development across diverse communities, and representation in toys has shown to inspire children, and show that they can reach their dreams. Ms. Bradley's mission is to create a world where Black children are positively represented, equipped and educated to achieve greatness. By creating innovative STEAM focused toys, as well as her 'Dadisi Academy Crew' which is composed of positive, smart, characters, each with an interest in a STEAM subject, Ms. Bradley and Brown Toy Box seeks to normalize Black excellence and cultivate curiosity.
"What we confirmed last week at the ESEA Network conference in New Orleans is that there is an incredible hunger from schools and educators for culturally affirming products and content for their scholars. We are creating change and it feels amazing," said Brown Toy Box creator, Terri-Nichelle Bradley. "We are on a mission to disrupt generational poverty with Brown Toy Box STEAM Kits and inspire a new generation of underserved kids to unlock their potential. Google and other corporate brands like Cox Media are helping make this happen."
Encouraging inspiration through purposeful play, the line includes interactive STEAM kits, puzzles, journals, memory games, window clings, activity books, story dice, and more. And unlike typical STEAM kits which focus on one specific activity or project, Brown Toy Box kits are each based on a particular theme such as astronomy, marine biology, chemistry, art, coding, and robotics. Each kit also includes a DIY activity cut-out playable character figure and story board background, activity book, games, puzzles, and coloring pages for hours of engagement.
Brown Toy Box STEAM kits and toys are available at Target.com, specialty retailers, and http://www.browntoybox.com. Full-time public school teachers can request these kits through DonorsChoose.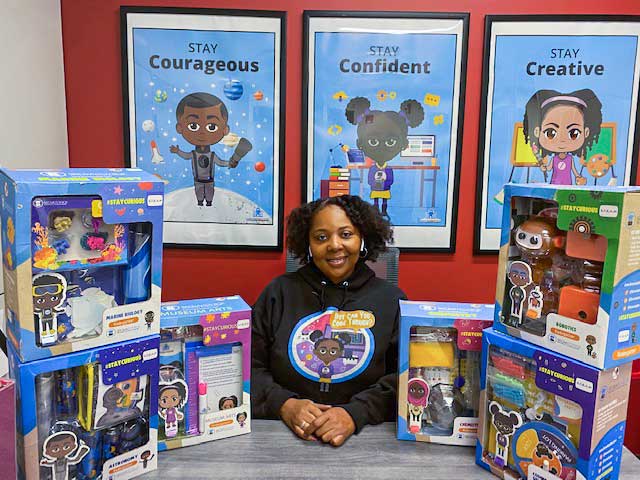 Terri-Nichelle Bradley – Founder, Brown Toy Box