The Children's Media Conference (CMC), now in its 19th year, will see its creative keynote delivered by award-winning performance poet, playwright and children's author Joseph Coelho, who has been crowned the Waterstones Children's Laureate 2022 – 2024. CMC runs in-person and online this week from 5-7 July and is themed 'What Next 2.2'.
Held on Wednesday 6 July at 6.30pm in the Crucible Theatre, Sheffield, and also streamed online, the Creative Keynote will mark the first public appearance of Coelho as the new Waterstones Children's Laureate. During the keynote, delegates can expect passion alongside a campaigning zeal for kids' culture and inspiring a love of reading in young people – plus brilliant onstage storytelling about Coelho's creative journey and collective poetry creation on the spot.
At the Waterstones Children's Laureate launch, Joseph Coelho – who is acclaimed for his work including the Luna Loves picture books, middle grade series Fairy Tales Gone Bad, YA verse novel The Girl Who Became a Tree, as well as poetry collections for all ages including Overheard in a Tower Block and Poems Aloud – revealed that his tenure as the Waterstones Children's Laureate will celebrate the power of poetry, showcase new authors and illustrators to diversify bookshelves and inspire bookmakers of the future, and champion public libraries and the role they play in communities.
Greg Childs OBE, Editorial Director at CMC, said: "We are so thrilled to be staging the first public appearance by the new Waterstones Children's Laureate. We have had wonderful experiences with Children's Laureates in the past – Malorie Blackman, Michael Rosen, Chris Riddell and Cressida Cowell – and they have remained good friends to CMC and all it stands for. I know that Joseph will carry on that tradition of brilliant analysis of his personal creative journey and passionate advocacy for his campaign goals and for children and young people in general. We always have fun with our Creative Keynotes and we're expecting that from the start, not least because in true CMC mix-it-up fashion the Laureate will be introduced this year by our Changemakers Ollie Ball and Jacob Pasquill, teen TikTok comics with a massive social media following."
On being named the new Waterstones Children's Laureate, Joseph Coelho said: "Poetry is powerful, it is the medium we turn to at weddings, funerals and new births because it goes beyond mere words, poetry translates the soul. I want to use the prestigious platform of the Waterstones Children's Laureate to highlight and celebrate the power of poetry. To invite the nation, young and old, to write poems, to become poets. I want to ensure that every child has the opportunity to see themselves in books and as bookmakers through the plethora of new and exciting voices we have coming out of the UK – to diversify bookshelves so that every child can imagine themselves as writers, illustrators and poets. And, finally I want to hug every library, these miraculous institutions where new horizons line the shelves, where minds go to grow. Libraries made me a writer and make communities thrive – I wish to champion the services of these essential launchpads of learning."
CMC's 2022 hybrid event will also include a packed program of masterclasses and panels tackling the urgent issues facing the children's media industry and young audiences. Agenda highlights include: an opening keynote delivered by YouTube's Managing Director for the UK, Ben McOwen Wilson on 5 July; 'The Key To…Operation Ouch!' on-demand video interview in celebration of the show's 10th anniversary; and 'The Last Word' closing session delivered by MC Grammar.
Both online and in-person delegates will have access to an extensive library of VOD content covering the breadth of children's media, with topics including: learning, research insights in "Understanding Kids", the ever-popular "Art of…" strand, business insights on specific territories and presentations by CMC's young speakers: the Changemakers.
In-person and online tickets for CMC 2022 are now on sale. Further details on registration and delegate pass rates are available at: www.thechildrensmediaconference.com.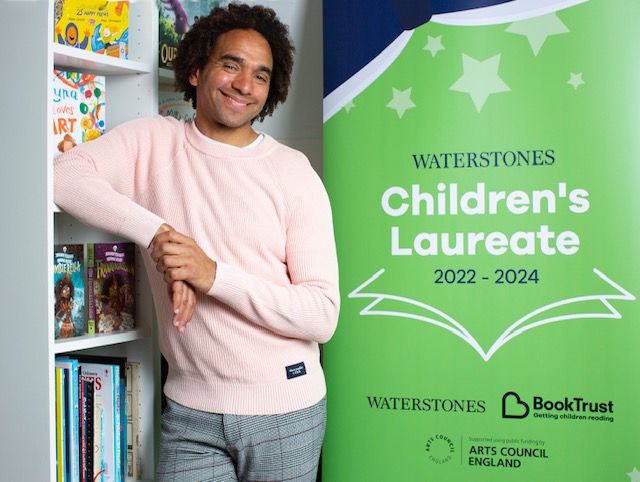 Joseph Coelho – Waterstones Children's Laureate 2022 – 2024