JAKKS Pacific, Inc is excited to announce new officially licensed toys inspired by The Super Mario Bros Movie are coming soon to retailers in North America, Asia-Pacific, Latin America, Europe, Middle East and Africa.
JAKKS is excited to introduce Wave 2 of The Super Mario Bros. Movie 5" Figure Series (pictured above)! This collection showcases iconic characters Tanooki Mario, Kamek, Peach and Cat Mario. Each figure is crafted with premium details, lifelike acrylic eyes and boasts impressive articulation with 8-16 points of movement. Every character comes with its own movie-specific accessory! Each figure is sold separately at $19.99. Available at Target in the US and other retailers globally starting in July.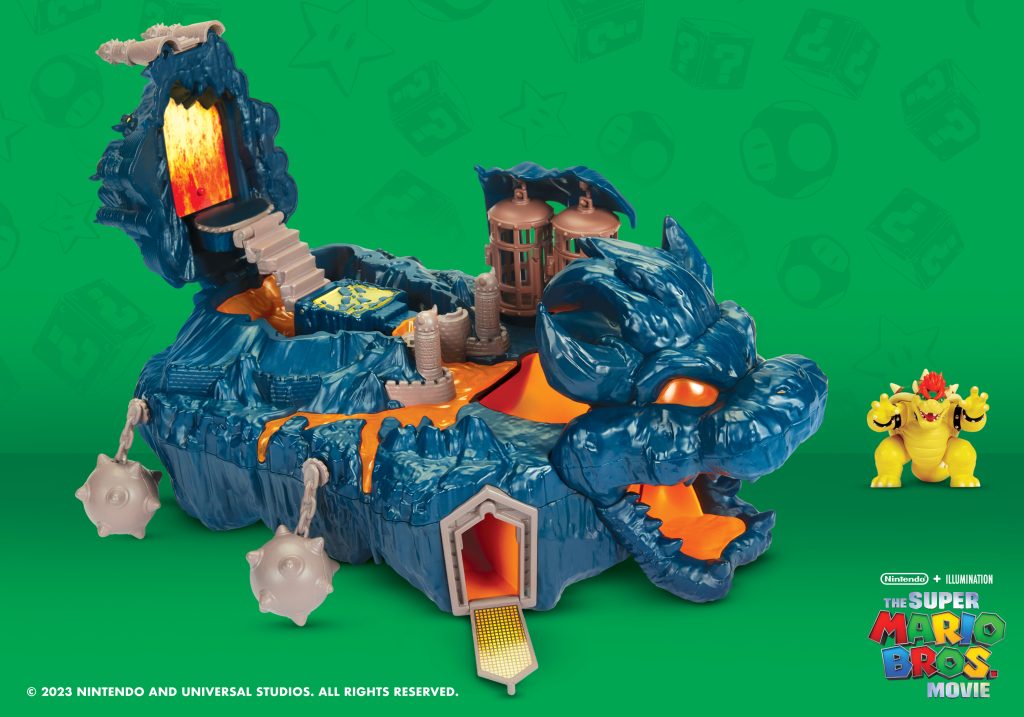 Bowser's Island Castle Playset comes with an exclusive 1.25" Bowser figure. The castle opens to reveal Bowser's throne and an array of thrilling interactive features. Jail cells can be lifted or concealed. Access a hidden escape route through the trap door. Additional features include hanging mace balls and rolling wheels! Get this amazing playset for $29.99.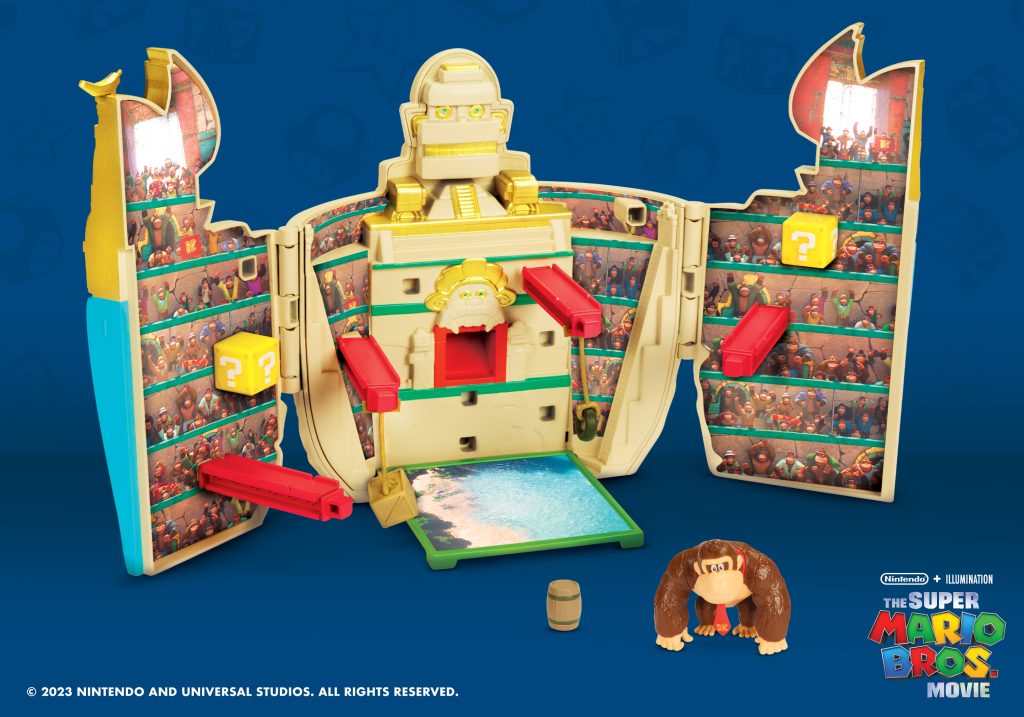 The Donkey Kong Stadium Playset with exclusive 1.25" Donkey Kong figure by JAKKS is a fully enclosed set that opens to reveal the thrilling arena showcased in The Super Mario Bros Movie! Prepare for interactive adventures with elements like Question Blocks, hanging tire and crate as well as moveable beams and barrels. This captivating playset will be available for $19.99.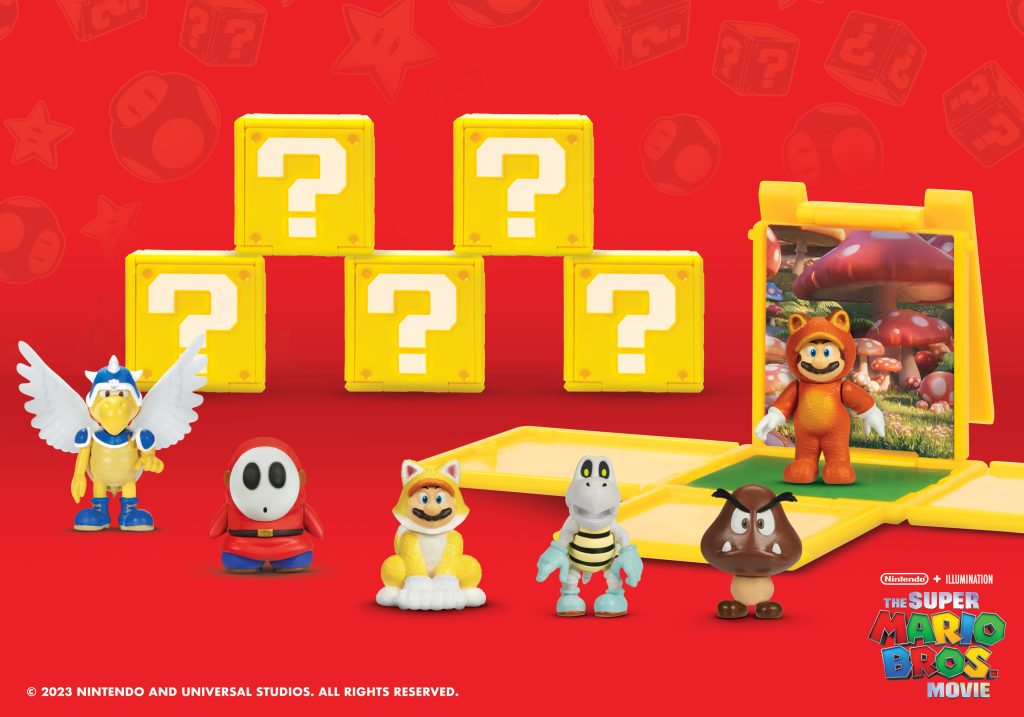 Get ready to embark on thrilling adventures with Wave 2 of The Super Mario Bros. Movie 1.25" Mini Figures. This new wave includes beloved characters Cat Mario, Tanooki Mario, General Koopa, Dry Bones, Shy Guy, and Goomba. Each figure is accompanied by a Question Block that opens to reveal authentic movie backgrounds, adding an extra layer of immersion. Collect your characters individually for $5.99 each.
Engage in an epic showdown with Inflatable Bowser's Battle! Test your skills by throwing fireballs into Bowser's nets to become the ultimate champion. This inflatable Bowser stands at 42" tall and includes two 3″ fireballs for your thrilling battles. For added stability, simply fill the base with water. Prepare for endless fun with friends and family with this engaging game available for $39.99.
Experience the thrill of The Super Mario Bros. Movie with the Mario Rumble R/C Kart Racer! This fully functional 2.4GHz remote control vehicle offers an impressive range of 100 feet. Watch as Mario's head and hands move dynamically when the kart turns, while the tail pipes light up and rumble, perfectly capturing the magic of the movie. This R/C requires 8 AA batteries (not included). Get this exciting R/C Kart Racer today for $49.99.
Generating over a billion dollars around the world, the biggest film of the year arrives home with all-new bonus features in The Super Mario Bros Movie 'Power Up Edition,' available to own on Digital, 4K Ultra HD, Blu-ray and DVD on June 13th in the US and Canada, from Universal Pictures Home Entertainment. Boasting an A CinemaScore and 96% Audience Score on Rotten Tomatoes, the Nintendo and Illumination-produced pop-culture spectacular of the year comes home in a next-level experience, unlocking over 30-minutes of bonus content that is sure to delight all Super Mario Bros. fans – from Universal Pictures Home Entertainment.
Showcasing an all-star lineup to voice the iconic pop culture characters, The Super Mario Bros Movie stars Chris Pratt (Jurassic World franchise), Charlie Day (It's Always Sunny in Philadelphia, The Lego Movie), Anya Taylor-Joy (Last Night in Soho, The Queen's Gambit), Keegan-Michael Key (Key & Peele), Seth Rogen (Neighbors, An American Pickle), Jack Black (Kung Fu Panda franchise) and Fred Armisen (Wednesday, Portlandia).
The movie tells the story of two Brooklyn plumbers who are brothers and best friends: Mario, the brave one with the "let's-a go" attitude, and the perpetually anxious Luigi, who would prefer to go nowhere. We open with the Super Mario Brothers reckoning with their struggling plumbing business, and wind up in a whirlwind adventure through Mushroom Kingdom. Through their journey, we meet a cast of familiar, lovable characters, ultimately uniting to defeat the power-hungry villain, Bowser. The Super Mario Bros. Movie takes what millions of gamers worldwide have loved for over three decades and levels it up to a new and breathtaking cinematic experience.