Digital collectibles platform VeVe is excited to share the first of seven digital collectible series continuing the celebration of the 60th anniversary of the James Bond film franchise.
This first of seven planned series features three iconic props from throughout the James Bond films, faithfully scanned and replicated as 3D digital collectibles on the VeVe platform.
Fans who purchase one of the collectibles in the series will also receive a 60 Years of Bond logo airdrop reward. Those who collect every collectible from all 7 series, receive a gold logo reward.
The Series 001 James Bond 60th anniversary VeVe digital collectibles include: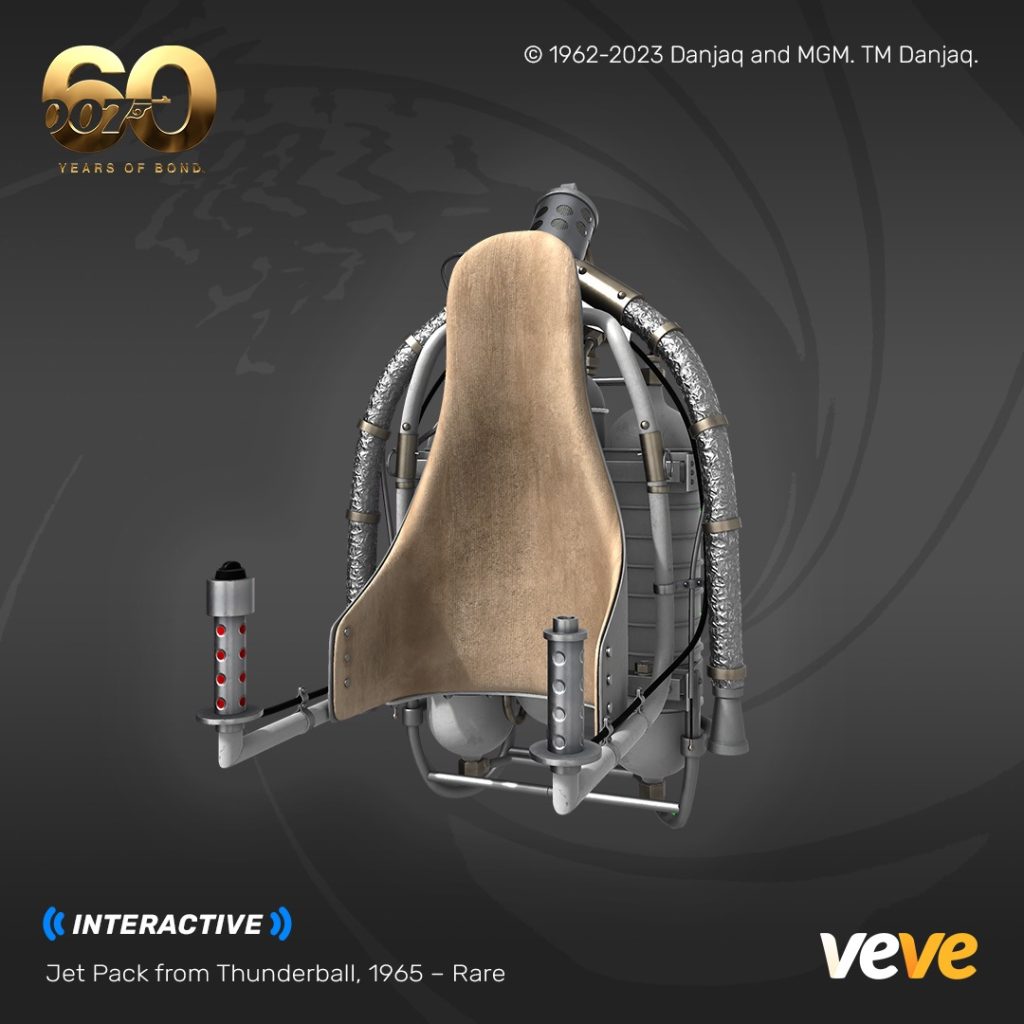 Jetpack from Thunderball, 1965:
In Thunderball (1965) James Bond employs Q's ingenious Jet Pack to make a daring escape from a pair of armed assailants after eliminating Jacques Bouvar, SPECTRE Agent No. 6. This Jet Pack is in reality a Bell-Textron Rocket Belt: a fully operational rocket propulsion device. Originally conceived for military applications, the Bell-Textron Rocket Belt was ultimately dismissed due to its limited flight duration of 21-22 seconds. Fueled by hydrogen peroxide, this remarkable invention is capable of traversing a distance of 250 meters, reaching an impressive altitude of 18 meters, and achieving speeds up to 55 km/h.
Rarity: Rare
Price: $20
Editions: 2,007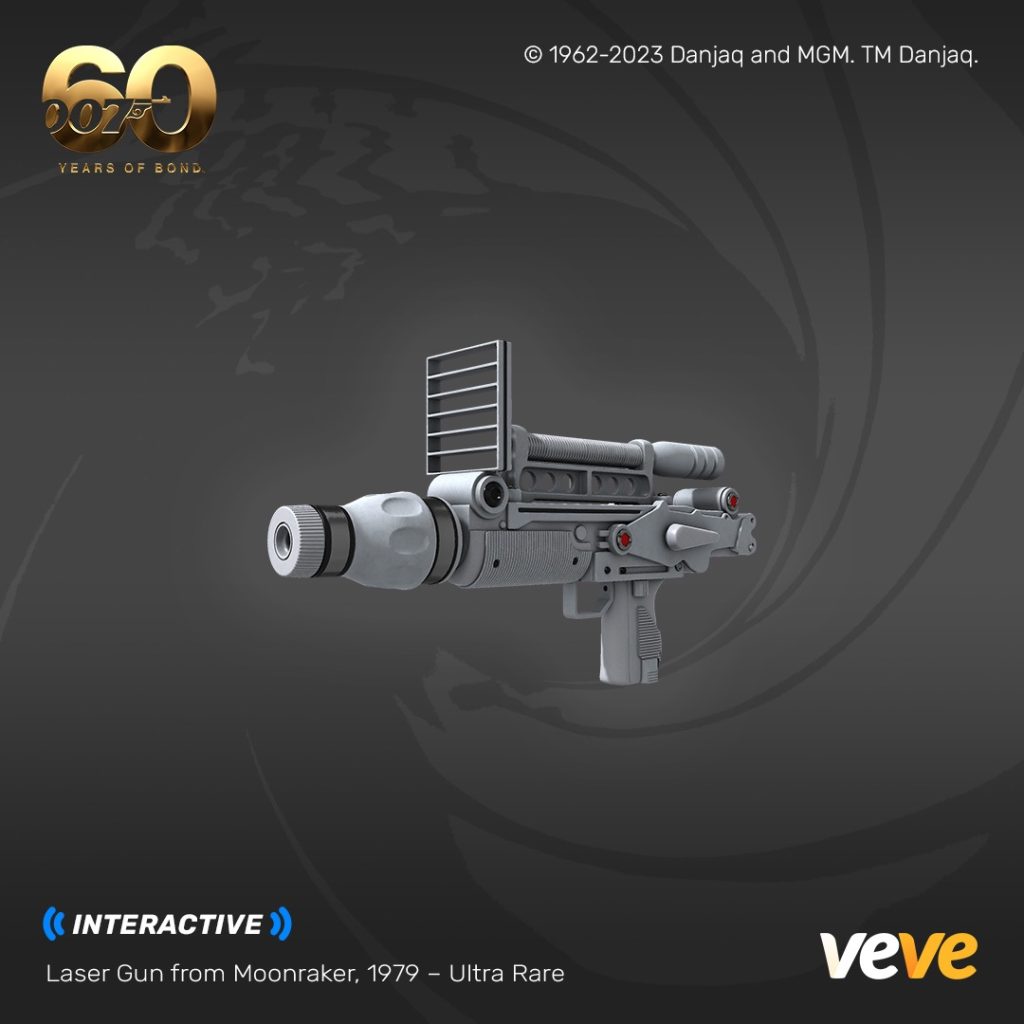 Lasergun from Moonraker, 1979:
This semi-automatic directed-energy weapon was meticulously engineered for the rigors of space combat. The sleek white iteration initially appears as a prototype undergoing testing in a Brazilian courtyard, wielded by a member of Q's team. As the film reaches its thrilling climax, the formidable laser weapons are brandished by both the US Marines — with their arsenal comprising handheld variants and those affixed to their spacewalk equipment — and Drax's relentless guards.
Rarity: Ultra Rare
Price: $20
Editions: 1,007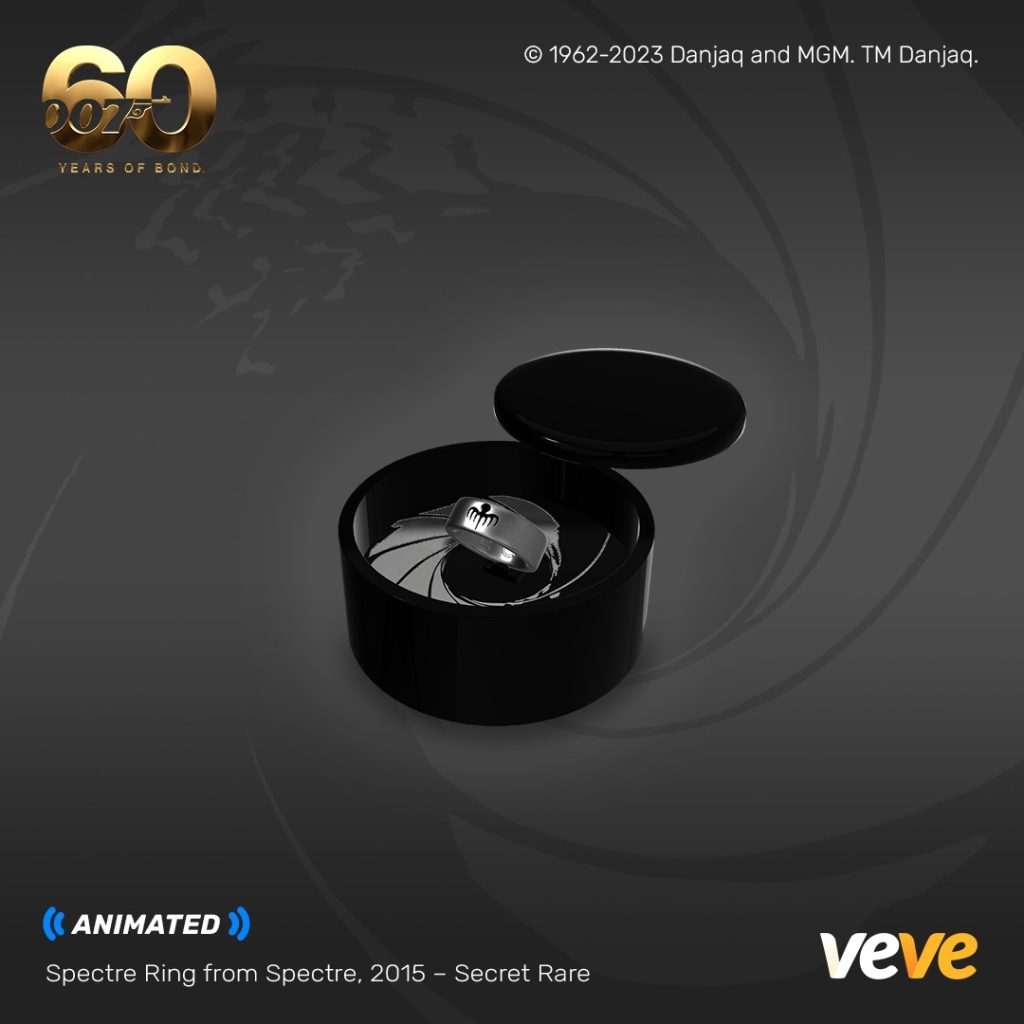 Spectre Ring from Spectre, 2015:
Initially donned by Marco Sciarra, a nefarious operative orchestrating a terrorist plot in Mexico City, this captivating ring served as a crucial link guiding Bond to the enigmatic SPECTRE organization, overseen by the sinister Blofeld. A SPECTRE agent's ring first made an appearance in the classic film From Russia With Love (1963). This meticulous recreation of the version remodeled for the 2015 film Spectre played an instrumental role in Bond's daring pursuit.
Rarity: Secret Rare
Price: $20
Editions: 777