Kevin Smith surprised He-Man fans on Sunday at the annual Power-Con convention with the news of his all-new Netflix animated series, a wholly original story set in the world of the 35-year-old global He-Man toy franchise.
Masters of the Universe: Revelation is an animated series that will focus on the unresolved storylines of the classic  '80s era, picking up many of the characters' journeys where they left off decades ago.
Kevin Smith will serve as showrunner and executive producer. The series is being produced by Mattel Television with Rob David, vice-president of Mattel TV and author of He-Man: the Eternity War, serving as an executive producer on the series.
"I'm Eternia-ly grateful to Mattel TV and Netflix for entrusting me with not only the secrets of Grayskull, but also their entire Universe," said Smith, known for his past work as writer and director of Clerks, Chasing Amy, Dogma, and the Jay and Silent Bob reboot. "In Revelation, we pick up right where the classic era left off to tell an epic tale of what may be the final battle between He-Man and Skeletor. Brought to life with the most metal character designs Powerhouse Animation can contain in the frame, this is the Masters of the Universe story you always wanted to see as a kid."
The limited series has gathered Eric Carrasco (Supergirl), Tim Sheridan (Reign of the Supermen), Diya Mishra (Magic: The Gathering), and Marc Bernardin (Alphas) as writers. Powerhouse Animation (Castlevania) is also on board.
"Masters of the Universe has been a cultural phenomenon for generations, inspiring fans to discover their own power within," said David of Mattel. "Fans of this franchise have been waiting for the continuation of these characters, and Kevin Smith, as a Masters superfan himself, is the perfect champion and partner to expand the canon through a dynamic animated series on Netflix."
Earlier this year, Mattel announced a theatrical release in partnership with Sony Pictures slated for March 2021. Noah Centineo, Nickelodeon Kids Choice Favorite Male Actor and star of Netflix smash To All the Boys I've Loved Before has been cast as He-Man in the movie.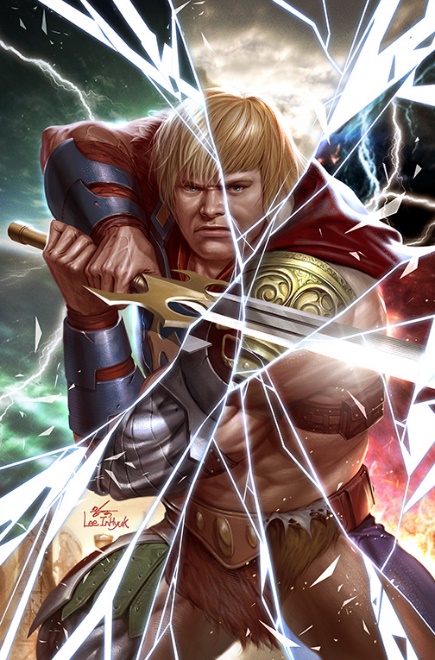 Additionally, as announced during a Power-Con panel, DC Comics and Mattel are also teaming up once again to chronicle new adventures of Eternia's greatest champion in HE-MAN AND THE MASTERS OF THE MULTIVERSE, a six-issue limited series debuting in November. Writer Tim Seeley, artists Dan Fraga and Richard Friend, along with cover artist Inhyuk Lee join forces to tell this tale of heroes making their last stand to protect their kingdoms against an impossible threat. On sale November 20, the 32-page debut issue also features a variant cover by interior artist Dan Fraga and is priced at $3.99.
"The Masters of the Universe franchise continues with the all-new comic book series, He-Man and the Masters of the Multiverse," said Mattel's David. "With multiple He-Mans working together from different dimensions to save the multiverse, this series created in partnership with the expert writers and illustrators from DC Comics will be sure to delight new and old fans alike, while adding an entirely new dimension to the Power of Grayskull."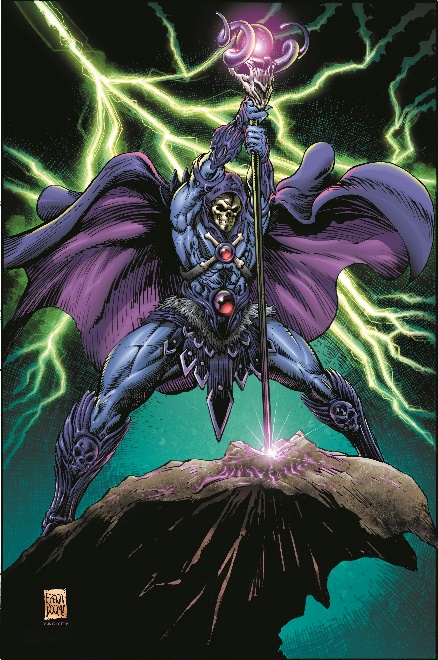 "DC has had a long-standing and exciting partnership with Mattel in bringing the adventures of He-Man to comics and our fans," said Hank Kanalz, senior vice-president, Publishing Strategy and Support Services, DC. "DC also knows what it means to showcase characters from across its own multiverse; I'm looking forward to seeing the different iterations of He-Man and other Masters of the Universe characters in this series."
Mattel will also release a brand-new line of action figures inspired by the 80's toy line called Masters of the Universe Origins that will be available at mass retail. The line is due out fall 2020. The first batch of these toys was unveiled at SDCC with more unveiled this weekend at Power-Con.
"He-Man has inspired children—and the child inside of us all—for decades, with his feats of heroism and courage in the face of evil.  We can think of no better creator for this show than Kevin Smith, a superfan whose pen is as mighty as He-Man's Power Sword," adds John Derderian, head of anime content for Netflix.
The series adds to Netflix's growing slate of animated content from around the world, which includes hits such as Castlevania, Devilman Crybaby, Aggretsuko, and Ultraman.