Stone America Inks Deal Between Oxford and Halo
Stone America Licensing announced a multi-year licensing agreement between furniture manufacturer Halo and the University of Oxford. Halo will be launching in September a first collection inspired by the University of Oxford's 600-year old imagery and archives. The range will include home furniture, accessories, rugs, and sporting goods.
HIT Acquires 'Diary of' Titles for Development
HIT Entertainment announced it has acquired the rights to develop Diary of a Worm, Diary of a Fly, and Diary of a Spider. Based on the bestselling books by author Doreen Cronin and illustrator Harry Bliss, HIT will develop the properties into an animated program that will take kids on the adventures of Worm, Spider, and Fly as they learn all about the world around them. The deal was brokered on behalf of Cronin and Bliss by Holly McGhee of Pippin Properties and Jason Dravis of Monteiro Rose Dravis Agency.
Told from a child's point of view, Diary of a Worm, Spider, and Fly (working title) will be an animated series geared toward kids 3–5 years old. The series will encourage kids to explore their world as they follow the adventures of unlikely best friends Worm, Spider, and Fly. A coordinating science curriculum with a focus on earth science will be developed alongside the series. New characters will also be introduced.
David Tutera DIY Wedding Line on the Way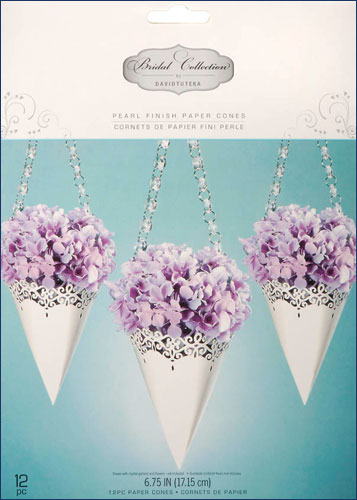 Celebrity wedding planner and entertaining expert, David Tutera has teamed up with Jo-Ann Fabric and Craft Stores to create Down the Aisle in Style, a new line of wedding accessories and embellishments for the stylish bride. With a touch of imagination and these accessories and embellishments, brides can create lavish wedding attire, décor, and favors. In addition, each product will lend David's expertise and provide helpful "Tutera Tips" to assist brides with creative ideas straight from the wedding planner himself.
Glee Teams with Sephora
Twentieth Century Fox Consumer Products has teamed up with Sephora Americas to develop an exclusive collection of nail colors and prints for Glee. The "Sephora by OPI goes Gleek Chic" [Gleek is the term for a fan of the show] collection will feature a limited edition range of 10 new nail color shades and three print nail design appliqués inspired by the show's cast, music numbers, and comedic references. The collection will be available beginning February 3 exclusively at all major Sephora locations in the U.S and Canada, including Sephora locations inside JCPenney.
The collection will be supported through a multi-platform marketing campaign including key in-store placement, an in-store event, a national magazine advertising program, a spring catalog feature, and email and online initiative. As part of its online campaign, Sephora will host a "Nailed It! Gleek Out Photo Contest"on Facebook urging fans to upload photos of themselves in Glee-inspired looks and a "Hide and Go Gleek" Twitter contest rewarding fans with prizes for correct answers to Glee trivia questions.
Giochi Preziosi Appointed Toy Distributor in Italy for Pocoyo
Following the success of Pocoyo in Italy, Zinkia and master toy licensee Bandai have appointed Giochi Preziosi, the biggest player in the Italian toy market and fourth largest toy operator in the world, as master toy distributor in Italy. An extensive range of Pocoyo-branded products is due to be released in Italy by Giochi Preziosi starting this spring, including traditional and feature plush, figurines, vehicles, and activity toys.
Worldwide distribution rights for Pocoyo in Italy, Spain, Portugal, and Latin America are handled by Zinkia, with rights for the rest of the world handled by ITV Studios Global Entertainment.