Sometimes a property comes along that has such universal appeal that it earns itself creative license to stretch out. The works of Dr. Seuss have been beloved to generation after generation of young readers and this affinity has been passed down as each generation of children becomes the next generation's parents. This process has created an umbrella over the Dr. Seuss brand as it has expanded into licensing through Dr. Seuss Enterprises.
The Dr. Seuss licensing program has experienced some success and, in continuing to capitalize on all things Seuss, the property has been extended into the newborn and toddler market. While, in 1996, the Dr. Seuss property had previously been extended into a line of nursery books by Random House, the current push into this space goes well beyond the printed page. (Dr. Seuss characters have been licensed for the past 30 years and Dr. Seuss Enterprises has been in existence since 1993.)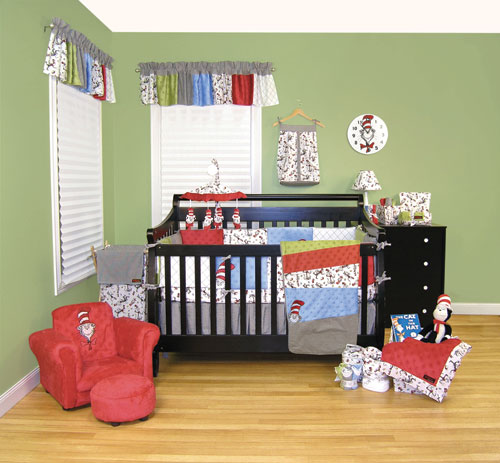 This line started with layette by Trend Lab Baby and has added Hallmark (for baby shower party products), Manhattan Toy (soft developmental toys), Bumkins Finer Baby Products (layette, gift sets, diaper bags, and food storage), Hosung (My Natural earth-friendly plush line), Hewlett-Packard (print-on-demand products), and Baby Togs (infant and toddler apparel).
"Our nursery licensees recently met for a summit to brainstorm how we can grow the program into a major retail presence and it was a successful meeting," says Marie Gagliani, marketing manager at Dr. Seuss Enterprises. "We are all looking forward to increased presence at retail with a cohesive Dr. Seuss nursery product line."
Gagliani says the next expansion in the nursery line may include personal hygiene, mealtime, and travel items. She says the company is in search of licensees that have some foothold and know-how for the nursery product consumer.

Fun Facts :
Ted Geisel (Dr. Seuss) received a Pulitzer Prize in 1984 for his contribution to children's literature.
1 in 4 children born in the US receive a Dr. Seuss book as their first book
Over half a billion books have been sold to date worldwide
Green Eggs and Ham is the third largest selling book in the English language