HIT Signs New Thomas Deals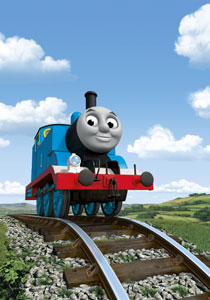 HIT Entertainment has signed three deals for new lines of Thomas & Friends apparel, footwear, and accessories. LF USA, a subsidiary of Hong Kong-headquartered Li & Fung Limited, will be the new master apparel partner for Thomas & Friends. SG Footwear, a division of the SG Companies, has signed on to produce Thomas & Friends footwear, and ABG Accessories will produce Thomas & Friends-themed headwear, rainwear, umbrellas, and cold weather outerwear.
Licensing Deals for KISS
KISS and Monster Mini Golf announced the signing of a lease for the first KISS-themed Monster Mini Golf Course: Monster Mini Golf presents KISS. Construction is underway at the indoor glow-in-the-dark course, located across from the Hard Rock Hotel, at the Shoppes at Harmon Square in Las Vegas. The opening is set for fall 2011.
The custom-designed course will feature animated KISS and monster props lurking in all 18 fairways. A live DJ will play continuous KISS music, trivia, contests, and prizes. A gift shop will offer unique KISS and Monster souvenirs. One-of-a-kind KISS-themed event rooms will host KISS and monster-themed parties, events, and wedding celebrations.
Live Nation Merchandise, the exclusive worldwide merchandise and licensing agent for KISS, brokered this deal.
In a separate deal, also brokered by Live Nation, KISS and Rubies Costume Company announced a worldwide licensing deal for KISS costumes, masks, wigs, and accessories for adults and children.
"I've always said you may not be able to look like KISS, but you can always feel like KISS. We've finally changed that, and I'm jazzed to see all the Starchilds and other KISS members in full uniform this year!" said Paul Stanley of KISS, in a statement.
"With your new KISS costumes, you will release the Demon within you. You are the God of Thunder!" added Gene Simmons of KISS, in a statement.
Retailers can preview KISS costumes and accessories now at www.Rubies.com.
CBS Global Deals
CBS Consumer Products has brokered a slate of new licensing deals for numerous properties such as Star Trek, Wheel of Fortune, Mighty Mouse, Cheers, Dexter, Weeds, and more to Europe, the Middle East, and the Pacific.
"The CBS portfolio is popular with fans of our entertainment brands all across the globe," said Liz Kalodner, executive vice-president and general manager of CBS Consumer Products. "These new agreements add to an international licensing program that has only grown stronger since the addition of the Showtime library to our roster."
New international licensees include the following.
Dirac will create apparel, bags, glassware, posters, headwear, and gift items based on Beastly, CSI: Crime Scene Investigation, Star Trek: The Next Generation, Star Trek: The Original Series, Cheers, The Twilight Zone, Weeds, Dexter, The Love Boat, Mighty Mouse, and Dynasty. These products will be available in Spain.
Australia's Jenolan Caves will introduce Klingon Audio Tours for its live cave tours.
Platz will manufacture Star Trek model kits for Japan.
Robe Factory will manufacture Star Trek robes for the United Kingdom and Ireland.
Somberbond will create Mighty Mouse loungewear and intimates for the United Kingdom and Ireland.
Hertzano will make a Wheel of Fortune board game for Israel.
Dynacraft to Make Transformers Bikes and Scooters
Hasbro's Global Brand Licensing & Publishing division signed an agreement with Dynacraft BSC, Inc., for bikes and scooters featuring the Transformers brand. The bicycles and scooters are both available in either an Optimus Prime or Bumblebee design and are currently being sold at Toys "R" Us with plans to be available at mass retail beginning this summer throughout the U.S. and Canada. The scooters carry an MSRP of $49.99 and the bicycles have an MSRP of $74.99–84.99, depending on size.
Sweet Deal for Transformers
In conjunction with the summer release of Transformers: Dark of the Moon, Bazooka Candy Brands will launch a multi-platform merchandising program for their top candy lines commencing this month. Bazooka Candy Brands also plans to launch their custom online game at Candymania.com inspired by the movie.
The program will include limited-edition SKUs of the top-selling non-chocolate candies Ring Pop, Juicy Drop Pop, Baby Bottle Pop, and Jumbo Push Pop that will feature special Transformers-inspired flavors and character graphics. Additionally, the limited-edition Transformers movie-themed Baby Bottle Pop will feature color-changing candy powder. The promotion will also include special multi-brand merchandisers featuring 3-D graphics. The merchandising units will contain Baby Bottle Pop, Jumbo Push Pop, and Juicy Drop Pop. Distribution of the merchandising units includes major grocery, drug, and convenience chains, and an exclusive display unit will be featured at CVS.
VeggieTales in Eyewear Deal
Eyes of Faith Optical announced that more than 100 eye care professionals nationwide have signed on to carry the VeggieTales by Eyes of Faith line of children's eyewear.
As an official licensee of VeggieTales, Eyes of Faith has produced stylish frames with familiar VeggieTales-themed patterns and colors, and with the message "God made you special" inside each temple. The frames are child-friendly and are made of durable memory metal with spring hinges.