Ceaco Signs Lalaloopsy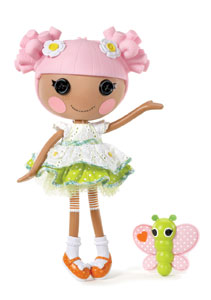 Ceaco, a jigsaw puzzle and game manufacturer, is launching a line of CeacoKIDS puzzles featuring MGA Entertainment's Lalaloopsy characters. The line includes three 60-piece Glitter Puzzles and three 24-piece Fuzzy Puzzles made out of felt with a rubber back so little hands can easily grasp the pieces. The line is expected to be at retail next month.
Zinkia Signs Additional Latin American Deals
Zinkia Entertainment appointed new licensing agents in key territories and added new broadcast partners.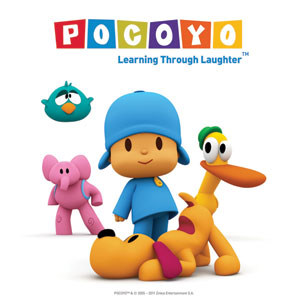 In the broadcast arena, Zinkia has concluded a new multi-territory, free-to-air broadcast agreement with Televideo (Albavisión) for Peru, Guatemala, Nicaragua, Dominican Republic, Paraguay, and Argentina.
In the consumer products arena, new third party licensing agent agreements include a multi-territory deal with IMC International Merchandising Consultants for Argentina, Bolivia, Paraguay, and Uruguay; BLG Brand and Licensing Group for Brazil; Doce & Friends for Chili; and Andelo in Peru.
Zinkia has also recently signed a multi-territory deal with Elite Global for the distribution of toys, including basic plush, bath toys and the Bump n' Go Racing Car in Colombia, Ecuador, Bolivia, Paraguay, Panamá, Costa Rica, Nicaragua, Honduras, Guatemala, El Salvador, and Caribbean Islands.
Pocoyo has almost 50 licensees in Latin America producing and distributing a diverse range of branded merchandise throughout the region.
Shirts for Larry the Cable Guy
A&E Networks announced that it has signed Performance Headwear II to make T-shirts and hats for the History Channel's series Only in America with Larry the Cable Guy.
MHS Licensing Signs Carey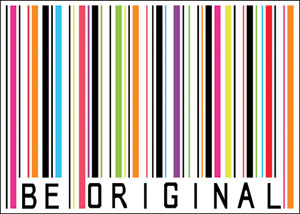 MHS Licensing announced that they are now managing the licensing program for artist Louise Carey. Her images can already be found on products featured in retail stores including Walmart, Target, Kohl's, and Bed Bath & Beyond throughout the U.S. and Canada.
Currently she creates original artwork for licensed products ranging from wall décor to home accessories. Her unique style is inspired by American pop culture, music, fashion trends, and home decorating.
Marvel Signs Blip Toys for Squinkies
Marvel Entertainment announced that it has entered into a licensing agreement with Blip Toys. As part of the multi-year deal, Blip Toys has created an all-new collection of Squinkies for boys inspired by Marvel's most popular superheroes and super villains. Squinkies Marvel Universe Capsule Pack Series 1 and Series 2, which each include 12 miniature figures are currently available online at major retailers.
TK Brand Group Announces Numerous Signings
TK Brand Group announces the following new licensing deals for its clients.
On behalf of Logotel, Inc., TK Brand Group has signed Sesame Workshop's Sesame Street, The Topps Company's Garbage Pail Kids, Sony Computer Entertainment's Twisted Metal and Rachet and Clank, and Paramount's Major League.
On behalf of Michelle Romo's Crowded Teeth, C-Life Group, Ltd. has been signed for apparel for the U.S. and Canada.
On behalf of Sqwishland, Funtastic Limited Confectionery Division has been signed for candy in Australia and New Zealand.
On behalf of Lenore, The Cute Little Dead Girl, by Roman Dirge, Playcorp Pty, Ltd.
 has been signed for apparel and accessories in Australia and Jay Jay Stores in
 New Zealand and South Africa.