Rebecca Bonbon Product in UK this Fall
FremantleMedia Enterprises (FME) announced that Rebecca Bonbon will be launching at retail in the UK this fall with a range of licensed products. The first of these to be available will be branded toiletries and cosmetic gift sets produced by Grace Cole. The products will be stocked in John Lewis and House of Fraser stores across the UK and Harrods in London, as well as on all of the stores' websites.
Grace Cole's Rebecca Bonbon products are designed to appeal to girls ages 8–14. The John Lewis range includes a nail polish set, featuring an assortment of nail varnishes, files and toe separators; the lip gloss trio, a pack of three lip glosses; and the lip cracker, three lip glosses shaped like disco balls packaged in the shape of a Christmas cracker.
House of Fraser will be launching the Travel In Style cosmetics case which includes body wash, body lotion, bath crystals, and a pack of three bath fizzers, and the Lip Gloss Purse featuring a mini lip gloss attached to a fashionable purse.
Harrods will stock a range of Rebecca Bonbon products including the Keepsake Box, which includes body wash, body lotion, body spray, lip-gloss, and a bath fizzer; as well as a Nail Polish Set, Lip Gloss Set and more.
Additional Licensees for Jeremyville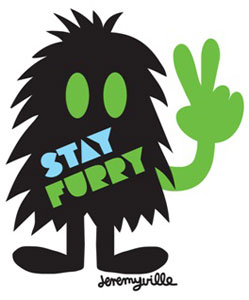 memBrain Licensing announced two new stationery and accessories licensees for artist Jeremyville set to launch later this year in Chile and throughout Europe. Libesa Limitada will be producing a range of notebooks featuring Jeremyville's iconic characters and his scenes of New York life for distribution throughout Chile. Stationery Team International will be releasing a full line of stationery and related paper as well as backpacks for the European market.
Inspiring individuals to make a difference on a global scale, Jeremyville reinterprets the world through the artist's eye creating an ever-expanding universe of colorful characters and fantastical cityscapes. Jeremyville's drawings and designs focus on universal issues such as the environment, love, friendship, holiday destinations, and optimism appealing to fans of all ages on an emotional level.
The Sharpe Company Signs Deals for Beast Farmer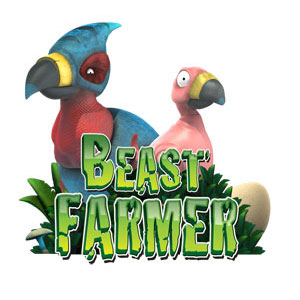 Independent studio, Industrial Brothers has appointed The Sharpe Company, Inc., as the worldwide licensing agent for their Beast Farmer franchise.
Beast Farmer (www.beastfarmer.com) is a multi-platform gaming concept that began with a series of games for the iPhone. The first game Beast Farmer: Swamp Chicken Edition, which started as a free game on the iPhone App store in July 2010, features a single Beast that the player nurtures from a baby, to a teen and then to an adult.
The second installment, Beast Farmer II: Beasts Unleashed, picks up where the first game left off, with a fully-grown battle-ready beast and many more challenges and options.
Outside of mobile devices, Industrial Brothers has created an entire multi-platform interactive world for console and MMOG. Players will be able to choose a Beast Farmer tribe and territory on the lost world of Beast Planet, which they will be able to enter into competitions with other online players in real time game play.
The licensing program is underway with two key partners already on board. Sharpe has just signed a deal with Egencie, Inc., creators of Kidsocial.com (www.kidsocial.com) to develop a Beast Farmer social website and online virtual world including web games and activities; and Mishme Enterprises Pty Ltd. (www.mishme.com), an online development company based in Australia, will incorporate Beast Farmer into their patented animated message delivery system for Browsers and Apps. All other categories are available for licensing.
HIT Partners with PS Brands
HIT Entertainment and PS Brands, LLC announced a new partnership for Thomas & Friends character socks and crib shoes. Starting November 2011, PS Brands will market and manufacture the new line for mass market and mid-tier retailers and specialty stores.