TRU Launches Differently-Abled Guide
Toys"R"Us Toy Guide for Differently-Abled Kids was released last week featuring actress and philanthropist Eva Longoria on the cover, alongside Elijah De La Cerda, a 5-year-old boy with Down Syndrome from Fresno, Calif. Released annually, this complimentary resource is created with guidance from the National Lekotek Center, a nonprofit organization dedicated to making play accessible to children of all abilities. The Guide is available in Toys "R" Us and Babies "R" Us stores nationwide and online, in English and Spanish: www.Toysrus.com/DifferentlyAbled
Eva Longoria, has strong ties and a deep passion for the special needs community. One of her sisters was born with developmental disabilities and inspired her to establish Eva's Heroes in 2006. Based in Longoria's hometown of San Antonio, Eva's Heroes is a nonprofit organization dedicated to providing opportunities for individuals with special needs to interact, play, learn, and enrich their lives.
Mattel, Frank Sinatra Enterprises Partner for Barbie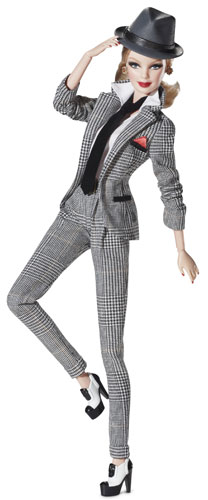 Mattel, in partnership with Frank Sinatra Enterprises, announced the debut of Frank Sinatra Barbie today for the collector market.
In a tribute to Frank Sinatra, this Barbie puts a spin on one of the crooner's most iconic looks, the tailored suit inspired by many of the singer's album covers, including Nothing But The Best.
Barbie wears a tailored houndstooth printed suit complete with a black tie, polished white shirt, and Frank-inspired fedora. Barbie adds a twist of her own style to the classic look with bejeweled matching earrings and high-heeled saddle shoes.
The doll also pays tribute to Frank Sinatra with her chic pocket square in orange, Sinatra's favorite color.
It is now available for adult collectors at www.barbiecollector.com for $34.95.
Sailor Moon to be Featured at Livraria Cultura
Toei Animation, in partnership with Brazilian licensee, CD and DVD Factory Distribudora Ltda, has finalized a distribution deal for Sailor Moon S with Brazilian retailer, Livraria Cultura.
Livraria Cultura, a Brazilian retailer of entertainment and electronic products, has 12 locations throughout Brazil. The Sao Paulo location of Livraria Cultura at Bourbon Shopping center in São Paulo will kick-off a Sailor Moon fan event on September 17, where attendees are invited to dress up as their favorite characters and compete for numerous prizes.
Sailor Moon follows a young girl who is given the ability to transform into Sailor Moon, a hero destined to defend the universe from nefarious forces that wish to rule worlds across the stars. Sailor Moon S, the third series in a five-part story arc, comprises 21 episodes.