MSG Partners with Duracell
The Madison Square Garden Company and Duracell Powermat announced a new arena-integrated marketing partnership this week making Duracell Powermat the official wireless charging partner of Madison Square Garden, The New York Knicks, New York Rangers, and New York Liberty. The partnership will place Duracell Powermat wireless charging systems throughout the Garden, including integration in the arena's current renovations. The wireless charging system will be showcased throughout The Garden, including product integration into the new suites and club spaces, as well as a dedicated "Duracell Powermat Powerzone" where event attendees can charge their electronic devices during events. Duracell Powermat receivers will also be available for purchase at retail stores within Madison Square Garden, so fans can continue to charge their wireless devices with ease outside of The Garden.
As part of the partnership, the new Event Level Suites that debuted in the first phase of the three-year arena transformation in October and the Madison Suites, which will come online for the 2012–13 seasons, will have Duracell Powermat wireless charging products available for guests to utilize. The new Delta Sky360 Club and 1879 Club Presented by J.P. Morgan, which are exclusive spaces for the holders of the top Knicks and Rangers season tickets, will both also offer fans the ability to wirelessly charge their electronic devices. Duracell Powermat will also turn one of the new Viewing Areas on the eighth floor of the Arena into the "Duracell Powermat Powerzone."
The new marketing partnership also provides promotion on LED signage and the new IPTV system at all Knicks and Rangers games and select concerts, as well as a feature on GardenVision, the center-hung scoreboard. The company will also receive inclusion across MSG's digital assets, including brand integration in consumer-directed event emails, as well as integration on the MSG website and the MSG Insider mobile application.
Fisher-Price's View-Master in Digital Deal with Spatial View
Fisher-Price, Inc., announced a new partnership with Spatial View, Inc., a leading innovator in stereo 3-D content distribution and auto-stereoscopic display technologies. Fisher-Price will offer a selection of images from the company's View-Master image archive.
Launching in late Q1 2012, the online digital content store at www.viewmasterdigital3d.com will include a selection of titles consisting of national parks, travel, nature, and history. The content will be sold in packs of 18 to 21 images for $1.99.
Using Spatial View's innovative 3DeeSlide accessory for the iPhone 4/4S, users will be able to see View-Master images in 3-D, without 3-D glasses. Support for Android 3D smart phones, Windows PCs, and 3-D TV platforms are expected to follow.
Jakks in Plush, Game Deals with Marvel
Jakks Pacific, Inc., announced that it has signed an exclusive licensing agreement with Marvel Entertainment, LLC to manufacture, distribute, and market a line of plush products based on the Marvel Super Hero Squad that ties into the new Marvel virtual online world, HeroUp.com. Under the same agreement, Jakks also has the rights to manufacture, distribute, and market skill and action games inspired by Marvel classic characters.
The plush line is expected to include collectible plush, plush clip-ons, and large plush with interactive, online components that unlock special features on HeroUp.com. With the plush line, kids can collect virtual currency, gain membership access and participate in the online trading card game. The line is expected to launch at specialty retailers this spring with broad distribution in mass retail channels starting in 2013.
Jakks is also expected to launch skill-and-action games that encourage active, physical play based on popular Marvel superheroes, such as The Avengers this spring.
New Licensees for Girl Scouts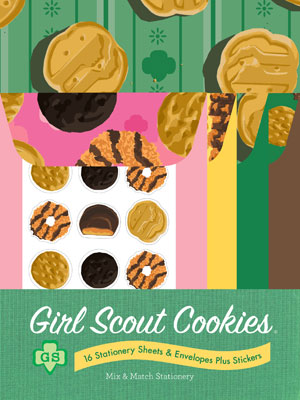 The Wildflower Group, in association with licensing agency Creative Properties, has secured two new licensees for the growing consumer merchandising program for Girls Scouts of the USA, which celebrates its 100th anniversary this year. Chronicle Books and J2 Licensing join a growing list of licensees.
Chronicle Books' Girls Scouts of the USA assortment will include a Girl Scout Cookies Journal, Girl Scouts Vintage Badge Journal, and Girl Scouts Mix & Match Stationery. Following the debut collection this spring, the offerings will expand to include a Girl Scouts One Line A Day journal and Girl Scout Cookies Mini Notes, which are slated to launch in fall 2012.
J2 Licensing will produce girls, juniors and women's tops, including T-shirts, tank tops, layered looks, and more. The girls' collection will feature bold colors and graphics, while the junior and women's lines will focus on vintage and nostalgic looks.
SO SO Happy Signs Commonwealth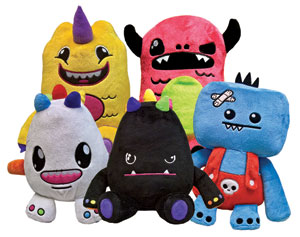 Art Impressions, owner of the proprietary lifestyle brand SO SO Happy, has licensed Commonwealth Toys to produce a complete line of plush toys, beanies, plush backpacks, and related products featuring the brand's quirky cast of friendly monsters, robots, and other oddball characters.
The companies' first collaborative series will roll out nationwide in May at specialty chains, boutiques, department stores, and a major nationwide toy retailer. Plans are in place for multiple additional series, which will showcase the more than 200 characters, each with their own backstory.
Care Bears in Taiwan Promotion
American Greetings Properties and licensing agent Medialink announced a large promotion for Care Bears in Taiwan with Wisdom Co. Ltd.
As the promotional agency for Cathay Bank, the largest financial holding company in Taiwan, Wisdom Co. Ltd was able to create a Care Bears-themed credit card promotion. During the promotion period, when consumers spend $200 they receive a Care Bears premium item free of charge. Products available include an umbrella and a cosmetic case and can be redeemed in top department stores including Sogo, Eslite, Da Li, Chung Yo, Momo, Takashimaya, Hangshang, Metro, Tai Mall, Q Square, Yo-ai, Mode Mall, Uni-Hankyu, President, Nice Plaza, and Lake Square. This promotion will run through the end of this month.