Striker, CDM to Represent Pac-Man TV Series in U.S.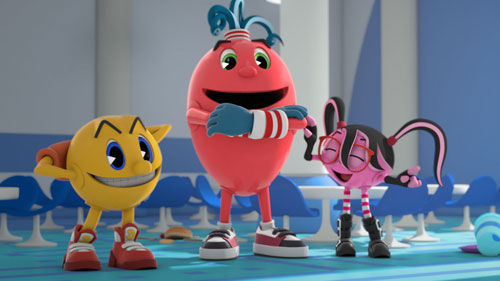 Namco Bandai Games, 41 Entertainment (41e), and Arad Productions announced that they have appointed several new agents to the U.S. licensing and promotional efforts for the upcoming Pac-Man TV series, which is slated to begin broadcast on Disney XD in fall 2013.
Striker Entertainment will be charged with securing licensees in the key categories of apparel, accessories, footwear, health and beauty aids, oral care, and publishing. The CDM Company will handle all consumer promotional efforts.
All categories not specifically handled by Striker and CDM will be retained by the 41e team in-house. 41e will manage the overall global licensing and merchandising program and has already granted a number of key licenses.
Sears, Outdoor Life in Apparel Deal
Sears and Bonnier Corporation's Outdoor Life announced that they have entered an agreement to launch a line of Outdoor Life-branded sportswear for men, available in more than 800 Sears stores nationwide and on Sears.com, beginning September 2012. The exclusive collection is being designed with the all-American man in mind who is a loyal customer of both iconic brands. The products will combine utility, comfort, and quality for the outdoorsman.
Offering functional yet stylish casual men's apparel, the Sears Outdoor Life collection will include items such as cotton flannel shirts, thermal crews, Henley shirts, hooded fleece zip jackets, cotton canvas cargo pants, and more.
Sears will feature the Outdoor Life brand in stores nationwide in a heavily branded in-store retail space called the Outdoor Life shop. Outdoor Life will promote the line with a comprehensive marketing campaign that includes coverage in the October, November, and December/January issues of Outdoor Life magazine as well as a presence at consumer events, multimedia program opportunities, and integration on OutdoorLife.com.
CopCorp Signs MoshiMoshiKawaii; Ceaco to Make Puzzles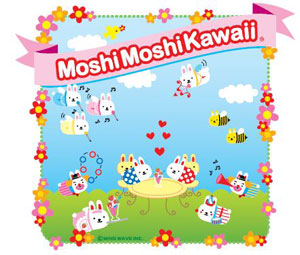 CopCorp Licensing announced that it has been appointed to manage the licensing program for MoshiMoshiKawaii art brand in the United States as well as Canada.
In addition, Ceaco has been signed as the brand's first American licensee. Ceaco has been granted the rights to utilize MoshiMoshiKawaii artwork for jigsaw puzzles.
MoshiMoshiKawaii is an art brand that originated in Japan and is quickly gaining fans all around the world thanks to search-and-find and other children's activity books from publishers such as Candlewick Press, which currently offers three MoshiMoshiKawaii books with two more books due out later this year. The MoshiMoshiKawaii licensing program is managed globally by Sweden's Plus Licens with several publishers and licensees already on board in Europe.
TK Brand Group Signs Elmer The Patchwork Elephant
Andersen Press, based in London, has appointed TK Brand Group to be the licensing agency for Elmer The Patchwork Elephant, for representation in North America.
TK Brand Group will look to expand the brand beyond its current licensees base, which includes Kids Preferred, Lakeshore, and Ocean House Media, with merchandising and promotional opportunities. Elmer is a classic literary property with more than five million books sold and nearly 40 books in more than 40 languages, with another original title due out this fall. Elmer stories share the positive message of accepting differences, helping others, and enjoying life.
To date, merchandising in North America has been fairly limited with books, plush, and wooden toys being the primary categories.
Almost Naked Animals Gets Shop on CafePress
9 Story Entertainment announced the appointment of CafePress.com as the official E-commerce partner for Almost Naked Animals. The agreement was brokered by The Licensing Shop, Inc. This is one of several announcements planned in the coming weeks, according to 9 Story, as it says it will unveil plans to develop a digital platform for the TV series Almost Naked Animals' website for fall 2012. Besides plans for creating the Official AlmostNakedAnimals.com Store, CafePress.com has already launched a print-on-demand store front on their own website where fans of the popular underwear clad animals can use online assets to create their own designs on a variety of products such as apparel, bags, drink ware, and more.
CafePress.com is the flagship brand of CafePress, Inc. Today there are more than three million CafePress shops that together have created 300 million unique products.
Almost Naked Animals, now in its third season, airs on Cartoon Network U.S., YTV Canada, CiTV UK, ABC Australia, Disney Channel Italy, Disney Channel India, Disney Channel Latin America, Disney Channel Spain and Portugal, NPO's children's channel Z@pp/Zeppelin in the Netherlands, Super RTL Germany, Canal+ Family and TéléTOON+.
Jazwares Signs Lalaloospy Electronics License
Jazwares announced that it will develop the first line of Lalaloopsy electronics as part of a licensing agreement with MGA Entertainment. The partnership marks the first time that Lalaloopsy will enter the electronics category. Available in late 2012, Jazwares' line will include headphones, speakers, an alarm clock, earbuds, a digital camera, and walkie talkies.