The Wish Factory Nails Deal for Monster High
The Wish Factory has partnered with Mattel to bring the Monster High license to the Pop Grrl Brand. The Wish Factory is set to manufacture a collection of Monster High-branded Pop Grrl Nail Charms with an initial rollout beginning this month.
Pop Grrl Nail Charms are the official 3-D patterned nail art that combine the collectability of charms with the personal, expressive nature of stick-on fashion nails. The Pop Grrl Nail Charms original and candy-licensed collections are currently sold at Toys "R" Us and other retailers nationwide.
Hallmark to Produce Cody Simpson Greeting Cards
Hallmark will offer a Cody Simpson greeting card line, featuring more than 40 greeting cards, beginning in January 2013. The cards will come in a variety of formats including 3-D cards and cards with sound. The cards will feature photos of the teen pop star and incorporate messages and designs celebrating Simpson's passions—the Australian Gold Coast and surfing. Some cards will also include attachments such as mini lapel pins, temporary tattoos, locker magnets, or stickers.
Additional Cody Simpson products will be announced soon.
Domo Enters Plushland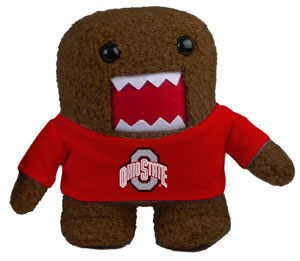 Big Tent Entertainment signed a new long-term licensing agreement with Plushland to launch a line of branded plush featuring Domo decked out in the country's top college, MLB, and NHL team logos as well as recognizable destination slogans and sayings.
Beginning spring 2013, campus bookstores, specialty stores, and other sports merchandisers will feature the new Domo plush line, which also includes fuzzy dice, cubes, balls, and pillows. The line will feature slogans from popular cities and theme parks such as "I Love New York."
Nickelodeon to Rep Dinosaur Train Merchandising in UK
Nickelodeon & Viacom Consumer Products was chosen by The Jim Henson Company to represent Dinosaur Train for merchandising in the UK and Ireland. Existing Dinosaur Train licensees in the UK market include TOMY, the global master toy licensee for the brand, and Puffin for publishing products including paperback storybooks and board and novelty books. TOMY will debut new products for the brand in 2013, including the range of small, medium, and large Dinosaur Train InterAction Figures. In addition, a broad range of popular Dinosaur Train characters and train cars will be available.
The series made its debut in the UK and Ireland in March and currently airs every weekday on Nick Jr.
The World of Eric Carle Expands Its Assortment for Fall
The Joester Loria Group, licensing agent for The World of Eric Carle, is working closely with licensees and key retailers to expand the brand's product assortment for fall 2012 and beyond. Babies "R" Us has broadened its existing The World of Eric Carle program with new introductions of infant developmental toys from Kids Preferred and play and nap mats from Venture Products. Target's See Spot Save program launched 20 different The World of Eric Carle skus in September including stationery and tote bags from Innovative Designs, socks from PS Brands, and feeding utensils and containers by Zak Designs. Kohl's selected the brand for its semi-annual Kohl's baby event, which kicked off last month, offering consumers deals on the latest baby products. Momentum for the brand will continue to build as all partners gear up for the 45th anniversary of The Very Hungry Caterpillar in 2014.