New Global Deals for Babar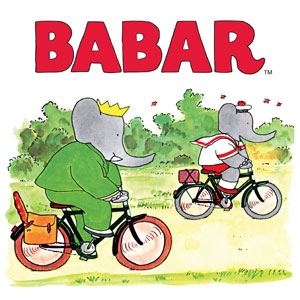 Nelvana Enterprises and The Clifford Ross Company announced a number of new licensing agreements in the EMEA for Babar.
ITV Studios Global Entertainment is representing the UK licensing rights for Babar. The deal also includes the current CG-animated TV series Babar and the Adventures of Badou, featuring Babar's grandson, Badou, which broadcasts on CITV.
Additionally the following deals include the signing of agent Rio Licensing in Russia and a master toy agreement with Vita-Alisa. In France, there are new products through agent TF1 Licences from Lansay (fire truck and more), Lisciani Giochi (toys), Cooper (pharmacy), School Pack (BTS), Papo (PVC figurines), Riethmüller (party goods) and Worlds Apart (bedroom accessories). In Germany through agent M4e, Hutter Trade has been signed for board games and Nelson for publishing. In Portugal, Popcorn, a new agent has been signed as well as new licensees Booksmile (publishing) and Artimbal (BTS).
Expanded Licensing for Doozers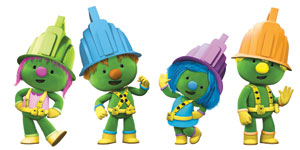 The Jim Henson Company appointed licensing rights across EMEA for Doozers to Turner CN Enterprises. A co-production between The Jim Henson Company and DHX Media, the new CG animated series Doozers features the much-loved characters from Fraggle Rock, the classic live action puppet series from the 1980s.
Aimed at children ages 3–6, the series will air in 125 million homes across EMEA on Turner Broadcasting's dedicated preschool channel Cartoonito beginning fall 2013.
The EMEA broadcast launch of Doozers will be supported by a full cross-category licensing program, which will include merchandising, publishing, and promotions.
Global Licensing Deals for CBS Consumer Products
CBS Consumer Products announced a number of new international deals for its television franchises including Star Trek, NCIS, CSI: Miami, and Next Top Model. Licensed products including apparel, consumer electronics, and stationery will hit retail in the UK, Canada, Japan, Australia, and New Zealand during the next year.
New international licensees and details of upcoming products hitting retail in the next year include
 Cotton Division, which will create Star Trek T-shirts, sweatshirts, zip hoodies, pajamas, caps, and belts in France.
 Guild Jewelry will create Star Trek jewelry for Australia and New Zealand, including necklaces, rings, pendants, brooches, charms, bracelets, and cufflinks.
 NRG will manufacture T-shirts based on shows under the Television City banner for Canadian fans. Series include Mighty Mouse, The Twilight Zone, The Little Rascals, Rawhide, The Beverly Hillbillies, Happy Days, Beverly Hills 90210, Cheers, Taxi, and The Brady Bunch.
 Pyramid will feature Star Trek prints and posters for the UK market including The Original Series Art Prints collection. Available in the UK on wood, canvas, and as framed art prints, UK fans will be able to purchase the items individually or as boxed sets.
 ShirtPunch! will offer fans limited edition products based on Cheers, Charmed, CSI: Miami, Happy Days, Dexter, and NCIS. The deals will only be available for 24 hours and include prints, magnets, hoodies, and T-shirts. Tokugawa will offer classic Star Trek computer and mobile games for Japanese fans. Top of the Line will make Next Top Model products for Canada, including stationery (notebooks, pencil cases, pens, and bookmarks) and consumer electronics (ear-buds; iPad, laptop, and cell phone cases; and USB keys). 
Will Technology will manufacture tech accessories for video games, mobile phone, and PC systems based on Star Trek for the UK.
American Greetings Properties Appoints Care Bears Global Agents
American Greetings Properties (AGP), the outbound licensing division of American Greetings Corporation, appoints six new agents across EMEA, gearing up for the global relaunch of Care Bears in 2013. The six agents include East West Licensing (Middle East), JLB Licensing, Inc., (Turkey), Plus Licens AB (Scandinavia and Eastern Europe), Point of View (Israel), RIO Licensing (Russia), and JT Licensing Co. (Greece). The Care Bears relaunch consists of an all-new CGI animated television series, Hasbro toys in key territories, and global retail partnerships.
New Licensees for Trash Pack
Moose Toys' The Trash Pack has signed Dreamtex Ltd. to create a collection of Trash Pack-inspired home textiles including children's bedding. Bandai Namco has been signed to create a series of vending plush for amusement parks across the UK. The deals were brokered by Lisle International on behalf of Moose Toys.
Mind Candy Expands Agents
Mind Candy announced a lineup of agents to expand Moshi Monsters internationally. Deals have been signed across Europe, the Middle East, Latin America, and Australasia with the following agents: European Licensing Company (Poland), YPL (Israel), Pacific Licensing (SE Asia), Exim (Argentina, Uruguay, Paraguay, and Bolivia), Tycoon (Mexico, Chile, Colombia, Peru, Venezuela, Ecuador, Central America), East West Licensing (Middle East). Mind Candy has also renewed its licensing agreements with The Fusion Agency (Australasia) and CLM (South Africa).
CandyRific in Deal with DQ
CandyRific signed a license with Dairy Queen (DQ) for a new variety of shelf-stable Blizzard Treats, which is set to debut at the end of the first quarter of 2013. The new items include the Blizzard DQ Cookie Crispy Rice Treat, the Blizzard DQ Cookie Dough Bites Crispy Treat, and the Blizzard DQ Power Panel, which includes 36 of each item. The MSPR of each treat is $0.99.
Care Bears Heads to Benetton
American Greetings Properties (AGP), the intellectual property and outbound licensing division of American Greetings Corporation, announced a worldwide licensing agreement with the Benetton Group Kids Department, the parent company of United Colors of Benetton for the Care Bears brand. The global retailer will launch a Care Bears apparel program inspired by the colorful pop culture icons and negotiated by AGP's agent in Italy, Starbright Srl.
The Care Bears program will launch with a line of apparel for babies and children that will debut in United Colors of Benetton stores around the world in spring/summer 2013. Product will be available at the United Colors of Benetton Kids stores located in approximately 120 countries.
New Agents and Deals for Winx Club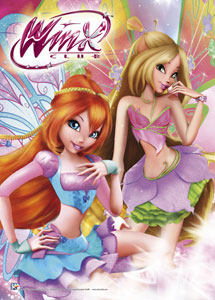 Italian producer, distributor, and licensor Rainbow has signed a host of new licensing agents for its brand Winx Club, extending its number of licensees further across Europe and into Asia and Middle Eastern markets.
New licensees include: CPLG for Germany and Benelux; RBW for Brunei, Malaysia, Singapore and Thailand; Tuesday (Bates Group) Indonesia; License2Brand in Greece; FWD Licensing in UAE, Bahrain, Qatar, Kuwait, Jordan, Lebanon, Egypt, Oman, Saudi Arabia, Tunisia, and Morocco.
These deals join existing licensing agreements for Winx Club with France Television in France, Filma in Turkey, Zero A Oito in Portugal, and CLM in South Africa.
Winx Club dolls are produced for the worldwide market by Witty Toys, part of the Rainbow Group, except in North America, Australia, and New Zealand and UK where Jakks Pacific is the master toy licensee producing and distributing the dolls.