Miramax Signs Evolution as Licensing Agent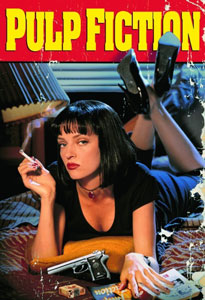 Evolution, a global brand management firm, announced that it has been selected to serve as the global merchandise licensing agent for the Miramax portfolio of properties, which features more than 700 modern classic film titles.
Key titles under the agreement include cult classics Pulp Fiction, Kill Bill Vol. 1 & 2, Swingers, Clerks, and Jackie Brown, as well as blockbuster films such as Bad Santa, Chicago, Gangs of New York and the Scream, Scary Movie, and Hellraiser horror franchises.
Travis J. Rutherford, president of licensing and retail development at Evolution, will provide Miramax with development and execution of large-scale licensing programs, international sub-agent management, retail development, and promotional partnerships. Additionally, Evolution will create branded licensing programs under a newly formed Miramax Legends banner.
Universal in Digital Deal for Uglydoll
Universal Partnerships & Licensing has signed a deal with Pretty Ugly to rep the company's Uglydoll franchise of characters across all digital platforms. The deal includes interactive games, apps, widgets, and virtual goods.
Separately, the studio's llumination Entertainment is developing an animated film based on the characters.
Bravado Signs Wish Factory for Pop Star Carly Rae Jepsen Licensing
Bravado, the global music merchandising company, has partnered with The Wish Factory, Inc., to develop an exclusive line of merchandise for pop singer Carly Rae Jepsen. She is famous for her hit single "Call Me Maybe." She began her professional career finishing third on Canadian Idol. "Call Me Maybe" has sold more than 9.1 million singles worldwide.
Through this partnership, Bravado and The Wish Factory will develop and manufacture an exclusive line of licensed merchandise for Jepsen, which will include a broad range of novelties and collectibles such as dolls, microphones, headphones, and fashion accessories, as well as licensed products for The Wish Factory's proprietary Pop Grrl and Locker Rocker brands.
Sun-Mate Signs Distributors for Jungle Book
Sun-Mate Corporation, the master global toy licensee for the new TV series The Jungle Book, is expanding its network of worldwide partners with the announcement of a slate of toy distributors.
New partners include: Hunter Leisure in Australia; Flash Toys in Latin America; Haka in New Zealand; Prima Toys in South Africa; and MC Entertainment for Benelux.
Sun-Mate will provide marketing support to each company with a TV advertising campaign and promotional spots produced by Sun-Mate.
MGA Signs Studio Licensing for Canada
MGA Entertainment, Inc., recently appointed Canadian licensing agency, Studio Licensing to represent its brand portfolio for licensing and merchandising in Canada. Studio Licensing will work with the following MGA brands: Lalaloopsy, Moxie Girlz, Bratz, Bratzillaz, Novi Stars, and Little Tikes.
Fremont Die Signs Deal with NFL
Fremont Die Consumer Products takes its long-standing partnership with the NFL to a new category in 2013 with the introduction of NFL Game Day, the Ultimate Football Board Game.
After 25 years supplying NFL fans with accessories from banners and flags to bop bags and window films, Fremont Die Consumer Products introduces a board game that teaches the rules of NFL football engaging everyone from the novice to the most hardcore fan, says the company.
The game is offered with customizable end zones featuring all 32 NFL teams.
NFL Game Day, for ages 9 and up, is expected to have an MSRP of $29.99 and be available in June.
Squaredy Cats Signs Brandberry as Licensing Agent
Brandberry and Squaredy Cats have entered into an exclusive licensing relationship for Brandberry to represent Squaredy Cats globally in all categories with plans to expand the brand by finding new licensees, strategic alliances, and retail partners.
Squaredy Cats made their debut in 2011 and have been sold at retailers such as Toys "R" Us and Build-A-Bear Workshop. Each square-shaped cat displays an embroidered personal message on their side that reflects the various themes.
The Squaredy Cats creators, Monkey Doodle Dandy, have drawn more than 1,000 cats and develop new unique cats every week.