Apparel, Accessory Deals for Domo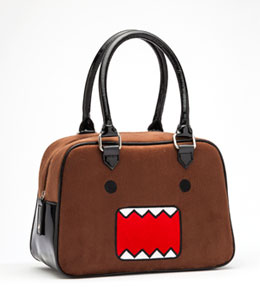 Big Tent Entertainment announced two new apparel and accessory deals for Domo. Domo will soon adorn handbags by Rock Rebel and apparel, footwear, and accessories by Bait.
Rock Rebel will introduce its new line of Domo-inspired fashion handbags this spring in various styles including fashion totes, bowler bags, framed handbags, and clutches. The handbags will retail between $32–$99 on RockRebelShop.com and across all retail channels in the U.S. and Canada.
Also arriving this spring will be the exclusive Domo and Bait collaboration of apparel and accessories which includes T-shirts, crewnecks, hoodies, footwear, socks, hats, keychains, cast metal lapel pins, and plush. The Bait and Domo fashion line will be available exclusively at the Bait flagship store and online at BAITme.com and PYS.com.
Tonner to Make Ralphie Doll from A Christmas Story
Tonner Doll Company has partnered with Warner Bros. Consumer Products (WBCP) to release a Ralphie figure based on the 1983 comedy, A Christmas Story.
The Ralphie figure includes hand painted facial features, authentic costuming from the film, and multiple points of articulation for posing. Ralphie also comes with a stand for easy display. Tonner's Ralphie stands 12-inch tall and is dressed in his red plaid cotton shirt, oatmeal knit sweater, brown corduroys, white socks, and brown boots. This figure includes Ralphie's signature glasses and his beloved BB gun.
Mezco Signs Fox's Axe Cop
Mezco Toyz announced that it will be creating a line of collectibles for Axe Cop. Mezco will be offering an assortment of merchandise for the Axe Cop license including both action figures and plush collectibles.
Axe Cop, the animated series, is expected to premiere on Fox on July 27, 2013.
The true-life story behind Axe Cop is nearly as amazing as Axe Cop himself; A 5-year-old boy narrates an ongoing story based on his imagination, and his 29-year-old brother, a professional comic book artist, brings those stories to life. The results are an axe-wielding cop partnered with a flying T-rex with machine gun arms. Surge Licensing brokered the deal.
Jewelry Deal for Marie Claire
PrivateCollection&Co., a brand architecture company, has been signed as a licensing agent for the Marie Claire brand in the U.S. and Mexico.
In addition, it has announced its first licensing deal, which is an agreement granting Richline Group the exclusive right to manufacture, market, and distribute jewelry in the U.S. under the Marie Claire brand.
In Asia and Australia, Marie Claire is a leading brand in fashion, beauty, and home décor generating more than $350 million at retail each year and PrivateCollection&Co is working to expand this success to the American market by establishing key licensing and distribution agreements with companies such as Richline Group, a Berkshire Hathaway Company. The Marie Claire license will complement Richline Group's portfolio of jewelry lines.
Discovery, Olaes in Apparel Deal
Discovery Communications announced a new partnership with Olaes Enterprises, Inc., for an Animal Planet-branded young men's and boys' apparel line. The new line is the latest addition to a range of Animal Planet lifestyle and pet product offerings.
Set to debut later this year, the new apparel line includes young men's (sizes S-3XL) and boys' (sizes 4-20) cotton and cotton-blend T-shirts, as well as fleece items featuring animal designs inspired by popular Animal Planet programming. The line is expected to be available in department store chains, mass market retailers, mid-tier chains, e-commerce sites, and specialty chains.
The deal with Olaes Enterprises, Inc., for the apparel line was brokered on behalf of Animal Planet by its licensing agent, The Joester Loria Group (TJLG), for the U.S. market.
Deals for Nick Jr.'s Tickety Toc
Established Brands, U.S. licensing agent for Zodiak Kids, signed a host of licensing deals for Tickety Toc, the Nick Jr. preschool series.
Bentex Group will create a range of apparel for preschool boys and girls that will include T-shirts, sets, separates, dresses, fashion tops, outerwear, and swim. The apparel will launch this fall at mass, mid-tier, and online channels.
Other U.S. deals include Fast Forward for backpacks, handbags, totes, luggage, and lunch kits; Royal Accessories for hair accessories, costume jewelry, novelty footwear; Franco Manufacturing for juvenile bedding, bath, and beach; Baby Boom for toddler bedding and room décor; MEGA Brands (U.S./Canada) for puzzles, including wood, floor, shape, and app-tivated puzzles.
The previously announced master toy parter is Just Play and Home Entertainment partner is Anchor Bay Entertainment.
Tickety Toc debuted on Nick Jr. in October 2012. The show airs seven days a week.
Ziosk, INI in Restaurant Game Deal
Ziosk, an interactive Android touchscreen offering entertainment and pay-at-the table convenience for the casual dining restaurant market, has signed a deal with INI, LLC to feature its app called Dabble, The Fast Thinking Word Game at casual dining restaurants across the U.S. starting on April 1, 2013. The goal of Dabble is to spell out five separate words with just 20 letters as quickly as possible.
Eric Carle Products Expand in Canada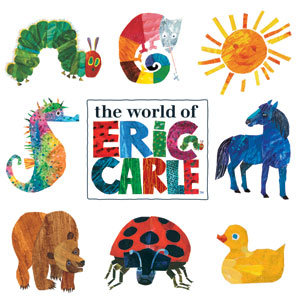 The Joester Loria Group, the exclusive global licensing agent for The World of Eric Carle, has brokered a deal with Dophes to develop World of Eric Carle infant/toddler bedding, room décor, and towels for the Canadian market. The collection will be available for specialty, department store, and independent retailers throughout Canada.
It will be designed with graphics and art pulled from The Very Hungry Caterpillar and Brown Bear, Brown Bear, What Do You See?
The addition of Dophes will expand the brand's current Canadian soft goods program, which includes partnerships with apparel company, Snugabye, for sleepwear and playwear and Gertex for infant hosiery.
Snugabye has developed a collection of more than 60 SKUs of newborn and infant layette, sleepwear, and playwear to launch in 2013.
SMC Signs Angry Little Girls!
SMC Entertainment Group, Inc., has been appointed the global licensing agent for Lela Lee's Angry Little Girls! brand. Under the agreement, SMC will build on the comic and publishing brand launching new licensing, merchandising, and consumer programs.
SMC's strategy is to reintroduce the brand and all of its characters to consumers ages 13–30 years old with targeted classic brand licensing, merchandising, and promotional programs in such product categories as apparel, accessories, tote bags, backpacks, wallets, jewelry, watches, room décor, gifts and novelties, stationery, HBA/cosmetics, and more.
Lee first created the Angry Little Asian Girl in 1994 as an answer to her discontent with college life while a student at UC Berkeley. Lee expanded her initial cartoon into the successful comic strip Angry Little Girls! featuring Deborah The Disenchanted Princess, Maria The Crazy Little Latina, Wanda The Fresh Little Soul Sistah, and Xyla The Gloomy Girl.
The new campaign coincides with the upcoming premiere of Angry Little Asian Girl, an animated TV series launching spring 2013 on MNET, and will be dedicated to supporting the 12 episode series on the youth entertainment channel, MNET the first 24/7 English language television channel targeting fans of K-Pop, anime, and other entertainment genres.
WBCP Signs Peavey for DC Comics Instruments

Peavey Electronics, manufacturer and supplier of musical instruments and professional sound equipment, has been signed by Warner Bros. Consumer Products for a line of musical instruments featuring DC Comics Super Heroes.
The musical instruments will capture DC Comics Super Heroes Superman, Batman, Wonder Woman, The Flash, Green Lantern, and many more. The instruments will be specially designed for DC Comics enthusiasts, serious collectors, and musicians of every skill level from beginner to pro.
Peavey will also release guitar picks and straps featuring DC Comics Super Heroes and villains. The line will be available at major retailers.
Exim Licensing Is Fruit Ninja Subagent
Halfbrick Studios and HAP Consulting announced Exim Licensing Group as sub-agent for the Fruit Ninja licensing program for the Latin America region. Exim will be responsible for implementing a strategy with Halfbrick Studios, distributors, and key partners for a licensing program that spans the region.
Snoopy Coaster App now Available
Chillingo, an independent games publisher and division of Electronic Arts, Inc., announced a partnership with Peanuts Worldwide to bring Snoopy Coaster to the App Store this month. The new game embarks players on a thrilling roller coaster ride with Snoopy and his cast of friends in this arcade action endless runner. Help Snoopy speed through loops, barrel through peaks and valleys and jump to collect coins, power ups, and unlock new features.