Sony Amps Up Merchandise Program for Mortal Instruments
For its latest film, The Mortal Instruments: City of Bones, which opens in theaters today, Sony Pictures Consumer Products has lined up a full roster of domestic and international licensees. Product will be featured across multiple categories, including fashion apparel, accessories, publishing, costumes, and more. U.S. licensees include Bioworld, Tripp NYC (Hot Topic exclusive), Jewelry On 7th, Underground Toys, Running Press, Simon & Schuster, Trends International, PlayFirst, Leaf Trading Cards, Tonner Doll Company, and Rubie's Costume Co. International licensees include Sunset (Europe), Walker Books (UK and Australia), Pyramid International (Europe, UK, Australia, New Zealand), My Flash Trash (Europe, UK, Ireland, Australia, New Zealand), Gear 4 Games (Europe, Australia), Laurelle London (worldwide excluding the U.S. and Canada), Hatber (Russia, CIS), Mantiburi (Europe), Happy Toys (Germany, Austria, Switzerland), Ripol (Russia, CIS), MM Media (Germany), and Hybris (Nordics).
SPCP has also partnered with key retailers (Hot Topic, Walmart, Barnes & Noble, Books a Million, Rue 21, and Michaels) and promotional partners (Splat, NYX Cosmetics, and Tripp NYC) in the U.S. International retail support will come from Forbidden Planet, Tesco, and WH Smith in the U.K.; Carrefour in France; and Dymocks in Hong Kong.
Apparel Licensees On Board for Marvel's Guardians of The Galaxy
Marvel Entertainment has signed new apparel licensees to create a robust line inspired by Marvel's Guardians of The Galaxy. As the first apparel partners on board for the film franchise, C-Life, Mad Engine, and New Era join Hasbro, Disguise, and Sideshow Collectibles to build momentum for an overall merchandising program. Mad Engine and C-Life will serve as core apparel licensees with a line of T-shirts and fleece for boys and men, while New Era will develop signature co-branded headwear and hats inspired by the property.
Zak Designs Launches Sophia the First Dinnerware
Zak Designs has partnered with Disney Consumer Products to bring Sophia the First to a new line of dinnerware and drinkware. The line features the characters from the TV show on its three-piece dining set, which includes a plate, bowl, and 10-ounce tumbler. The Sofia the First line will also feature a spoon and fork set and a "Loopity Loop" tumbler, which allows kids to watch their favorite drink as it loops through the straw. Zak has also released a 14-ounce Tritan water bottle. All items are dishwasher safe and BPA-free.
Rasta Imposta Named Breaking Bad Costume Licensee
Sony Pictures Television has named Rasta Imposta as Breaking Bad's official Halloween costume licensee in the U.S. Under the agreement, Rasta Imposta will introduce a line of costumes inspired by the hit TV drama in time for this Halloween. Recreating the iconic hazmat suit worn by the show's lead character Walter White, the costume line will include a yellow hazmat suit, red and black hazmat mask, blue gloves, and a goatee. Costumes are currently available for presale at various online Halloween retailers and are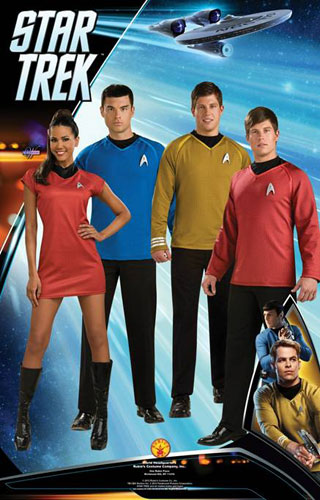 scheduled to hit retail in early October.
Rubie's Named Costume Licensee for Star Trek
Rubie's Costume Company will produce officially licensed costumes, masks, and accessories for Star Trek Into Darkness. The collection, under license by CBS Consumer Products, is available in infant, kids, and adult sizes. Star Trek character costumes include Captain Kirk, Scotty, Spock, and Uhura, along with the villainous Klingon and Harrison.