MarVista Acquires Music Specials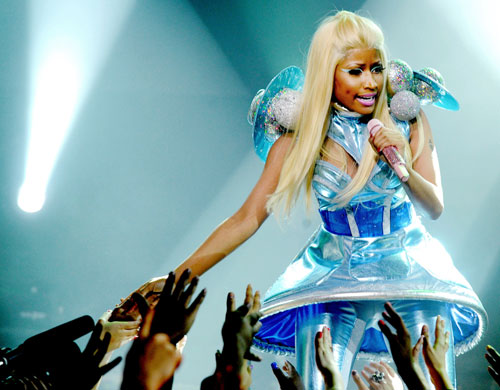 MarVista Entertainment has acquired a total of 16 music specials and documentary titles from EntertainME and 1550, including the recently completed Nicki Minaj: Pink Planet special.
MarVista Entertainment has also acquired licensing rights to upcoming productions, including specials on The Black Eyed Peas as well as Will.I.Am and Fergie, slated for delivery in fourth quarter 2013, and Carrie Underwood, which will be delivered in first quarter 2014.
MarVista's new music catalog includes the following: Nicki Minaj: Pink Planet, One Direction: All the Way to the Top, Beyonce: Beyond the Glam, Taylor Swift: From the Heart, Justin Bieber: The Next Chapter, Britney Spears: Princess of Pop, Rihanna: No Regrets, Eminem: Behind the Lyrics, Madonna: Goddess of Pop, and Whitney Houston: The Greatest Love of All.
Gund Signs Parham Santana for Licensing
Parham Santana announced a licensing agreement with Gund. Parham Santana will assist Gund in developing a licensing strategy for brand extensions, which will allow consumers to engage Gund across new product categories. Licensed product will be designed for sales at retail where Gund is currently available.
Yung Khalifa in Spencer's

Multi-platinum selling, award-winning artist, Wiz Khalifa has partnered with Spencer's to develop an exclusive line of apparel and accessories called Yung Khalifa. The line will launch at select Spencer's stores and on spencers.com.
Yung Khalifa was inspired by Wiz's fashion and lifestyle. The apparel and accessories are inspired by imagery from Wiz's tattoos and verbiage used by Wiz.
Domo in Watch Deal
Big Tent Entertainment announced a licensing deal with Accutime Watch Corp. for Domo. Through the agreement, Accutime will create a line of watches and clocks featuring Domo for kids and adults. The line will be available in the U.S. and Canada in 2014.
WWE Party Goods
American Greetings and WWE have entered into a multi-year agreement to create a variety of social expressions products that will launch in June 2014. Products will include every day and seasonal greeting cards, party goods, party favors, party decorations, gift packaging, stickers, and ornaments.
Zuru, Marvel in Deal
Zuru announced that it will be creating and marketing Creepeez wall crawlers featuring Marvel's characters from Spider-Man and The Avengers. Marvel Creepeez hit store shelves this month at Toys "R" Us and Dollar General stores nationwide. Throw Creepeez against a wall and watch them tumble down and perform fun stunts along the way.
Rubie's Extends Marvel Deal to U.S., Canada
Rubie's Costume Company announced that it will be developing a line of Marvel costumes for the United States and Canada starting in 2014. Rubie's currently produces Marvel product lines throughout Europe and other international markets.
Rubie's plans to create a very broad collection of Marvel Universe products including costumes, dress-up accessories, masks, make-up, high-end collector costumes and accessories, pet costumes, animatronic decorative props, costume shoes, seasonal décor, and much more. Costume products will be available in toddler, child, tween, teen, and adult sizes next year.
The officially licensed products will encompass all classic Marvel properties and upcoming Marvel films.
In addition, Rubie's will also produce costumes for the new ABC live-action television series Marvel's Agents of S.H.I.E.L.D., as well as all Marvel classic characters such as Iron Man, Spider-Man, Hulk, Wolverine, Thor, Black Widow, and more.