Sakar, Mattel Enter Deal for Ever After High
Sakar International announced a new licensing deal with long-time partner Mattel to develop and distribute Ever After High audio and mobile products as part of Mattel's recently launched doll franchise. The Sakar products will feature the signature bold colors and edgy Ever After High motif, including characters such as Apple White, C.A. Cupid, and Lizzie Hearts, who are each based upon the children of well-known characters from fantasy and fairy tales.
Scheduled to hit store shelves in spring 2014, the Ever After High lineup from Sakar will include decorative tablet cases, earbuds, mobile phone cases, and headphones. Tablet cases will feature distinctive design features such as a realistic-looking tea-stained surface, gold foil lettering, and velvet quilted stitching. Ear buds will feature with interchangeable faceplates. And, a variety of iPhone and other smartphone cases will showcase hanging charms, mirrored etching, gold foil, and other accents.
The Beatrix Girls Announce Licensing Deals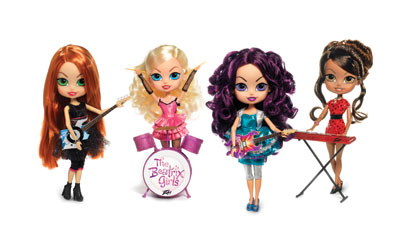 The Beatrix Girls announce nine new licensing agreements including Peavey Electronics, which has been signed for guitars, drums, and other instruments set to launch spring 2014.
Children's Apparel Network is the master apparel licensee and is set to manufacture tops (basic tees, fleece, fashion tops, sweaters, etc.), bottoms, sets, dresses, and outerwear (vests, jackets, and windbreakers) in both knit and woven fabrications in girls sizes 4-16.
Berkshire Fashions has been signed for baseball caps, cut-and-sew fashion headwear, knitted/polar fleece hats, gloves, mittens, scarves, headbands, earmuffs, leg and arm warmers, socks, slipper socks, rain slickers, ponchos, and umbrellas.
Hanover Group has been signed for necklaces, bracelets, earrings, rings, anklets, charms, headbands, barrettes, ponytail holders, hair clips, hair scarves, lanyards, coin purses, purses, zipper pulls, flashlights, key chains, backpack clips, shoelaces, novelty headbands, tiaras, wands, eye masks, brush, sunglasses, and gift sets.
Skyhigh International has been signed for back to school stationery including notebooks, memo books, portfolios, binders, planners, journals, address books, list pads, book covers, stationery sets, stickers, pens, pencils, and more.
Jay Franco & Sons has been signed for all bedding, bath, room décor, beach towels, beach blankets, and beach backpacks.
AME has been signed for girls' sleepwear; long and short sleeve sets, separates, one-piece and two-piece sleepwear, gowns, dorm shirts, robes, and blanket sleepers.
Playa Vista Designs has been signed for footwear of all types and size ranges.
Fast Forward has been signed for handbags, backpacks, totes, sports bags, small leather goods, cell phone cases, luggage, lunch juts, and beverage bottles.
The Beatrix Girls is a new line of collectible pop-star dolls driven by original music. The licensing deals were brokered by licensing firm AALMG.
Marvel's Agents of S.H.I.E.L.D. Launches First Product
Marvel Entertainment, LLC has launched the first wave of official licensed merchandise inspired by the new Marvel's Agents of S.H.I.E.L.D TV series. Marvel has unveiled a range of Marvel's Agents of S.H.I.E.L.D. consumer products including T-shirts, accessories, and posters. These products are immediately available for purchase at ABC.com, Marvel.com, Hot Topic, and other specialty retailers.
Marvel's Agents of S.H.I.E.L.D marks Marvel Television's first live-action television production. The series was co-created by Marvel's The Avengers director Joss Whedon and is produced by ABC Studios and Marvel Television.
Henson Has Rights to Driftwood Bay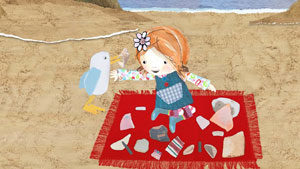 HIP (Henson Independent Properties), The Jim Henson Company's third party distribution and consumer products label, has secured the global consumer products rights (with the exception of UK and Ireland) to Sixteen South's new mixed media, animated preschool series, Driftwood Bay. HIP has served as the property's exclusive worldwide distributor since January 2013.
TCG, Ganz in Grumpy Cat Deals
In a deal with Grumpy Cat Ltd., TCG and Ganz have been granted the worldwide licensing rights to manufacture, distribute, and market a line of consumer products bearing the likenesses of the social media feline sensation, Grumpy Cat and her brother, Pokey. Under terms of the deal, TCG will create puzzles and novelty plush toys for the mass market and Ganz will create a full line of gift items and plush.
Products are expected to hit retail shelves starting in December, with a major launch during the January 2014 gift markets.
Baby Genius Content for Global Audience
Genius Brands International announced that it has formed a strategic partnership with Pacific Media Technologies' Pacific Digital Distribution (PDD) division to bring the entire catalog of Baby Genius video, music, and digital content to a global audience.
PDD, a digital video services company dedicated to the distribution of content to broadcast, cable, internet, and mobile video platforms, will connect consumers to Baby Genius content through its proprietary Cloud Video On Demand WAVE platform. WAVE is an enabled content management system that includes an e-commerce model for online payment gateways and manages digital distribution to any end-points including all mobile and connected devices, and content models including VOD and subscription rentals.
The new Baby Genius streaming service will be available to consumers beginning in this month at a monthly subscription rate of $5.99 for immediate access to 125 Baby Genius videos and 500 Baby Genius songs. Additional digital content including Baby Genius ebooks and Baby Genius apps will be added to the service in 2014.
Masha and the Bear Debuts in Germany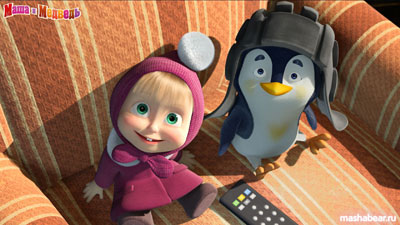 Animaccord Animation Studios announced that Masha and the Bear is debuting in Germany this fall. Sony Music has acquired the rights to distribute 26 fully dubbed episodes in Germany, Austria, Switzerland, Liechtenstein, Alto-Adige, and German-speaking part of Luxembourg.
Masha and The Bear is a Russian animation brand with more than 100 licensees covering 50 product categories. Each seven-minute 3-D CGI-animated episode includes original music and songs. The series contains mostly action with little dialog making it easy for children around the world to understand the storyline. The series has been dubbed into German, French, English, and Spanish.
Perpetual Licensing Signs Nambé
Nambé, the housewares and gift brand found in the permanent collection of The Museum of Modern Art as well as other museums, has selected Perpetual Licensing as its exclusive licensing agent. Perpetual will partner with Nambé to build a licensing program that extends the brand into new product categories including jewelry and watches, lighting, office products, kitchen and bath accessories, home décor items, and other products.
The Nambé brand was created in 1951 in Santa Fe, N.M., during Modernism's mid-century design movement.