SEGA Announces New Animated Series for Sonic the Hedgehog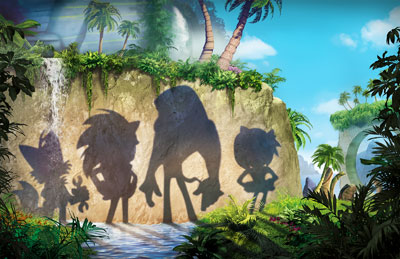 Sonic the Hedgehog, the iconic video game character, is returning to television in its first-ever CG-animated series in fall 2014. The action-packed comedy series, targeted for ages 6–11, will debut first on Cartoon Network in the U.S. and on Canal J and Gulli in France, with a global rollout to follow. The initial order of 52 eleven-minute episodes is co-produced by SEGA of America Inc. and Genao Productions.
Sonic Boom(working title) is a character-driven comedy that centers on Sonic, his best friend and sidekick Tails, their never-ending search for adventure, and their battles with Sonic's arch-nemesis Dr. Eggman. Sonic team lead and the driving creative force behind the Sonic games, Takashi Iizuka, is overseeing the series to ensure that it's true to the Sonic characters and universe.
SEGA is actively seeking partners in support of the new series launch across a range of industries including broadcast and licensing. Lagardère Entertainment Rights holds worldwide rights excluding the U.S. and Asia (but including Japan). SEGA Corporation will manage Asia (excluding Japan). SEGA executive producers Evan Baily, Donna Friedman Meir, and Jane McGregor will manage the U.S. through McGregor's company Jane McGregor, Inc. Licensing support will be spearheaded by Lagardère Active TV Licensing & New Business in France and SEGA in all other territories. Deals with Lagardère, Canal J, and Gulli were brokered by Genao excutive producers Sandrine Nguyen and Boris Hertzog.
Ubisoft Acquires Future Games of London
Ubisoft announced the acquisition of Future Games of London. As part of the deal, Ubisoft is adding the studio's staff and its Hungry Shark franchise to Ubisoft's mobile business.
Established in 2009, Future Games of London (FGOL) is exclusively focused on developing free-to-play games for mobile and tablet devices. With 41 employees, the company has already achieved more than 100 million downloads across multiple IPs, including Hungry Shark Evolution, the fourth installment in the Hungry Shark franchise.
Rizon, Evolution Form Global Agency
Rizon Studios will partner with Evolution USA to form a global integrated brand licensing and management agency. The partnership will see Rizon Studios Licensing trade as Evolution Europe. The new group will trade as Evolution International.
Rizon Studios Creative will continue to operate in its own right, while providing its creative services to the group.
The newly formed Evolution group of companies will work with brands across multiple territories directly and through a network of sub agents. Evolution currently represents the Miramax portfolio, Dumb Ways to Die, Subway Surfers, and Henri Le Worm.