New Licensees for Angry Little Girls!
SMC Entertainment Group, Inc. (SMC), has recently signed the following U.S. licensees for Angry Little Girls! Toynami will create Angry Little Girls! 12-inch talking plush dolls that say eight phrases and four-inch clip-on plush for mass and specialty retailers.
Shirt Lab will create T-shirts for adult, junior, and youth for the specialty market.
Whatever Company will create metal-safety-backed buttons for mass, mid-tier, and specialty retailers.
Advanced Graphics will create cardboard standees and wall jammers.
Multiverse Studios will create six-inch basic plush dolls for online and convention sale only.
Changes will create men's and women's T-shirts, tanks, and sweatshirts for department store, mass, mid-tier, and specialty retailers.
In addition, regional specialty retailer, BAIT, will celebrate an Angry Little Girls! 20th Birthday Bash at two different locations in Calif., in May 2014. Lela Lee, the creator and brand owner of Angry Little Girls!, is expected to be on-hand for the festivities.
Hasbro's Monopoly in Deal with Icing
Fashion jewelry and accessories retailer, Icing has teamed up with Hasbro to design a collection of jewelry and accessories inspired by Hasbro's Monopoly game.
This exclusive collection is designed in metallic gold and bedazzled jewels, featuring chain link, beading, and glitter details on pieces including a charm bracelet, stud earrings, iPhone cases, wallets, makeup compacts, T-shirts, and rings.
Icing is a division of Claire's, Inc., with nearly 400 stories nationwide.
Oznoz, Sesame Workshop in Bilingual Content Deal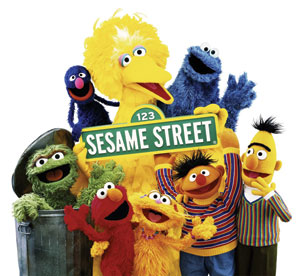 Oznoz, a new online channel for bilingual children, has reached an agreement with Sesame Workshop to introduce Sesame Street content for the PC and iOs as well as streaming video and DVDs in six languages. Children will be able to watch Sesame Street and Elmo's World in Chinese, French, Japanese, Spanish, Persian, and Arabic.
All content is available exclusively from oznoz.com