Sanrio, AG Properties in Deal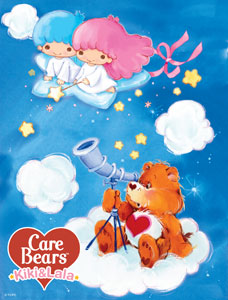 AG Properties (AGP), the intellectual property and outbound licensing division of American Greetings Corporation, has partnered with Sanrio and its Little Twin Stars for a co-branding collaboration that includes apparel, stationery, and accessories. The deal was brokered by Mindworks Entertainment, AGP's agent in Japan.
The three-year joint program will kick off with select product arriving at retail in time for this holiday season, followed by an expanded rollout in March 2014. All product, targeted to women over 18, will be available throughout Japan in major department stores and specialty stores that carry Sanrio merchandise. This distribution plan bolsters the Care Bears presence in the region.
The collaboration between AG Properties and Sanrio will result in 10 artwork designs created especially for the program. In addition, a storyline has been created whereby Kiki and Lala join the Care Bears.
Little Passports, Nat Geo in Deal
Little Passports, an educational subscription service for kids, has partnered with National Geographic to offer the World Edition in the National Geographic Online Store and on littlepassports.com. National Geographic is offering the 12-month World Edition subscription in time for this holiday season.
Little Passports' World Edition, geared for kids ages 5–10, follows globetrotting characters Sam and Sofia as they travel the world on a GPS-enabled scooter. The first month's Explorer Kit arrives in a suitcase and contains everything needed to get started: a letter from Sam and Sofia, a map, a passport, stickers, access to online games, and more. Each month thereafter children receive country-specific packages filled with souvenirs, letters, stickers, photos, activity sheets, and more.
A USA Edition for ages 7–12 is also available through the Little Passports website.
Chupa Chups Apps Now Available

Chupa Chups Lollipop has teamed up with 4 Dots Media to expand the brand into the digital games category. A range of five Chupa Chups apps will be available in U.S., Canada, UK, Australia, and Hong Kong, and EU territories, through Apple iTunes, Google Play, Android, and Amazon. The first game (Chupa Chups Maker) was released in August. The second debuted in October (Chupa Chups Hidden Objects) and a third (Chupa Chups Spot the Difference) is in development.
Wedding Paper Divas
In a deal brokered by HAP Consulting, Camilla Meijer will create a wedding stationery collection for Wedding Paper Divas that captures Meijer's intricate patterns and art-influenced design into online stationery products.
PS Brands Partners with Samsonite
Samsonite IP Holdings S.a.r.l. has authorized Samsonite, LLC to sign a multi-year licensing agreement with U.S-based PS Brands for the company to produce High Sierra casual, outdoor, and performance socks in the North American market. The High Sierra performance sock collection is expected to be available summer 2014 at various retail outlets in the U.S. and Canada.