Fuhu to Create DreamWorks Tablet
Fuhu, Inc., creator of the nabi tablet, and DreamWorks Animation have joined forces to unveil the DreamTab, a tablet designed from the ground-up just for kids. Tapping into Fuhu's expertise in the kids tech space and DreamWorks Animation's properties, this relationship provides a unique technology experience for kids and their parents with innovative parental controls, creative learning suites featuring award-winning animators, and first-of-its-kind COPPA-compliant email, texting, and sharing. The DreamTab was unveiled at this week's CES and is expected to be at retail in the spring. An international release is expected for later this year. Items, separate from this announcement, by Fuhu are currently on TimetoPlayMag.com.
Licensees for Tenkai Knights
Spin Master Ltd. announced licensing agreements with the following companies for Tenkai Knights. Accessory Innovations has been signed for backpacks, bags, and cold weather accessories. Bentex has been signed for sleepwear. Franco has been signed for bedding, accessories, beach, and bath. Freeze will create T-shirts and hoodies. Penguin is the publishing licensee.
The Tenkai Knights TV show, which airs new episodes Saturday mornings on Cartoon Network with additional airing on Fridays and Sundays, is a U.S. and Japanese co-production. The Spin Master entertainment team worked with production company Shogakukan-Shueisha (ShoPro) to create the animated series.
Rubie's, Wizard of Oz Pet Costume Collection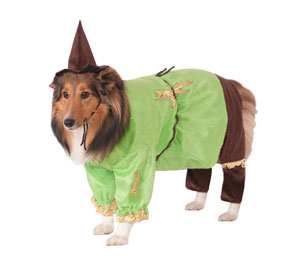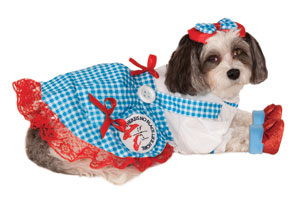 Rubie's Costume Company's Pet Shop Boutique division announced a licensing agreement with Warner Bros. Consumer Products for pet costumes for The Wizard of Oz 75th anniversary. The collection is available in a variety of pet sizes ranging from small to extra-large and includes Dorothy, Tin Man, Scarecrow, Cowardly Lion, Wicked Witch of the West, Glinda the Good Witch, and Winged Monkey. The complete collection includes costumes, accessories, wigs, masks, and décor, and is available online and in retail locations worldwide.
New Licensees for Downton Abbey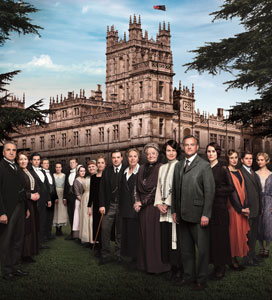 Knockout Licensing announced new Downton Abbey licensees. Fifth Sun has been granted the right to produce screen-printed and embellished Downton Abbey T-shirts, fashion tops, thermal, and fleece as well as seasonal specialty apparel (e.g., cricket sweaters) for distribution through select retail tiers. Department 56, a division of Enesco LLC, has been granted the right to make and market Downton Abbey miniature holiday villages. Heritage Lace has been granted the right to produce a line of home décor products including table textiles, kitchen textiles, window treatments, pillows, shower curtains, gift accessories, and women's lace accessories.
The fourth season of Downton Abbey began airing on PBS Masterpiece on January 5.
Scholastic Series Available on Hulu Plus
Scholastic Media, a division of Scholastic, Inc., announced a non-exclusive agreement that makes Scholastic Media's TV series, The Baby-Sitters Club, I Spy, and Horrible Histories available on the Hulu Plus subscription service. Each of the series is based on the company's best-selling publishing programs. This marks the first time that Scholastic content will be available on Hulu Plus; Hulu Plus began offering commercial-free children's programming in 2012 with Hulu Kids (Hulu.com/Kids).
Sega to License Doodle Jump in Japan
Lima Sky, the creators of Doodle Jump, announced a deal making Sega Corporation its strategic partner for all Doodle Jump licensing and merchandising in Japan. The arrangement grants Sega Corporation the exclusive ability to secure agreements with designers, manufacturers, and distributors to create and release a full line of Doodle Jump-inspired style and entertainment goods.
The development is not the first joint endeavor launched by the two gaming companies. A separate division of Sega acts as global master amusement toy licensee for Doodle Jump, and a third division serves as distributor of Doodle Jump-branded arcade machines in Europe.
Walls 360, Rubik's in Licensing Deal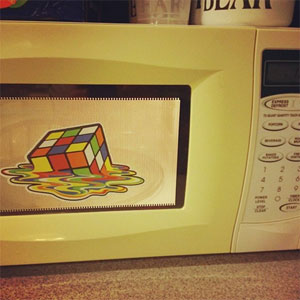 Walls 360, the on-demand wall graphics company, launched an exclusive preview of its new Rubik's Cube Melted Cube wall graphics. (It is shown here attached to a microwave.)
Walls 360 is launching an exclusive collection of premium, repositionable wall graphics featuring large-format artwork from Rubik's Cube this week during CES. The wall graphics are self-adhesive, easy to install, and can be removed and reused without leaving a mark or damaging surfaces, according to the company.
The Rubik's Cube partnership with Walls 360 was brokered by The Sharpe Company, Rubik's Cube North American licensing agent.