Fisher-Price Signed as Master Toy for Preschool Property Bing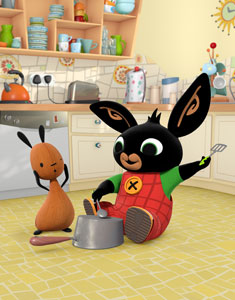 Fisher-Price, Inc., has been appointed the master toy licensee for the new preschool property Bing by Acamar Films. The multi-year partnership, brokered by The Licensing Company on behalf of Acamar, will see Fisher-Price develop preschool toys, infant toys, and baby gear launching fall/winter 2015.
Bing celebrates the every-day realities of being a preschooler, and also speaks to the grown-ups in the life of every young child with insight and subtlety.
This new television adaptation is based on the books by award-winning author and illustrator Ted Dewan. The series has been developed by Acamar in partnership with Irish animation studio Brown Bag Films and London-based Tandem Films.
Acamar is launching debut episodes of Bing at MIPTV.
New Licensing Deals for Girl Scouts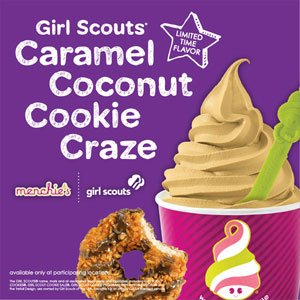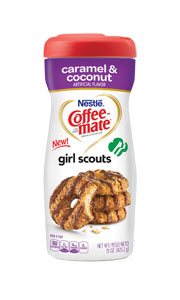 The Wildflower Group, a licensing and branding agency, has added to the Girls Scouts licensing program. An upcoming promotion with self-serve frozen yogurt franchise, Menchie's; along with expanded offerings from Crumbs Bake Shop; and Nestle Coffee-Mate, will deliver further exposure for the brand's Girl Scout Cookies.
Crumbs Bake Shop's 78 U.S. locations and its website are adding Thin Mints, Caramel & Coconut, Chocolate Peanut Butter Crème, and Peanut Butter Cookie varieties of cupcakes, plus the Lemon Shortbread cupcake, which was just added in February.
And, throughout the month of April, more than 300 Menchie's shops in 35 states will feature the all-new Girl Scouts Caramel Coconut Cookie Craze frozen yogurt as well as crumbled Girl Scout Cookies Thin Mints and Samoas toppings.
The Coffee-Mate liquid assortment of Girl Scout Cookie flavors, introduced in June 2013 with Thin Mints and Caramel & Coconut, has been expanded to include the Coffee-Mate powder version of Caramel & Coconut in a 15-ounce bottle.
In other licensing news for Girl Scouts of the USA, The Wildflower Group has announced program renewals for Aspire's Lip Smacker-brand lip balms and Charisma's 18-inch Girl Scout dolls.
Licensing Programs for CBS' Series
CBS Consumer Products will introduce merchandising programs for two new CBS-produced series The Millers and Under the Dome as well as the Showtime series Ray Donovan.
A new agreement with Philcos has Under the Dome and its characters in a line of apparel and drinkware in Canada, while Sellers Publishing will create calendars for the U.S. market. Rittenhouse will create trading cards to introduce Under the Dome in the U.S., Canada, and the UK.
CBS comedy The Millers will be introduced to retail through a line of T-shirts from Trevco.
The Showtime drama, Ray Donovan will have a line of apparel with T-shirts from Trevco and a new line of tees and hoodies from Mad Engine. Sellers Publishing has also added the drama to its line of calendars.
Mars, Mad Engine in Deal
Mars Retail Group announced that it signed Mad Engine as a new licensee to produce a wide range of apparel for the M&M's and Skittles brands. Available at a variety of price points, the lines for men, women, and teens will include long- and short-sleeve T-shirts, fashion knit tops, outerwear, fleece, and hoodies.
Chupa Chups, Lip Smacker in Deal
Perfetti Van Melle and Aspire Brands have signed an international agreement, to join their brands Chupa Chups and Lip Smacker together for a range of lip-glosses and other beauty products. The products will be available shortly in Europe, Australia, Asia, and South Africa, among other countries and will be sold in specialized retail, drugstores, perfumeries, travel retail and duty free, and fashion retailers.
New York Times Expands Travel Program
The New York Times announced the expansion of its travel program, Times Journeys. It will now include 21 land-based tours, which between them visit more than 30 countries. The New York Times is working with travel providers Abercrombie & Kent, Mountain Travel Sobek, and Academic Travel Abroad for the newest tours and expansion of the program, which launched in 2012 primarily as a cruise program.