Bonnier Extends Net2TV Deals
Bonnier Publishing and Net2TV Corp. have expanded their relationship to create additional television shows based on Bonnier's magazine titles. Under the agreement Net2TV will renew the Popular Science program and add two new shows, Cycle World and Saveur, to the Portico TV lineup.
Net2TV's Portico TV service offers free, ad-supported television programs developed in partnership with established media brands, online producers, and independent film and documentary producers. Net2TV curates short-form videos from these partners and packages the video into full 30-, 60-, or 90-minute television programs for internet-connected TVs and devices. Portico's full-length shows are available to viewers through streaming devices, connected TVs, tablets, mobile devices, and the web.
Baby Genius Introduces Online Streaming Service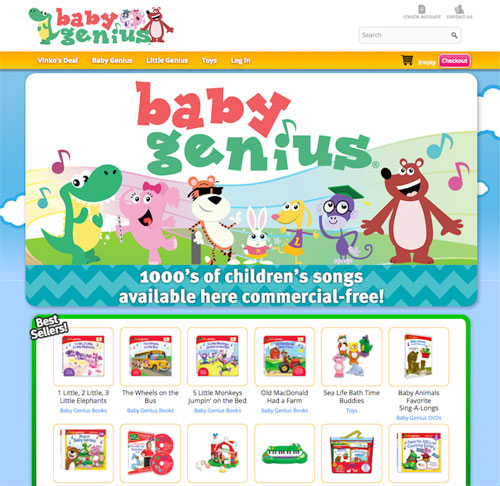 Genius Brands International, Inc., (GBI) announced the expanded distribution of its Baby Genius content library with the introduction of a new online streaming service that makes its entire library of music and videos available at babygenius.com. The company has also recently extended its agreement with Xfinity TV by Comcast.
Together with the design and marketing team at Direct Action Group, LLC and Pacific Media Technologies' digital video services company, GBI has launched the new online Baby Genius streaming service, which features the entire Baby Genius content library. The library offers thousands of songs, including classic nursery rhymes, learning songs, seasonal classics, and more. Other Baby Genius products, including books, toys, and videos are also available for purchase.
IGT, Sony in Game Deal
Gaming entertainment company, IGT announced a new multi-year agreement with Sony Pictures Consumer Products (SPCP). IGT will develop Wheel of Fortune slot machines for players around the world. The deal also includes mobile and online games to its DoubleDown Casino and for-wager online play worldwide through 2024.
As part of this agreement, IGT has also licensed the Jeopardy brand, including game development for slot machines, online games for its DoubleDown Casino for-wager online play.
DC Comics Bombshell Art Prints
Quantum Mechanix, Inc., (QMx), a sci-fi and pop culture collectibles company, announced a deal with Warner Bros. Consumer Products (WBCP), on behalf of DC Entertainment, to produce a line of art prints featuring the ladies known collectively as the DC Comics Bombshells.
The DC Comics Bombshells are based off the best-selling line of statues from DC Collectibles featuring designs from Illustrator Ant Lucia. The DC Comics Bombshell line finds each female reimagined as a vintage pin-up, with a look that hearkens back to nose art found on World War II-era bomber planes.
Fans of the Bombshells line will be able to buy art prints of their favorite DC Comics Heroine from QMx, featuring retro-style incarnations of Wonder Woman, Poison Ivy, Harley Quinn, Batgirl, Supergirl, and Catwoman, among others.
Garfield in PicsArt Deal
SocialIn, Inc., and Paws, Inc., announced a new partnership between Paws' Garfield and PicsArt Photo Studio. PicsArt users can purchase the Garfield clipart package from the PicsArt Shop and create their own masterpieces using the cat and his friends. This is the first of several Garfield packages to be released to the PicsArt Shop.