New York Botanical Garden, Oscar de la Renta in Deal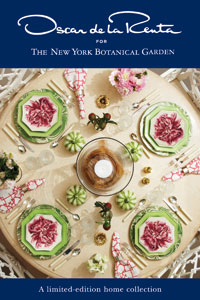 The New York Botanical Garden announced a new limited-edition tabletop collection in collaboration with Oscar de la Renta, LLC. The collection consists of 20 pieces that celebrate Oscar de la Renta's passion for gardening and botanical patterns. Prints and engravings from rare 18th and 19th century botanical books were selected for the collection.
Oscar de la Renta for The New York Botanical Garden pieces will be available for purchase in late April at Oscar de la Renta boutiques, on oscardelarenta.com, at select retail locations, as well as through the New York Botanical Garden's Shop and website at nybgshop.org. The partnership was brokered by Jewel Branding & Licensing, the licensing agency for The New York Botanical Garden.
Wicked Cool Named Master Toy for Garfield
Wicked Cool Toys has been named as master toy licensee for Garfield after signing a deal brokered by Bulldog Licensing, Inc., Garfield's U.S. licensing representatives on behalf of Paws, Inc.
The licensing agreement grants Wicked Cool worldwide rights to develop and market a comprehensive line of figures, plush, vehicles, play sets, roleplay, and seasonal products based on Garfield the cat. Garfield was created by cartoonist Jim Davis in 1978.
Jakks, Nickelodeon in Turtles Deal
Jakks Pacific, Inc., announced a licensing agreement with Nickelodeon to manufacture, distribute, and market a line of specialty figures and toys in the U.S. based on the network's animated series Teenage Mutant Ninja Turtles.
The agreement includes Jakks' Hero Portal TV video game platform, the next generation of Jakks' Plug It In & Play TV Games products, large-scale figures, and more. Jakks expects to launch its Teenage Mutant Ninja Turtles product line in fall 2014 to coincide with the August 8, 2014, release of the feature film from Paramount Pictures.
Doodle Jump Has Agent for Nordics, Eastern Europe
Lima Sky, the independent game development studio behind Doodle Jump, a mobile game, has just signed Danish firm INK as its licensing agent for the Nordics and Eastern Europe.
The move is the most recent in a long series of deals for Lima Sky's Doodle Jump. INK joins a worldwide network of licensing agents including SEGA (Japan), Segal (Canada), Haven (Australia/NZ), Click (Asia), CPLG (France, Germany, Benelux, Italy), Biplano (Spain, Portugal), Copyright (Middle East), and Beanstalk (UK).
Jakks, Marvel in Deal
Jakks Pacific, Inc., announced the launch of a line of toys based on existing and upcoming Marvel characters and properties. The collection of Jakks toys and electronic products will include remote-controlled vehicles, electric/battery-operated train and track sets, and handheld 3-D character flashlights based on the Marvel animated series Ultimate Spider-Man, Hulk and the Agents of S.M.A.S.H., and Marvel's Avengers Assemble as well as Marvel theatrical releases including Marvel's Captain America: The Winter Soldier, Marvel's Avengers: Age of Ultron, and Marvel's Ant-Man. The products are expected to launch at retail nationwide in 2015. Jakks currently produces roleplay items based on Marvel properties.