Knockout Licensing Signs Little House on the Prairie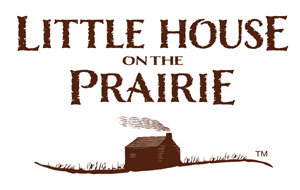 Friendly Family Productions has appointed Knockout Licensing to develop a classic lifestyle licensing program for Little House on the Prairie throughout the United States and Canada.
Little House on the Prairie is a brand rooted in the stories of an American pioneer family. Written by Laura Ingalls Wilder for children and young adults, these classic books have sold more than 60 million copies in 100 countries. Wilder's stories of her family's struggles and joys were adapted into one of television's most successful and long-running series.
Little House on the Prairie has been on television for 40 years and is currently broadcast in the U.S. on the Hallmark Channel and the Inspiration Network five days a week, and in 33 countries worldwide. The series is also available on DVD. The Little House on the Prairie legacy will continue as Friendly Family Productions says it is actively developing new entertainment initiatives.
AALMG Signs MGM Grand Hotel & Casino
All American Licensing & Management Group (AALMG) announced an expansion of its partnership with MGM, with the signing of the MGM Grand Hotel & Casino to develop a comprehensive, entertainment-driven licensing program. AALMG's focus will be on signing licensees that will position the MGM Grand as "The Entertainment Authority" with a branded line-up of products ranging from fashion, swimwear and club apparel, to music-related accessories, home products, and furniture.
AALMG also represents Mandalay Bay and The Bellagio.
New Deals for PBS Kids
Parham Santana, the brand extension agency, secured licensing deals for PBS Kids with Mudpuppy and Downtown Bookworks. Downtown Bookworks' new line will include interactive board books, craft kits, and brain boosting activity books. Mudpuppy's line will consist of sticker and building sets, puzzles, finger puppets, and other crafting activities.
Egmont Signed for Masha and the Bear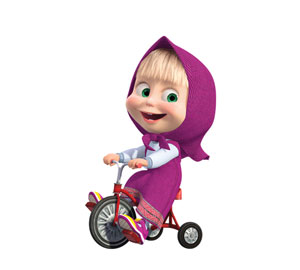 Ink, on behalf of Masha and the Bear, has announced that publisher Egmont is to expand its Masha and the Bear publishing program across Europe. Masha and the Bear chronicles the adventures of a little girl called Masha and the bear who becomes her reluctant playmate. Having established itself as one of the most popular shows in Russia, Masha and the Bear now has agreements in place with major broadcasters across Europe and the rest of the world.
Egmont already has the license for a range of Masha lines in Russia and will now introduce the brand to other major European territories, such as the UK, Germany, Nordics, CEE, Turkey, and CIS territories. Products will include sticker books, coloring books, picture books, story books, and a Masha and the Bear magazine.
The Egmont extension comes on the heels of Simba Dickie signing a pan-European master toy agreement, with product set to launch from Q1 2015.
Biplano to Represent Chupa Chups in Iberia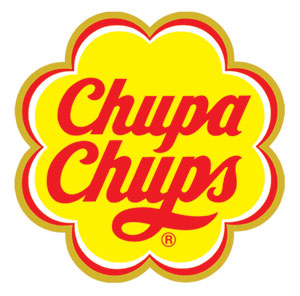 Biplano has been appointed exclusive licensing agent for Chupa Chups, the lollipop brand, for Spain, Portugal, and Andorra.
Biplano is planning to roll out a program where they will secure and manage licensees across a range of lifestyle categories, such as apparel, home, gift, fashion accessories, and all category products targeted primarily at teens.
WWE Signs World Tech Toys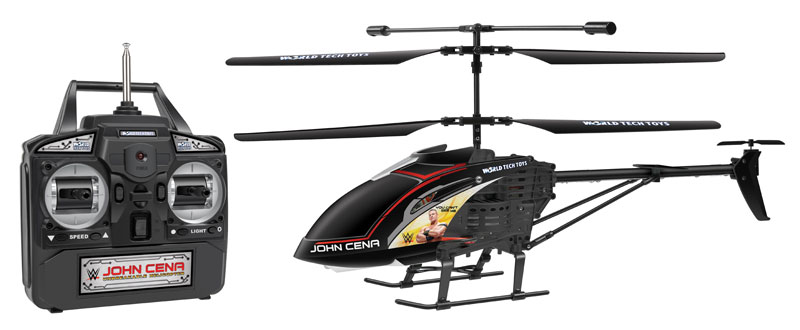 World Tech Toys has signed a licensing agreement with WWE. The company will design and manufacturer WWE licensed R/C helicopters based on WWE Superstars Hulk Hogan, John Cena, Dwayne "The Rock" Johnson, and others.
Breyer Partners with Author Jessica Burkhart
Breyer Animal Creations announced that it is partnering with author Jessica Burkhart to release two book and model horse sets of the popular middle grade series, Canterwood Crest, published by Simon & Schuster. The book and model sets will be at retail in mid June.
Canterwood Crest follows the story of Sasha Silver, who is determined to prove she belongs at the elite boarding school in the first book of the series, Take the Reins. The set includes the paperback novel and a Classics scale model of Charm, Sasha's horse. The next book in the series, Chasing Blue, continues the story, and is accompanied by the model of Aristocrat, the horse of Sasha's riding partner, Heather, the school's haughty "it girl."