Psycho Bunny Signs New Licensees, Expands Into New Categories
Genius Brands International and its wholly owned subsidiary, A Squared Entertainment, have signed two additional top-tier licensees for the luxury fashion apparel and lifestyle brand Psycho Bunny. Timepiece distributor Zeon America and Idea House, which designs, develops, sells, and markets products across a portfolio of owned and licensed brands including CURATED Idea Merchants Unlimited, join the growing roster of licensees developing a coordinated spectrum of product lines under the Psycho Bunny brand.
Idea House will manufacture a line of chino-styled pants and shorts in a variety of colors as well as jeans using denim from Italy in classic and slim styles. The new Psycho Bunny line is anticipated to debut in department and specialty stores starting in spring 2016.
Zeon America will create Psycho Bunny-branded timepieces infused with custom cases, genuine calfskin straps, eye-catching solid stainless steel bracelets, and cutting-edge quartz movements. The first collection is anticipated to launch at retail in spring 2016.
EA, Real Madrid in Partnership
Electronic Arts, Inc., and Real Madrid C.F. announced that they have signed a three-year partnership that will see EA Sports become the exclusive and official videogame partner of Real Madrid.
As part of the partnership, EA Sports FIFA 16 will include updated 3-D head scans of 14 of Real Madrid's most popular players. New player likeness for Cristiano Ronaldo, Sergio Ramos, James Rodriguez, Luka Modrić, Karim Benzema, and others will enhance the authenticity of the FIFA franchise. Fans will also find out which of their favorite stars rules the virtual pitch when Real Madrid players compete in an exclusive FIFA 16 video game tournament later this season.
Real Madrid joins other EA Sports partner clubs around the world including Spain's La Liga, The Barclays Premier League in England, the Bundesliga in Germany, and Ligue 1 in France, among others.
FIFA 16 will be available starting September 22, 2015, in North America on EA's platform Origin on PC, Xbox One, Xbox 360, PlayStation3, and PlayStation4.
Moon Pie, Taste of Nature in Candy Deal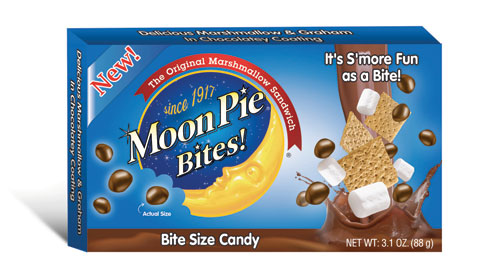 The MoonPie brand has signed a licensing agreement with candy manufacturer Taste of Nature, Inc., to create MoonPie Bites, a new candy twist on the iconic snack. The bite-sized confection balances MoonPie's traditional flavor mix of chocolate, graham, and marshmallow. MoonPie Bites will launch in Q3 2015 and will be available in peg bags, theater box, small pouch, and share sizes. The candy program was developed by Lisa Marks Associates, Inc., the licensing agency for MoonPie.
Moon Pie will celebrate its 100th anniversary in 2017.
Miles from Tomorrowland Candy
CandyRific has introduced two novelty candies inspired by the Disney Junior animated series, Miles from Tomorrowland. CandyRific is offering a themed Communicator Cuff and Laserang. Each is filled with .53 ounces of microbites candy.