Comic Books/Graphic Novels for Miraculous: Tales of Ladybug & Cat Noir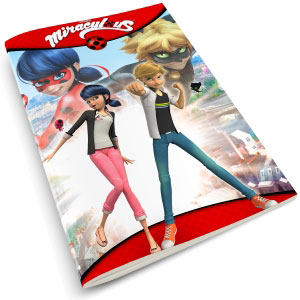 ZAG announced that it has partnered with comic book creator Action Lab Entertainment to develop a line of comic books and graphic novels for the TV series, Miraculous: Tales of Ladybug & Cat Noir. It currently airs in the U.S. on Nickelodeon and on Disney Channel throughout EMEA. Product is expected to launch July 21 in conjunction with San Diego Comic-Con.
The American/French/Japan influenced animated TV series produced by ZAG, in conjunction with Method Animation, Toei Animation, and SAMG, is an action, adventure, comedy series that tells the story of Marinette, the sweetest girl in Paris. With a big crush on a boy at school, a big dream of becoming a fashion designer, and a constant problem of feeling totally awkward, she's just your average teenage girl. But she's also the crime fighting superhero, Ladybug.
My Gym to Offer BOSU for Kids
My Gym Children's Fitness Center has partnered with Hedstrom Fitness, the worldwide licensed manufacturer and distributor of BOSU products, for a promotional program that will see its children's exercise equipment, the BOSU Sport for Kids, integrated into My Gym's curriculum. The program began in My Gym locations across select U.S. markets this month.
Smaller in size and available in bright colors, the BOSU Sport for Kids teaches kids the fundamentals of balance and sensory exercise, while strengthening the heart, lungs, and muscles. The BOSU Sport for Kids will be utilized by My Gym's trainers and introduced to kids, ages 4 and up.
TLC to Rep Cartoon Network in Parts of Europe
Cartoon Network announced that it has appointed TLC as its licensing representative across France, Germany, Switzerland, Austria, and Benelux. Under the agreement, TLC will be responsible for building and managing the official licensing programs for Cartoon Network's portfolio of original animated properties across these markets. Global brands at the forefront of the deal include Adventure Time, The Powerpuff Girls, the new-look Ben10, The Amazing World of Gumball, and many more.
Women's Active Wear Featuring Marvel Universe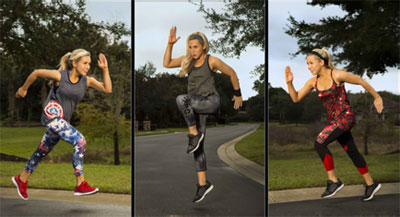 Disney Consumer Products and Interactive Media signed a women's active wear deal with Her Universe. The line for teens and millennial women is inspired by the new movie Marvel's Captain America: Civil War and will launch this month at Kohl's.
The collection featuring looks based on Black Widow, Iron Man, and Captain America will be tagged Be A Hero and offer more than 30 pieces, including tanks, sports bras, and leggings, available in sizes XS–XL and 1X–3X.
The line is part of a major expansion into women's fashion from Marvel, including launching @StyledByMarvel on Instagram. Launching on YouTube.com/HerUniverseChannel is a workout video featuring Ashley Eckstein and Heidi Moneymaker, stunt double for Black Widow. The video highlights the all-new Marvel by Her Universe activewear collection, along with workout moves inspired by three Avengers: Captain America, Iron Man, and Black Widow.
Spider-Man Soup from Campbell Company
Campbell Soup Company has teamed up with Disney Consumer Products and Marvel Entertainment to bring Spider-Man to the soup aisle to celebrate the recent launch of Marvel's Ultimate Spider-Man vs. Sinister Six on Disney XD. The soup will feature miniature pasta shapes inspired by the character. Campbell has previously worked with Marvel to bring Marvel's Avengers' to soup labels.