Care Bears, Boy Meets Girl in Collaboration
American Greetings Entertainment announced that Care Bears has partnered with apparel brand Boy Meets Girl. The limited-edition collaboration is set to launch exclusively at high-end Paris retailer colette this month. The women's athleisure line includes hoodies, sweats, sweatshirts, tanks, and tees.
In addition, Care Bears and Boy Meets Girl are slated to create an exclusive Care Bears 35th anniversary collection for colette, which will launch in early 2017.
4K Media Extends Manga Entertainment Deal
4K Media, Inc., announced it is expanding its UK home video distribution partnership with Manga Entertainment, adding Yu-Gi-Oh! GX (seasons 1–3), Yu-Gi-Oh! 5D (seasons one and two), and Yu-Gi-Oh! Zexal (seasons 1–3) to the company's current Yu-Gi-Oh! Duel Monsters offering.
m4e Signs Super Wings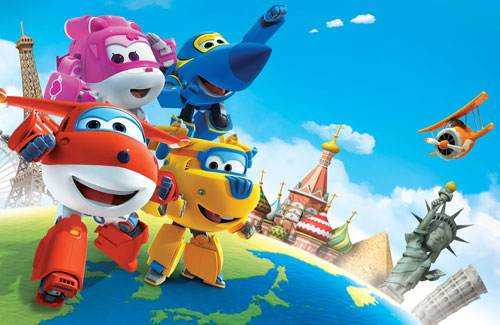 Germany's m4e AG will take over licensing and merchandising for the animated preschool series Super Wings from South Korea's FunnyFlux, EBS and CJ E&M, Little Airplane Productions, China's Qianqi Animation, and co-production partner KiKA. m4e will be representing the brand in all categories except television and home entertainment within the German-speaking territories.
The Super Wings toy line, which is distributed worldwide by Alpha Toys, will be launched in Germany, Austria, and Switzerland in 2017. The German kids' channel KiKA is planning to broadcast the series in the prime time slot in early 2017.