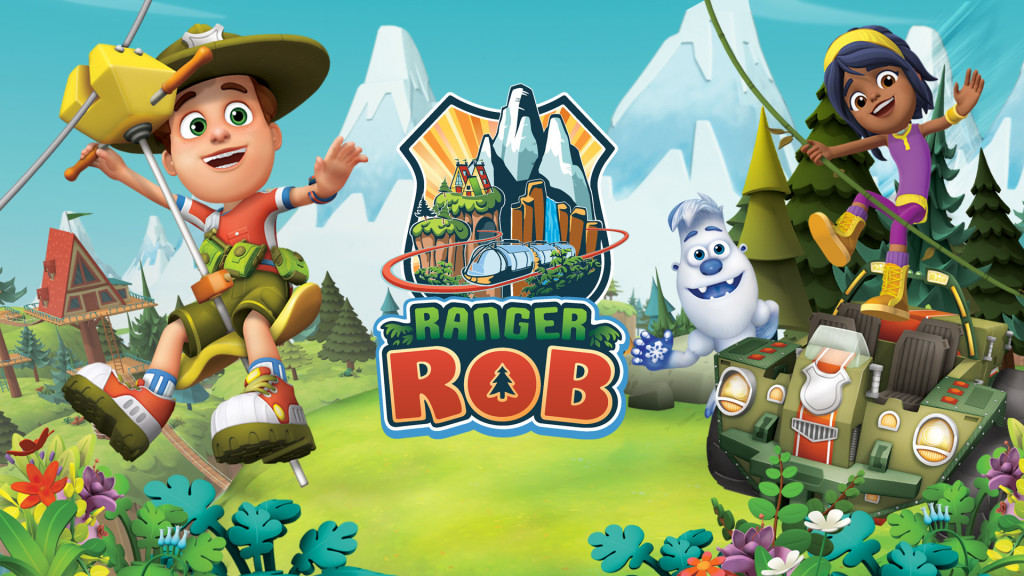 Ranger Rob Heads to Sprout
Corus Entertainment's Nelvana has inked a broadcast deal with Sprout, the preschool destination within NBCUniversal Cable Entertainment's Universal Kids network, to bring its original series Ranger Rob to viewers across the U.S. The animated series' first and second seasons, totalling 40 episodes, began airing July 8, 2017 on Sprout.
Through its winter and spring 2017 seasons, the series has ranked No. 3 on Corus' Treehouse network in Canada for boys 2-5 and 2-11, and is a top ranking series in additional territories such as TF1 in France, Super RTL in Germany, Disney Channel in Australia, Nickelodeon in Italy, Canal Panda in Portugal, YLE/TV2 in Finland, and HOP in Israel.
Ranger Rob follows ranger-in-training Rob around the Big Sky Park, the coolest natural adventure park imaginable, as he ziplines, swings, and snowboards discovering and exploring all that the park has to offer. Big Sky Park is a one-of-a kind place with every kind of outdoor environment within its borders and each episode takes viewers on a new adventure, cultivating the spirit of exploration and curiosity, and inspiring kids to get outside to play and discover.
The series airs Monday through Friday at 8 a.m. ET, and Saturdays and Sundays at 9:30 a.m. ET on Sprout in the U.S. In addition, Ranger Rob airs daily at 7:50 a.m., 1:45 p.m., 6:25 p.m. and 7:43 p.m. ET and from Monday to Friday at 3:45 p.m. ET on Treehouse in Canada.
Mattel, Babytree Expand Strategic Partnership in China
Mattel and parenting portal Babytree launched the second phase of their strategic partnership, focused on co-developing a network of physical learning centers across China, that will extend their online partnership. Curriculum and activities  are inspired by Fisher-Price.
An extension of Mattel and Babytree's online parenting platform announced earlier this year, the learning centers will drive interconnectivity and continuity between the online and physical learning experiences for children ages birth–5. Combining physical and online offerings, parents can monitor and access their child's progress; register for classes; see videos of their child throughout the day; and take home any activities learned in the center for continued learning.
The service offering will include play areas for families, retail, and educational classes. There will also be daycare centers featuring educational services and small retail areas in or near office buildings. Combining Mattel and Fisher-Price's expertise in learning and development with Babytree's reach with Chinese moms and expertise in early education in China, the learning centers are designed to support Chinese parents in preparing their children for the 21st century.
With a goal of rapid expansion and a large-scale network across China, the program is being rolled-out initially in six locations. Mattel and Fisher-Price will work on the development of education framework, course curriculum, syllabi and classroom materials, while the joint venture will leverage Babytree's big data capabilities to identify strategic locations for the centers as well as tap into Babytree's influence on millions of Chinese families and industry-leading scale to engage with Chinese moms.
"We are committed to our vision of bringing modern learning and development to China and making it accessible to parents not just in big cities like Beijing but across all regions in China," said Allen Wang, Founder and CEO of Babytree. "We understand the desire of Chinese parents to provide their kids with world-class early development education, and we look forward to drawing on Mattel and Fisher-Price's unique expertise in childhood development to achieve our long-term vision."
With nearly 200 million unique monthly visitors, Babytree is China's largest and most trusted parenting portal. Established 10 years ago, Babytree now reaches more than 90% of Chinese parents who have access to the internet, providing products and services online and offline that cater to young families' needs for knowledge, networking, child development tracking and shopping. Babytree has witnessed the development journey of more than 100 million children in China and accumulated tremendous amount of insights, enabling Babytree to help ease pain points of existing early childhood education in China and continuously develop innovative solutions.
Doug the Pug Signs New Licensees
On behalf four-legged social media and pop culture star Doug the Pug, Remarkable Brands has signed new licensees across a range of categories. New Doug the Pug product will arrive at select retailers nationwide later this year.
Among Doug the Pug's newest licensees are:
American Greetings: paper and digital greeting cards; gift card holders; gift packaging, including roll wrap, gift bags, boxes, gift tags, and tissue paper; decorative door covers; window clings; party goods; stickers
GUND: plush toys and accessories, drinkware, ceramic molded mugs, travel mugs, tumblers, stationery, journals, notebooks, stickers, pens/pencils, bookmarks, figures
Imaginarium Goods: playing cards, koozies, air fresheners, money banks, dashboard doll/bobble heads, molded mugs, coffee mugs, pint glasses
Kurt Adler: ornaments, wooden blocks
Trends International: posters
This adds to existing partnerships including Kids Preferred (plush toys and accessories), St. Martin's Press (coloring books), Harper Collins (books), and Willow Creek Press (puzzles and calendars).