Rainbow Rangers Grows Roster of U.S. Partners
Genius Brands adds new key licensing partners in support of the 2019 retail launch of its new original preschool brand, Rainbow Rangers. On board for the U.S. are Berkshire Fashions for outerwear, Disguise for Halloween costumes, and Ceaco for puzzles. Currently in production on season one, the CGI-animated series, Rainbow Rangers, is slated to premiere this fall on Nick Jr.
The Rainbow Rangers' retail program will begin rolling out in the U.S. in late spring 2019.
LaurDIY, Pets First Launch Pet Product Collection
LaurDIY and her pet mini bull dog Moosie are now in partnership with Pets First for a variety of pet products, including leashes and collars, pet apparel and pet toys, all based on the icons and graphics provided by LaurDIY and inspired by her love for dogs.
LaurDIY and Moosie fans can even dress their dog to look like Moosie with one of the pet apparel styles and can wear matching outfits such as the now legendary LaurDIY's unicorn onesie, which will be offered in sizes for dogs.
Since his debut called "Puppy Day" in June 2017, Moosie was an instant hit, and now has his own audience of almost 1 million Instagram followers on Instagram, in addition to LaurDIY's more than 18 million followers across all major social feeds.  As part of her partnership with Pets First, LaurDIY will seek to inspire fellow pet lovers to purchase the LaurDIY pet products in-store and will promote the services of potential retailers such as pet grooming, training, and doggie day care.
LaurDIY licensing is managed by The Brand Liaison and represented by Select Management Group, and will be featured at Licensing Expo at the Brand Liaison booth F-154.
The Deep Signs New Deals, Rolls Out New Experiences
Technicolor continues to build the brand program for the animated adventure series, The Deep, launching an all-new 4D theatrical immersive event experience and adding additional new branded products.
Technicolor and SimEx-Iwerks Entertainment will premiere the first 4-D theatrical experience based on the underwater adventure series this month. The Deep 4D: Mystery of the Ancient Amulet will debut at the Georgia Aquarium (Atlanta), Shedd Aquarium (Chicago), the Texas State Aquarium (Corpus Christi), and Orlando Holiday Inn Resort. The 12-minute, fully immersive 3-D viewing experience—featuring exclusive new 3-D CG animation, an original storyline, and special effects—delivers on the 4-D experience with vibrating seats, spraying water, bubbles, and more. All locations will feature the 4-D film for a one-year period, supported by a variety of marketing and in-aquarium activities.
In Germany, broadcast partner and licensing agent SuperRTL has signed a licensing agreement for Germany, Austria, and Switzerland with TIB Heyne & Co, a division of Happy People, for partyware and St. Martin Lanterns; Blue Ocean Entertainment AG has licensed the rights for print magazines with covermount; and Justbridge Entertainment GmbH has the home video (DVD/BluRay and download-to-own rights.
The new deals fall on the heels of recent agreements brokered by CPLG, a DHX Media company. Bloomsbury is on board as global publishing partner to produce a range of books including young fiction, official handbooks, and activity-based books with an initial launch in the UK and Australia; and Toybox Magazine will feature The Deep brand with pages, workbooks, and covermounts in the UK, Channel Islands, Isle of Man, and Eire.
The new products will launch in fall 2018, coinciding with the launch of the toy line from master toy partner Simba Toys that will include a range of figures, playsets and role-play toys and accessories in Germany, Austria, Switzerland, and the UK, with other countries to follow in early 2019.
pocket.watch Book Imprint, Simon & Schuster Unveil First Book
pocket.watch has unveiled the first book under the pocket.watch books imprint, in partnership with Simon & Schuster kids. The book, titled "watch this book" will hit shelves on 11/6 and is now available for presale.
Featuring pocket.watch's kid YouTube creator partners including, Ryan ToysReview, EvanTube, HobbyKids TV, and Captain Sparklez, "watch this book" takes readers behind the scenes, featuring illustrations, original art, and trivia such as what superpower Ryan wished he had, the biggest mess HobbyKidsTV once made during an episode (and how long it took them to clean it up), and Evan's favorite food. It will also include tips and advice from each of these stars on how families can make videos.
In celebration of the launch, pocket.watch revealed the cover of Watch This Book with a video from its creators on May 8. Click here to watch now.
Zoonicorn, Jay@Play Team for Plush Toy Line
Zoonicorn and Jay@Play will introduce featured plush Wish Me Zoonicorns at Licensing Expo. Wish Me Zoonicorns are expected to launch at retail this fall, through a direct-to-consumer TV advertising campaign. Zoonicorns are also introducing new videos in its series of musical Zoonicorn adventures.
The four Wish Me Zoonicorns each feature four touch points for engagement. When kids kiss the Zoonicorn on the nose, the horn glows and kids can make a wish. When kids blow the Zoonicorn a kiss, its glowing horn turns off for wish-time.
Zoonicorn has also added three new music videos to its series, now totaling eight music videos. The music videos introduce the characters to preschool-aged children and take them on adventures that teach important social-emotional development lessons. The videos also have a click-through rate at 11 percent, with kids who watched one video clicking through to keep watching.
VIZ Media On Board for Chummy Chum Chums Development
VIZ Media has signed a development partnership with Ghostbot to develop and expand the Chummy Chum Chums digital lifestyle brand across all categories of consumer merchandise, animation, and more.
Chummy Chum Chums is a top sticker set for social media messaging. Since its launch in September 2016, millions of fans have sent and posted billions of the animated stickers to express love, sadness, laughter, and excitement to friends near and far.
Nelvana, Sesame Workshop Partner in Exclusive Canadian Broadcast, Licensing Deal
Corus Entertainment's Nelvana announced a Canadian licensing and broadcasting partnership with Sesame Workshop.
Nelvana will exclusively broadcast Sesame Street and Sesame Studios' content in Canada on Corus' Treehouse, and across the network's non-linear platforms. Nelvana will also represent Sesame Street within the Canadian licensed consumer products community.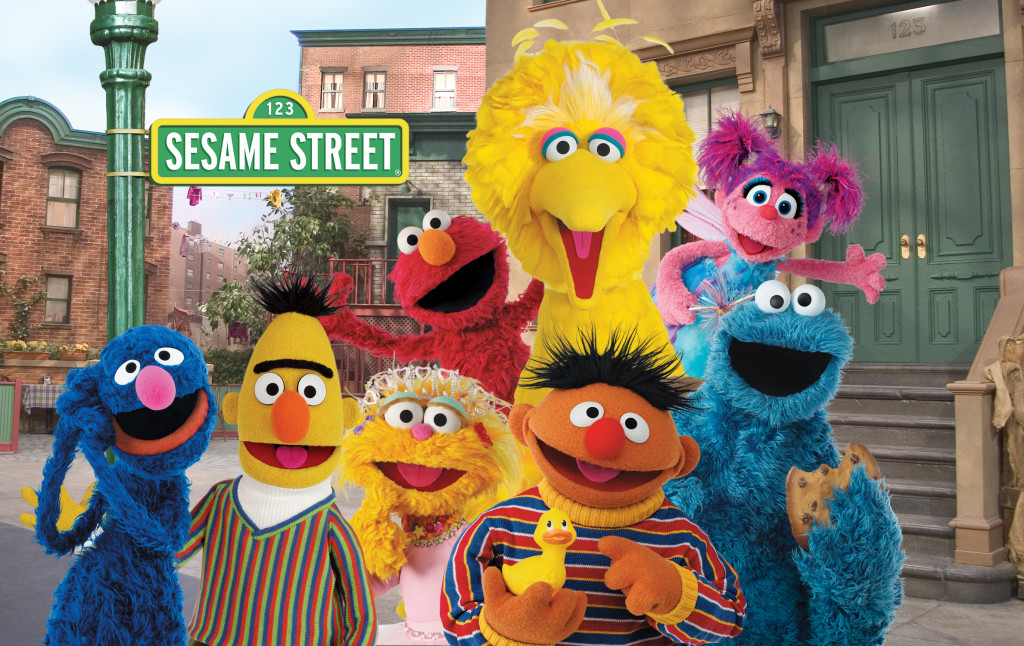 Sesame Workshop will also have a dedicated block on the network for its content. New content will include all-new seasons of Sesame Street, beginning with Season 46 and moving onto Season 47, as well as episodes of Elmo's World, Abby's Flying Fairy School, and more than 50 pieces of additional short-form broadcast content from Sesame Studios, the all-new YouTube destination for kids from the makers of Sesame Street, including Scribble Tales, Nursery Rhyme Remixes, and Tater & Tot.
"Nelvana's commitment to family and children's entertainment aligns perfectly with Sesame Workshop's mission to help children grow smarter, stronger, and kinder," says Scott Chambers, senior vice-president, North America Media and Licensing, Sesame Workshop. "The partnership extends our reach across a spectrum that few partners can match – from broadcast TV to digital to consumer products and retail—helping to create a deeper connection with families and the Sesame brand."
The World of Eric Carle Adds Artistic Flavor to Sensible Sippers
The Joester Loria Group, on behalf of The World of Eric Carle, announced a partnership with the R.W. Knudsen Family brand to create a series of Sensible Sippers beverages featuring Carle's signature artwork and The Very Hungry Caterpillar.
Starting in July, Carle's distinctive art and characters will be featured on three varieties of Sensible Sippers beverage boxes, including Organic Fruit Punch, Organic Mixed Berry, and Organic Apple in grocery stores nationwide. Offered in 4.23-ounce beverage boxes, Sensible Sippers have no added sugar and are both Certified USDA Organic and Non-GMO Project Verified.